Comparative Effect of Cinnamon Powder and Red Ginger Powder for Menstrual Pain Primary Dysmenorrhea in Adolescent
Keywords:
cinnamon, red ginger, menstrual pain, primary dysmenorrhea
Abstract
Menstrual pain is a problem with interferes by women in every menstrual cycle. This can interfere with the activities of women such as dizziness, nausea, stomach cramps, and productivity of women. Several  non-pharmacologic treatment can help reduce menstrual pain such as giving cinnamon and red ginger. The purpose of this study was to compare the effectiveness of cinnamon powder and red ginger to decrease menstruation in adolescents with primary dysmenorrhea.
This type of research is a quasi-experimental type of time series design. The sample in this study were all first semester female students in the Nursing Study Program at the Lubuk Pakam Medistra Health Institute who experienced primary dysmenorrhea as many as 28 people. The sampling technique used is simple random sampling. In this study there were two groups, namely the control group with the administration of ginger powder while the intervention group with the administration of cinnamon powder. The process was given an intervention for 3 days and the use of the research instrument to measure menstrual pain was the Numeric Rating Scale (NRS). Data analysis used independent t-test and Repeated Measured Anova test.
The results showed that there was a difference in mean pain before and before cinnamon powder at 24 hours of intervention after (p<0.001) while red ginger drink powder showed no significant difference in mean pain before and before the intervention in the first 24 hours of intervention (p = 0.112). However, at 48 hours and 72 hours of intervention for the two groups, there was a significant difference in the decrease in mean menstrual pain in primary dysmenorrhea (p<0.001).
Cinnamon drink powder is more effective than red ginger drink powder in reducing primary dysmenorrhea menstrual pain. Cinnamon and red ginger can be used as an effective non-pharmacological treatment intervention and obtained as a treatment for primary removal. Midwives can educate and apply the intervention of cinnamon and red ginger drinks to adolescents with primary dysmenorrhea.
Downloads
Download data is not yet available.
References
Abu Helwa et al.2018. Prevalence of Dysmenorrhea and Predictors of its pain intensity among Palestinian female University Students.BMC Women's Health;Vol18,1-18.
Amelia R dan Maharani SI.2017. Effectiveness Dark Choclate and Ginger on Pain Reduction Scale in Adolescents Dysmenorhea.Jurnal Kebidanan.Vol 6(12).73-81.
Arfiana, Iva.2014. Pengaruh minuman jahe merah (zingiber officinale roscoe) terhadap intensitas nyeri haid pada mahasiswa D-IV kebidanan stikes Ngudi Waluyo. Skripsi.
Daily.J.W, Zhang X, Kim D.S, Park.S.2015.Efficacy of Ginger for Alleviating the Symptoms of Primary Dysmenorrhea: A Systematic Review and Meta Analysis of Randomized Controlled Trials.Pain Medicine. 10(2).
De Sanctis V et al.2015.Primary Dysmenorrhea in Adolescents: Prevalence, Impact and Recent Knowledge. Pediatr Endocrinol Rev.13(2):512–20.
H.A.Rad, Z.Basirat, F.Bakouei et al.2018.Effect of Ginger and Novafen on Menstrual Pain:A Crooss-Over Trial.Taiwan J Obstet Gynecol.57: 806–809.
Habibi N et al.2015.Prevalence of Primary Dysmenorrhea and Factors Associated with its Intensity Among Undergraduate Students: A Cross Sectional Study.Pain Management Nursing.Vol 3,1-7.
Jaafarpour, M., Hatefi, M., Najafi, F., Khajavikhan, J., & Khani, A.2013.The effect of cinnamon on menstrual bleeding and systemic symptoms with primary dysmenorrhea. Iranian Red Crescent Medical Journal.17(4).
Kashefi, F., Khajehei, M., Cher T, Mahbubeh., Alavinia, M, Asili, J.2012. Compparison of the effect of ginger and zinc sulfate on primary dysmenorrhea: a placebo-controlled randomized trial. Researchgate.16:2243-2255.
M.A. Shirvani, N.T.Motahari.,A.Alipour.2014. Use of Ginger Versus Stretching Exercises for the Treatment of Primary Dysmenorrhea: A Randomized Controlled Trial. Journal of Integrative Medicine.Vol 15(4):295-301
Marzouk,T.M., El-Nemer AM, Baraka
Mirabi P, Alamolhoda SH, Esmaeilzadeh S, et al. 2014.Effect of medicinal herbs on primary dysmenorrhoea- a systematic review. Iran J Pharm Res. 13.757–767.
Muhammad D.R.A dan Dewettinck K.2017.Cinnamon and Its Derivates as Potensial Ingredient in Functional Food-A Review. International Journal of Food Properties.Vol 20.S2237-S2263.
Ortiz et al.2015 Effect of Physiotheraaphy Program in Women with Primary Dysmenorrhea.European Journal of Obstetrics & Gynecology and Reproductive Biology.Vol194.24-29.
Osayande AS, Mehulic S.2014. Diagnosis and Initial Management of Dysmenorrhea. Am Fam Physician.89(5).341–346.
Rafique N, Al-Sheikh M.2018.Prevalence of Menstrual Problems and their Association with Psychological Stress in Young Female Students Studying Health Sciences.Saudi Med Journal.Vol 39(1):67-73.
Ranasinghhe P, Jayawardana R, Galappaththy P, Constantine GR, de Vas Gunawardana N, Katulanda P.2012.Efficacy and safety of "true" cinnammon (Cinnamomum zeylanicum) as a pharmaceutical agent in diabetes: a systematic review and meta analysis. Diabetic Medicine.29(12).1480–92.
S Camacho, S Michlig, CD Senarclens.B., J.Meylan.,J.Meystra.,M.Pezzoli., et al.2015. Anti Obesity and Anti Hyperglycemic Effects of Cinnameldehyde via Altered Grelin Secretion and Fuctional Impact on Food Intake and Gastric Emptying.Scientic Report,7919, 1-10.
T.Anita, Supriyana, Suhartono.2019.The Potential Of Cinnamon Extract and Honey For Menstrual Pain International Journal Of Allied Medical Sciences And Clinical Research (IJAMSCR).7(3).858-862.
Zaidi, SMA., Kahtoon K., Aslam K.M. 2012.Role of Herbal Medicine in Ussuruttams (Dysmenorrhea) .J Acad Indus Res.1(3).113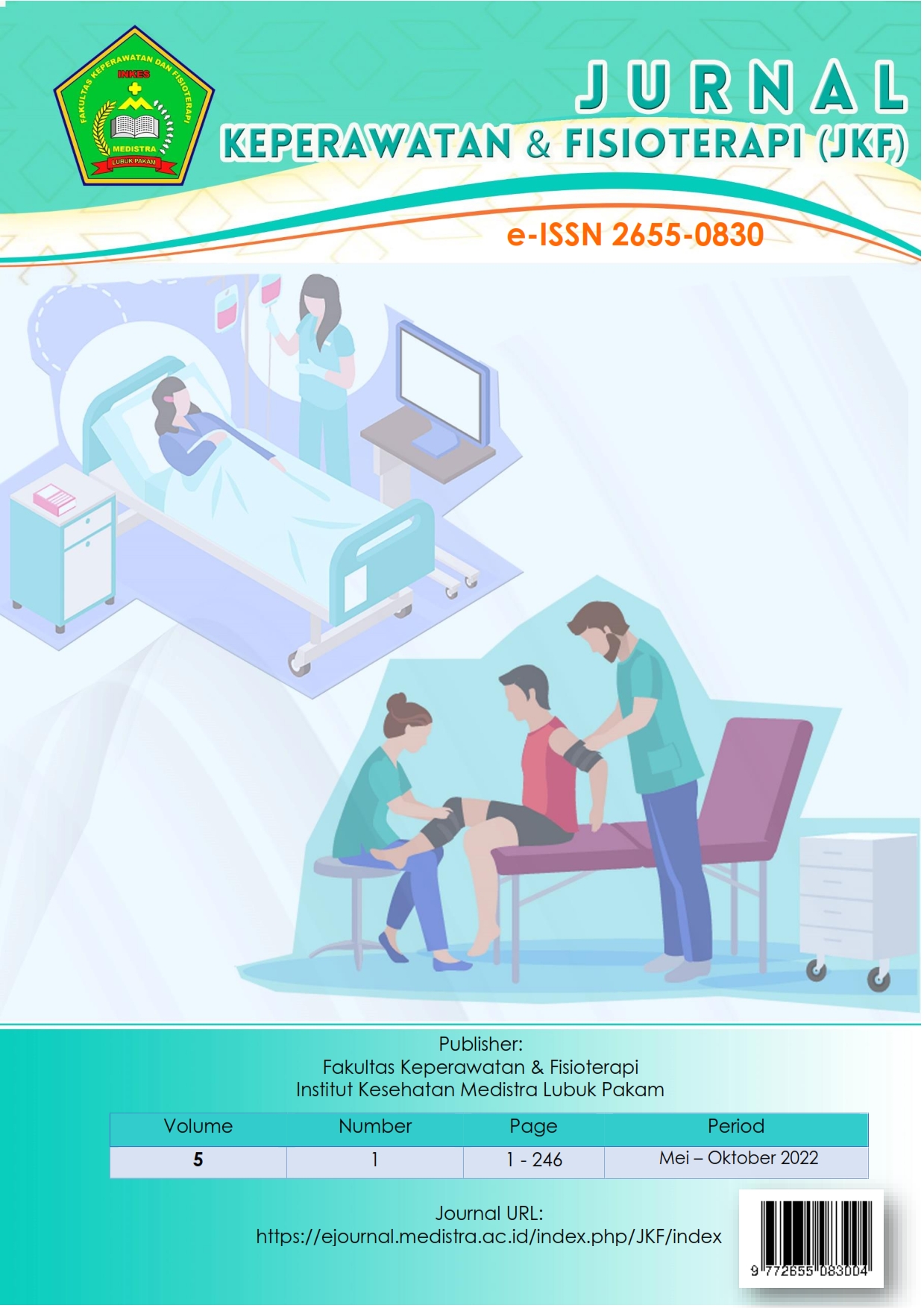 Downloads
How to Cite
Anuhgera, D. E., Sitorus, R., & Octora, D. D. (2022). Comparative Effect of Cinnamon Powder and Red Ginger Powder for Menstrual Pain Primary Dysmenorrhea in Adolescent. JURNAL KEPERAWATAN DAN FISIOTERAPI (JKF), 5(1), 122–130. https://doi.org/10.35451/jkf.v5i1.1365
License
Copyright in each article is the property of the Author.