The Effectiveness Of Exercise Therapy And Ergonomic Seat Design In Controlling Low Back Pain (LBP) In Batik Craftsmen
Budi Aswin

Universitas Jambi

Sri Astuti Siregar

Usi Lanita

La Ode Reskiaddin
Keywords:
Exercise, Seating, Low Back Pain
Abstract
Occupational safety and health of workers in the informal sector, for example batik craftsmen, have a great risk of experiencing health problems due to work, one of the problems that is often encountered is the case of low back pain. This study aims to analyze the effectiveness of exercise therapy and ergonomic seating design as an effort to control cases of low back pain (LBP) in batik craftsmen. The research is a randomized controlled trial (RCT) design. The population in this study were all batik craftsmen in Danau Teluk District as many as 30 people and were also used as research samples. The data will be analyzed using an unpaired T-test with (α = 0.05). The results of the study p value = 0.000 which still means that there are differences in cases of low back pain in batik craftsmen with the provision of exercise therapy (exercise). The conclusion of exercise therapy (exercise) is effective in minimizing cases of low back pain in batik craftsmen.
Downloads
Download data is not yet available.
References
Alsufiany MB, Lohman EB, Daher NS, Gang GR, Shallan AI, Jaber HM., 2020. Non-Specific Chronic Low Back Pain And Physical Activity: A Comparison Of Postural Control And Hip Muscle Isometric Strength: A Cross-Sectional Study. Medicine (Baltimore). 99(5): e18544. Https://doi.org/10.1097/md.-0000000000018544.
Anggraika P. Hubungan Posisi Duduk Dengan Kejadian Low Back Pain (Lbp) Pada Pegawai Stikes. J 'Aisyiyah Med. 2019;4(1):1–10.
Boughattas W, Maalel OE, Maoua M, Bougmiza I, Kalboussi H, Brahem A, Chatti S, et al. 2017. Low Back Pain Among Nurses: Prevalence, And Ccupational Risk Factors. 5(1): 26–37. https://doi.-org/10.4236/odem.2017.51003.
Chen D.J.X., 2018. Magnetic Resonance Imaging Analysis Of Work-Related Chronic Low Back Pain: comparisons of different lumbar disc patterns. J Pain Res. 11: 2687–2698. https://dx.doi.org/10.2147%2FJPR.S162988.
Ge, H., Sun, X., Liu, J., & Zhang, C., 2018. The Status of Musculoskeletal Disorders and Its Influence on the Working Ability of Oil Workers in Xinjiang, China. International Journal of Environmental Research and Public Health, 15(5). https://doi.org/10.3390/IJERPH15050842.
Jazuli, Nurcipto, D., dan afif, I.S., (2017). Redesign Stasiun Kerja Pencantingan Batik yang Ergonomis. Yogyakarta.
Lindawati, L., & Mulyono, M. (2018). Evaluasi postur kerja pengrajin batik tulis Aleyya Batik di Yogyakarta. Journal of Public Health Research and Community Health Development, 1(2), 131-143.
Natosba J., dan Jaji. 2016. Pengaruh Posisi Ergonomis Terhadap Kejadian Low Back Pain Pada Penenun Songket di Kampung BNI 46. Jurnal Keperawatan Sriwijaya. 3(2355): 8–16.
Suwondo, S.B, Meliala.L dan Sudadi. 2017. Buku Ajar Nyeri. Perkumpulan Nyeri Indonesia: Novartis Yogyakarta..
Tarwaka. (2020). Ergonomi Industri. Edisi II Revisi. Surakarta.
Wulandari, A. (2018). Terapi Chiropractic (Spinal Manipulation) Terhadap Low Back Pain. https://www.opensocietyfoundations.org/explainers/what-openaccess?utm_source=facebook.com&utm_medium=referral&utm_campai gn=osffbpg.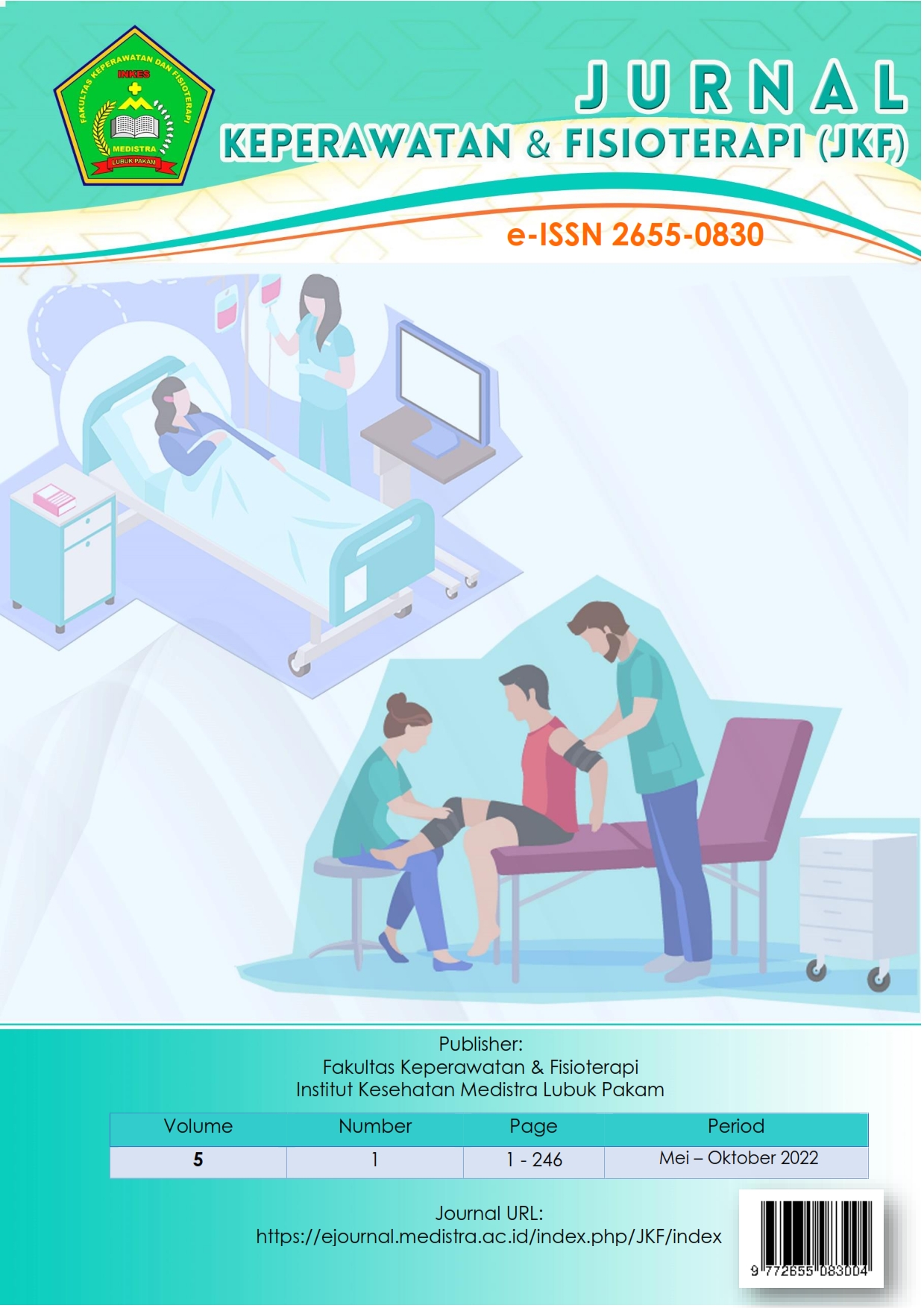 How to Cite
Aswin, B., Siregar, S. A., Lanita, U., & Reskiaddin, L. O. (2022). The Effectiveness Of Exercise Therapy And Ergonomic Seat Design In Controlling Low Back Pain (LBP) In Batik Craftsmen. JURNAL KEPERAWATAN DAN FISIOTERAPI (JKF), 5(1), 160-166. https://doi.org/10.35451/jkf.v5i1.1386
Copyright (c) 2022 Budi Aswin, Sri Astuti Siregar, Usi Lanita, La Ode Reskiaddin
This work is licensed under a Creative Commons Attribution 4.0 International License.
Copyright in each article is the property of the Author.