Determinants of Santri Behavior in the Formation of Healthy Santri in Islamic Boarding Schools in Batanghari Regency
Puspita Sari

Universitas Jambi

Guspianto .

Universitas Jambi

La Ode Reskiaddin

Universitas Jambi

Solihin Sayuti

Politeknik Kesehatan Kementerian Kesehatan Republik Indonesia, Jambi
Keywords:
Santri Behavior, HBM Theory, Possestren
Abstract
Islamic boarding schools are known as the oldest Islamic educational institutions in Indonesia. The Iarge number of Islamic boarding schooIs in Batanghari Regency, as well as the large number of students in each pesantren make this institution a major contribution to deveIopment. The roIe of the poskestren is a form of community-based health efforts (UKBM) in the boarding schooI environment, with the principle of, by and for the boarding school residents. This study aims to determine the behavioral determinants of students in the formation of heaIthy students in Islamic boarding schooIs in Batanghari Regency. This study is a quantitative study with a cross-sectional design. This study invoIved 98 respondents who were seIected by the Proportional Random Sampling technique to be interviewed. Data anaIysis was univariate, bivariate with Chi square and muItivariate with logistic regression. The results showed that 46.9% of respondents had poor student behavior in impIementing poskestren. There is a reIationship between perceived barriers (p-vaue: 0.011) perceptions of self-efficacy (p-value: 0.047), the infIuence of teachers/ustadz (p-vaIue: 0.007), the infIuence of heaIth workers (p-vaIue: 0.020) and the behavior of students. Perceived benefits (p-vaIue: 0.210) did not have a significant reIationship with the behavior of students. The factor that had a strong infIuence on the behavior of students was the influence of teachers/ustadz with an Odds Ratio (OR= 0.323. 95% CI 0.143–0.822). There is a need fr management training and the formation of HeaIthy Santri.
Downloads
Download data is not yet available.
References
Arikunto S. (2OO6). Prosedur peneIitian suatu pendekatan praktek, Rineka. Cipta. Jakarta.
Bandura, A. (2OO4). SeIf-efficacy. In E. W.Craighead & C. B. Nemeroff (Eds.). The concise Corsini Encyclopedia of psychology and behavioraI sciences. (pp. 859-862). New York: Wiley. (n.d.).
Depkes Rl. Pedoman Penyelenggaraan dan Pembinaan Pos Kesehatan Pesantren. 2007. (n.d.).
GIanz, Karen, L. et aI. (2008). HeaIth Behavior And HeaIth Education (Theory, Research, and Pratice) (4th Editio).
Kementerian Kesehatan RepubIik Indonesia. Promosi Kesehatan di Sekolah. Jakarta: Pusat Promosi Kesehatan; 2010. (n.d.).
Lemeshow. (l997). Besar sampeI daIam PeneIitian Kesehatan (terjemahan), Gadjahmada University Pres,yogyakarta.
Mab'ruroh U. AnaIisis Faktor Yang Mempengaruhi PeriIaku Santri Husada Dalam Membentuk Santri Sehat Berdasarkan Teori Health Promotion ModeI. Tesis Repository Unair. Universitas Airlangga; 2018. (n.d.).
Mahendrani, Widanti.,& Esthi, Rahayu.(2014). Hubungan antara Self-efficacy dengan Penyesuaian Diri pada Siswa Akselerasi. Psikodimensia: Kajian Ilmiah Psikologi, 13 (2). 1-10. (n.d.).
Notoatmodjo.S,. (2012). MetodoIogi Penelitian Kesehatan. Penerbit Rineka Cipta, Jakarta, Edisi Revisi : viii + 207 hlm.
PangkaIan Data Pondok Pesantren. Statistik Pesantren [Internet]. Ditpdpontren.Kemenag.Go.Id. 2022. Available From: Https://Ditpdpontren.Kemenag.Go.Id/Pdpp. (n.d.).
Peraturan Menteri Kesehatan Republik lndonesia. Peraturan Menteri Kesehatan Nomor 1 Tahun 2013. Pedoman Penyelenggaraan dan Pembinaan Pos Kesehatan Pesantren. Jakarta: Kementerian Kesehatan; (n.d.).
Putra Daulay,Haidar. Historitas dan eksistensi pesantren,Sekolah,dan Madrasah.2001;Available from: http://download.portalgaruda.o rg/article.php?article=151703 &val=4059. (n.d.).
Ridwan A. R. Hubungan Pengetahuan, Personal Hygiene, Dan Kepadatan Hunian Dengan Gejala Penyakit Skabies Pada Santri Di Pondok Pesantren Darul Muklisin Kota Kendari 2017. JIMKESMAS (Jurnal Ilmiah Mahasiswa Kesehatan Masyarakat), 2(6), 1–8; 2017. (n.d.).
Sanusi,Uci. Pendidikan Kemandirian Di Pondok Pesantren (Studi Mengenai Realitas Kemandirian Santri di Pondok Pesantren al-Istiqlal Cianjur dan Pondok Pesantren Bahrul Ulum Tasikmalaya). Tasikmalaya : Jurnal Pendidikan Agama Islam -Ta'lim. 2012. (n.d.).
TiIarso,Hario.Panduan Peningkatan Kesehatan Santri. Jakarta: KutabuIoh ManunggaI. 2005. (n.d.).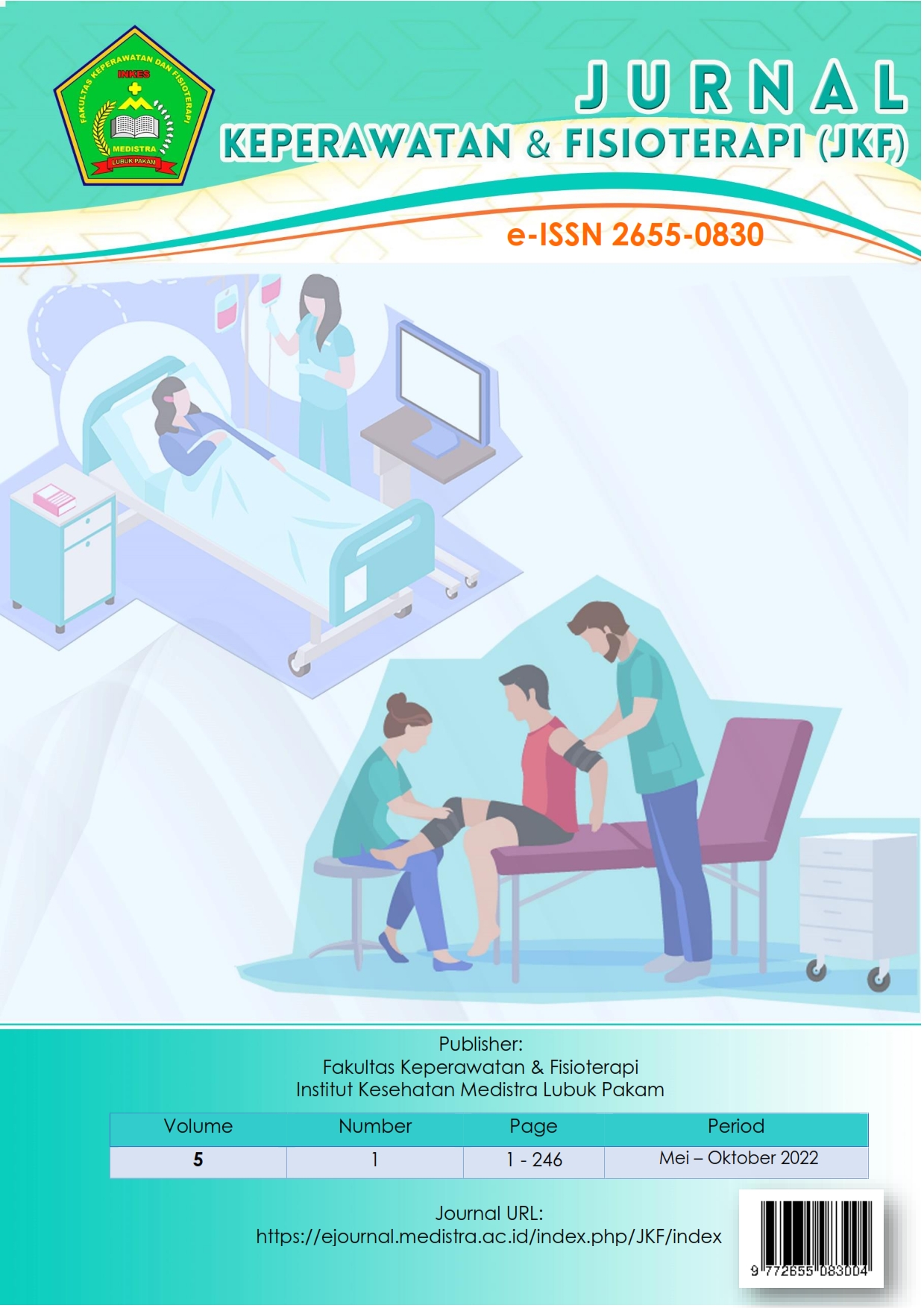 How to Cite
Sari, P., ., G., Reskiaddin, L. O., & Sayuti, S. (2022). Determinants of Santri Behavior in the Formation of Healthy Santri in Islamic Boarding Schools in Batanghari Regency. JURNAL KEPERAWATAN DAN FISIOTERAPI (JKF), 5(1), 217-224. https://doi.org/10.35451/jkf.v5i1.1392
Copyright (c) 2022 Puspita Sari
This work is licensed under a Creative Commons Attribution 4.0 International License.
Copyright in each article is the property of the Author.