Comparison In Hemoglobin Levels Of Pregnant Women 36 Week And Postpartum Mothers Day 4 At The Primary Clinic Nining Pelawati Lubuk Pakam District Deli Serdang Regency
Keywords:
Hemoglobin Levels, Pregnant Women, Postpartum Mothers.
Abstract
Maternal Mortality Rate (MMR) is related to bleeding experienced and has a relationship with anemia during pregnancy.  WHO (2016) claimed, the prevalence of pregnant women who experience anemia was 40.1%. RIKESDAS (2018) claimed, the proportion of anemia in pregnant women in Indonesia ware 48.9%. During impregnation if anemia cannot be treated until the end of pregnancy, it will have an impact on the postpartum. The problem of postpartum anemia is not as widely studied as prepartum anemia. The prevalence of postpartum anemia in developing countries ranges from 50% to 80%. Purpose To determine the difference hemoglobin levels of pregnant women36 weeks and postpartum day 4. The research was carried out by analyzing comparative with a quantitative approach. Mechanical Sampling is sampling accidental 18 pregnant women 38 week, analysis using t-test-dependen. The results of this study obtained a significant difference in the average hemoglobin level of pregnant women 36 weeks and postpartum mothers day 4 of 0.97. Average hemoglobin level of 36-week pregnant women of 10,95 and postpartum mothers of day 4 of 9,98.  Based on the results between the t-test, the value of sig. = 0.000. There is a difference in hemoglobin levels in pregnant women36 weeks and postpartum day 4.  So, expected for health workers to carry out hemoglobin level checks in both pregnant women and postpartum mothers.
Downloads
Download data is not yet available.
References
Abebaw, A., Gudayu, T. W., & Kelkay, B. (2020). "Proportion Of Immediate Postpartum Anaemia And Associated Factors Among Postnatal Mothers In Northwest" Ethiopia: A Cross-Sectional Study. Anemia. Https://Doi.Org/10.1155/2020/8979740
Akhirin, M. M., Sanjaya, R., Yona, ;, Sagita, D., Nopi, ;, Putri, A., Studi, P., Program, K., Terapan, S., Kesehatan, F., Pringsewu, U. A., Kunci, K., Munah, M., Program, A., & Program, S. K. (2021). "Faktor-Faktor Yang Berhubungan Dengan Kejadian Anemia Pada Ibu Hamil". Wellness And Healthy Magazine, 3(1), 109–115. Https://Doi.Org/10.30604/Well.158312021
Alamsyah, W. (2020). "Faktor-Faktor Yang Berhubungan Dengan Kejadian Penyakit Anemia Pada Ibu Hamil Usia Kehamilan 1-3 Bulan Diwilayah Kerja Puskesmas Bontomarannu Kabupaten Gowa". Jurnal Inovasi Penelitian, 1(2).
Anastasia Sitepu, S., Hutabarat, V., Kesehatan DELI HUSADA Deli Tua Jl Besar Deli Tua No, I., Tua, K., & Deli Serdang Sumatera Utara, K. (2018). Pengaruh Pemberian Jus Kacang Hijau (Phaseolus Radiatus) Terhadap Peningkatan Kadar Profil Darah Pada Ibu Hamil Dengan Anemia Yang Mendapatkan Suplementasi Tablet Fe (Studi Kasus Di Wilayah Kerja Puskesmas Kedungmundu Semarang). In Jurnal Kebidanan Kestra (JKK) (Vol. 1, Issue 1). http://ejournal.medistra.ac.id/index.php/JKK
Darmawati, S., Fitri, A., & Audina, M. (2020). "Prevalence And Risk Factors Of Iron Deficiency Anemia Among Postpartum Women". Journal Of Nursing Care, 3(3), 206–2113. Https://Doi.Org/10.24815/Cdj.V12i2.18441
Kebidanan, D.-I., Kebidaan, A., Pasuruan, S., & Yuliani, E. (2020). "Hubungan Riwayat Anemia Saat Kehamilan Dengan Kejadian Anemia Postpartum Pada Ibu Nifas" Endang Yuliani. 12(2).
Kiswati. (2014). "Perubahan Kadar Hemoglobin Pada Ibu Hamil Trimester Iii Dan Sesudah Inpartu 2 Jam Post Partum". Jurnal Kesehatan Dr. Soebandi, 7(2), 87–91.
Pemiliana, P. D., Oktafirnanda, Y., & Santi, Irwa. (2019). "Faktor Yang Berhubungan Dengan Anemia Pada Ibu Hamil Trimester III". Jurnal Kesehatan, 2(4). Http://Jurnal.Fkmumi.Ac.Id/Index.Php/Woh/Article/View/Woh2410
Purba, E. M., Jelita, F., Simanjuntak, C., & Sinaga, M. (2020). "Determinan Prevalensi Kejadian Anemia Pada Ibu Hamil Di Daerah Rural Wilayah Kerja Puskesmas Sialang Buah Tahun 2020". Jurnal IMJ: Indonesia Midwifery Journal, 4(1).
Rakesh, P. S., Gopichandran, V., Jamkhandi, D., Manjunath, K., George, K., & Prasad, J. (2014). "Determinants Of Postpartum Anemia Among Women From A Rural Population In Southern India". International Journal Of Women's Health, 6(1), 395–400. Https://Doi.Org/10.2147/IJWH.S58355
Sukaisi, Zuraidah, & Nainggolan, L. (2020). "Pengaturan Menu Makan Dan Pemberian Tablet Tambah Darah Pada Ibu Nifas Di Pmb Kabupaten Simalungun Tahun 2019". Jurnal Salam Sehat Masyarakat, 2(1), 56–60.
Salulinggi, A., Asmin, E., Titaley, C. R., & Bension, J. B. (2021). "Hubungan Pengetahuan Dan Kepatuhan Ibu Hamil Konsumsi Tablet Tambah Darah Dengan Kejadian Anemia Di Kecamatan Leitimur Selatan Dan Teluk Ambon". Jurnal Epidemiologi Kesehatan Komunitas, 6(1), 229–236.
Saputri, T. I., & Wijayanti Sandi Hartanti. (2015). "Perbedaan Asupan Protein, Zat Besi, Asam Folat, Vitamin B12 Dan Kejadian Anemia Pada Ibu Nifas Yang Melakukan Mutih Dan Tidak Melakukan Mutih Di Kecamatan Gebog, Kabupaten Kudus". Journal Of Nutrition College, 4(2), 599–606. Http://Ejournal-S1.Undip.Ac.Id/Index.Php/Jnc*)Penulis Penanggungjawab
Taylor D.J. (1981). "Puerperal Haematological Indices In Medical Data Processing". British Journalof Obstetrics And Gynaecology, 88, 601–606.
Urquizu I Brichs, X., Rodriguez Carballeira, M., García Fernández, A., & Perez Picañol, E. (2016). "Anemia En El Embarazo Y El Posparto Inmediato. Prevalencia Y Factores De Riesgo". Medicina Clinica, 146(10), 429–435. Https://Doi.Org/10.1016/J.Medcli.2016.01.029
Wahyuni, I. (2019). "Hubungan Kepatuhan Konsumsi Tablet Fe Dengan kejadian anemia pada ibu Post Partum Di Wilayah Kerja puskesmas Payung Sekaki pekanbaru". Jurnal Medika Usada, 2(2), 32–39.
Wahyuni, S., Putri, A. R. A., & Imbir, S. (2022). The Relationship Of Anemia In Pregnancy With The Event Of LBW Babies (Low Birth Weight) at Supiori Hospital. JURNAL KEBIDANAN KESTRA (JKK), 4(2), 108–112. https://doi.org/10.35451/jkk.v4i2.1051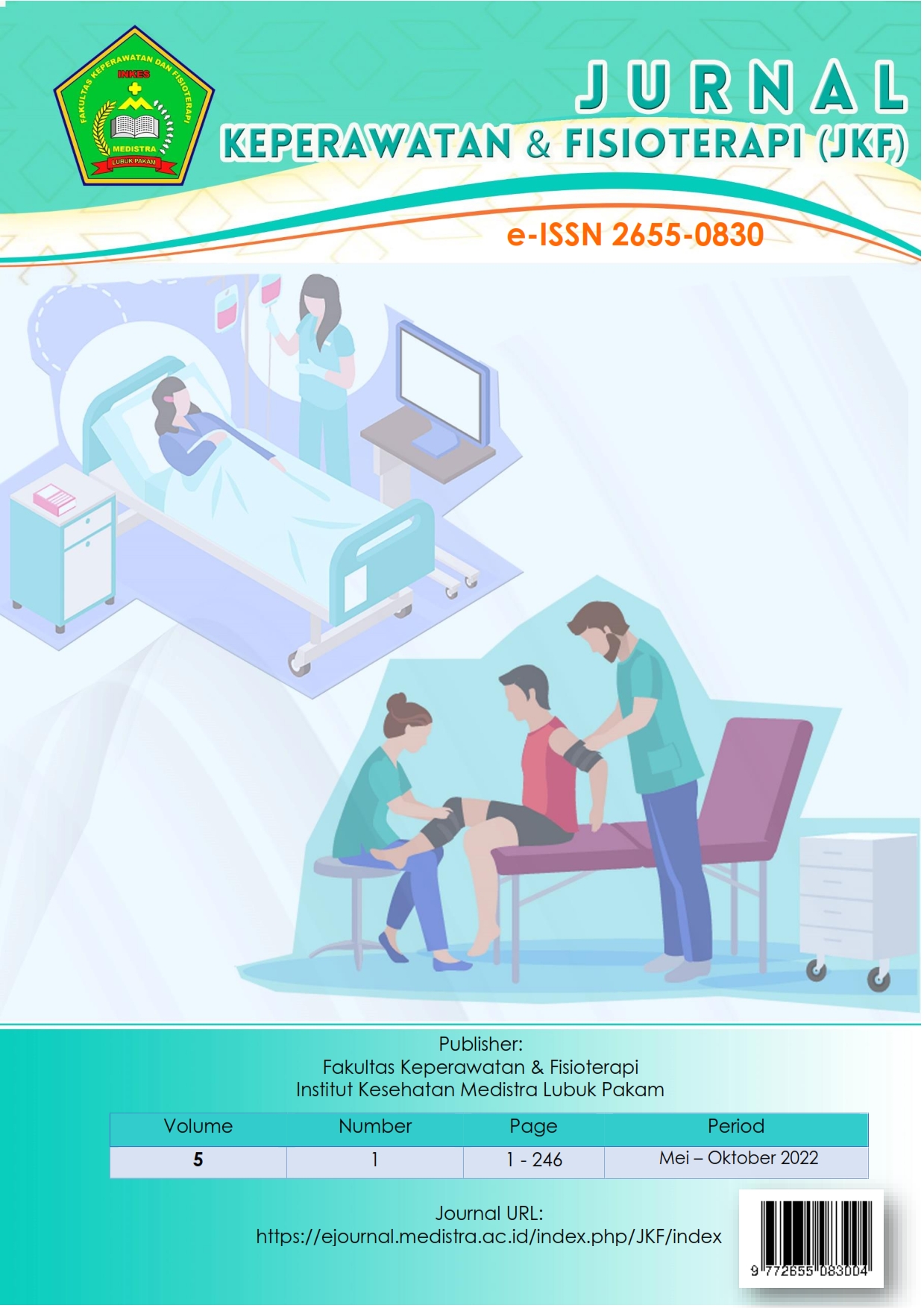 Downloads
How to Cite
Ginting, D. Y., Sihaloho, E. G., Tarigan, L., Syara, A. M., & Purba, A. S. G. (2022). Comparison In Hemoglobin Levels Of Pregnant Women 36 Week And Postpartum Mothers Day 4 At The Primary Clinic Nining Pelawati Lubuk Pakam District Deli Serdang Regency. JURNAL KEPERAWATAN DAN FISIOTERAPI (JKF), 5(1), 225–232. https://doi.org/10.35451/jkf.v5i1.1398
License
Copyright in each article is the property of the Author.