HUBUNGAN PEMBERIAN SUSU FORMULA DENGAN KEJADIAN DIARE PADA BAYI USIA 1-6 BULAN DI DESA TAMBAK CEKUR KECAMATAN SERBAJADI KABUPATEN SERDANG BEDAGAI TAHUN 2019
Kardina Hayati

Institut Kesehatan Medistra Lubuk Pakam

Grace Elizabeth Simanullang

Institut Kesehatan Medistra Lubuk Pakam
Keywords:
Formula milk, Diarrhe, Infants
Abstract
Formula milk was a type of prelactal food that was often given to neonates before breast milk comes out. Giving formula milk that was not good can increase the risk of diarrhea in infants because the brewing process was too thick and the way to store formula milk was wrong. The purpose of this study was to find out the relationship between the way of serving formula milk with diarrhea events in Tambak Cekur Village, Serbajadi District, Serdang Bedagai Regency in 2019. The type of research conducted in this study was non-experimental, namely collecting data or observations simultaneously between independent variables and dependent variables. by using the Total Sampling method with a sample of 20 respondents Data collection using a questionnaire given to respondents and using Chi Square test data analysis. The results obtained were p value (0.001) < (0.05) or p value = 0.34 which means there was a relationship between the way of serving formula milk with the incidence of diarrhea in infants aged 0-6 months in Tambur Tambur, Serbajadi District, Serdang Bedagai Regency, Year 2019. Infants given formula milk did not provide protection, while diarrhea occurs from infants who were given formula milk. It was hoped that medical staff working at the puskesmas will know how to prepared formula milk to babies to avoid diarrhea.
Keywords: Formula milk, Diarrhe, Infants
Downloads
Download data is not yet available.
References
Bambang. (2011). Super Baby Directory. Jogjakarta: Flashbook. Cetakan I
Baskoro, A. (2012). ASI Panduan Praktis Ibu Menyusui, Yogyakarta, Banyu Media.
Bina, PA. (2017) . Hubungan Penyajian Susu Formula Terhadap Kejadia Diare di RSUD Dr.Soedirman Kebumen Tahun 2017. Skripsi. Sulawesi.
DepKes. (2010). Jakarta: Kementerian Kesehatan RI.
Dinkes Provinsi Sumatera Utara, 2012. Profil Kesehatan Provinsi Sumatera utara
Hardi. (2012). Faktor-faktor yang mempengaruhi kejadian diare pada batita di Wilayah Kerja Puskesmas Baranglompo Kecamatan Ujung Tanah tahun 2012. Skripsi. Makassar: UNHAS.
Hidayat, AA. 2008. Pengantar Ilmu Kesehatan Anak untuk Pendidikan Kebidanan. Jakarta: Salemba.
Kementrian Kesehatan. 2013. Dukung Ibu Bekerja Beri ASI
.http://www.depkes.go.id/article/print/15091400003/dukung-ibu-bekerja-beri-asi-eksklusif.html
Khasanah, Nur.(2011). ASI atau Susu Formula.Jogjakarta: flashbooks.
Kodrat, Laksono, (2010). Dahsyatnya ASI & Laktasi. Yogyakarta: Media Baca.
Nadesul, Hendrawan. (2012).Makanan Sehat untuk Bayi. Cetakan VII.Jakarta : Puspa Swara
Nasir (2011). Hasil Penelitian Mengenai Manfaat ASI dan Perbandingannyadengan Susu Formula. http://dokternasir.web.id//2011
Notoatmodjo, S. (2010). Metodologi Penelitian Kesehatan. Jakarta : Rineka Cipta
Praptiani, Wuri. (2012).Kebidanan Oxford: Dari Bidan untuk Bidan Jakarta: Buku Kedokteran EGC.
RISKESDAS. (2013). Jakarta: Kementerian kesehatan RI.
Roesli, Utami. (2010). Inisiasi Menyusui dini. Jakarta: Pustaka Bunda.
Soenardi. 2011. Makanan untuk Tumbuh Kembang Bayi. Jakarta: Gramedia Pustaka.
Sugiyono.(2010). Statistik untuk Penelitian. Jakarta : Alfa Beta.
Sutomo, B 2010. Menu Sehat Alami untuk Balita dan Batita. PT. Agromedia Pustaka. Jakarta.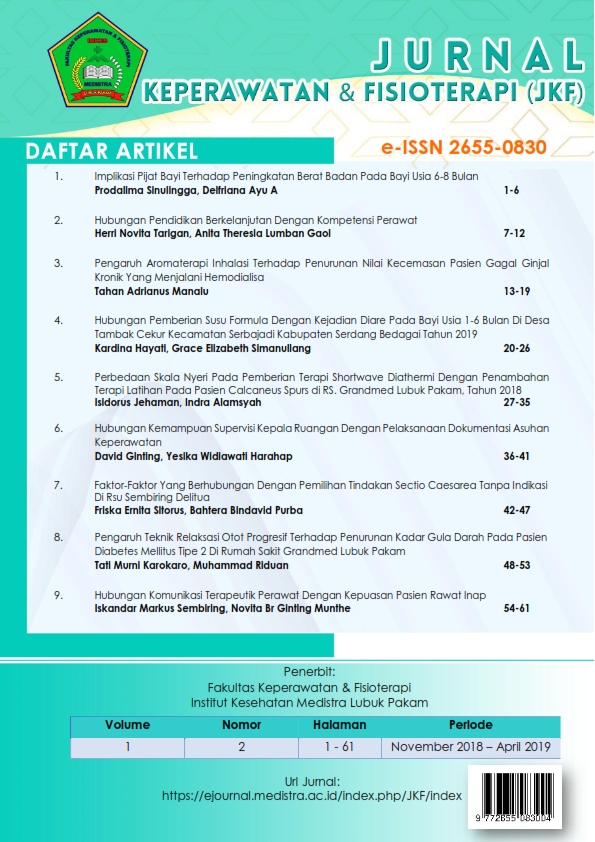 How to Cite
Hayati, K., & Simanullang, G. (2019). HUBUNGAN PEMBERIAN SUSU FORMULA DENGAN KEJADIAN DIARE PADA BAYI USIA 1-6 BULAN DI DESA TAMBAK CEKUR KECAMATAN SERBAJADI KABUPATEN SERDANG BEDAGAI TAHUN 2019. JURNAL KEPERAWATAN DAN FISIOTERAPI (JKF), 1(2), 20-26. https://doi.org/10.35451/jkf.v1i2.153
Copyright in each article is the property of the Author.