PERBEDAAN SKALA NYERI PADA PEMBERIAN TERAPI SHORTWAVE DIATHERMI DENGAN PENAMBAHAN TERAPI LATIHAN PADA PASIEN CALCANEUS SPURS DI RS. GRANDMED LUBUK PAKAM, TAHUN 2018
Isidorus Jehaman

Institut Kesehatan Medistra Lubuk Pakam

Indra Alamsyah
Keywords:
Calcneus Spurs, Pain, Shortwave Diathermy, Exercise Theraphy
Abstract
The most common cause cited for plantar heel pain is biomechanical abnoemalities that lead to pathologic stress to the plantar soft tissues. Localized nerve entrapment of the medial calcaneal or muscular branch off the lateral plantar nerve may be a contributing factor. Sample of 14 subjects were divided into two groups, each group consist of 7 people. Control Group treated with the addition of exercise therapy. Measuring the degree of pain was used Visual Analogue Scale. This study used an experimental study or quasi experiment with pre test and post test group design. Techniques sampling by Purposive Sampling. Data processing and analysis of data using paired sample t-test. Result: Obtained difference of pain scale shortwave diathermy with the addition of exercise theraphy to patients calcaneus spurs with a mean value after control group of 3.29 treathment with SD amounting to 1.113 and then a mean value after control group of 2.57 with SD 0.535. There is the effect of a significant increase pain scale of shortwave diathermy with the addition of exercise therapy after statistical test result prove that the p value = 0,021 (p <0,05). Conclusion : there is difference of pain scale in the provision shortwave diathermy with the addition of exercise theraphy to patient calcaneus spurs.
Downloads
Download data is not yet available.
References
Arovah NI. 2010. Dasar-dasar Fisioterapi pada Cidera Olahraga. Yogyakarta: .
Atya AM dan Mansour WT. 2011. Laser versus Nerve and Tendon Gliding Exercise in Treating Calcaneus Spurs. Life Science Journal. Cairo: Departement of Basic Science, Faculty of Physical Theraphy.
Bora, 2010; Foot Pain and Impairtment, F. A Davis Company, Philadelphia.
Collins. 2011. 100 Question and Answer: Heel Pain. Penerbit: Elex Media Komputindo.
Crirtensen, 2009; Complate quide to Sport Injury_(How to reat Fractur, Bruises, Sprains, Strains, Dilocations, Head Injuries.
Depkes R.I. 2010. Sumber Fisis. Jakarta: Program Studi D III Universitas Kristen Indonesia.
Gardiner, S., (2011); Principles of Exercise Therapy, Thrid edition. Bell and Hymon Publisers, London.
Greene, 2007; Science and Medicine of Exercise and Sport, Harpes and Brothers Publisers, New York, hal. 36-62
Heri, 2011. Evaluasi Pelaksanaan Pemeriksaan Kesehatan Tenaga Kerja Di Indonesia, Surabaya
James L Thomas, 2010; Evidance Base Practise of Physiotherapi
Kisner, C and Colby, L.A.2007. Therapeutic Exercise Foundatiouns and Techniques, 5th Edition, Phyladelphia; F.A. Davis Company.
Kumar, 2009: Penceghan Nyeri Kaki, Jakarta
Nazir, 2003. Metodologi Penelitian . Jakarta; Ghalia Indonesia
Notoatmodjo S. 2010. Metodologi Penelitian Kesehat. Jakarta: Rineka Cipta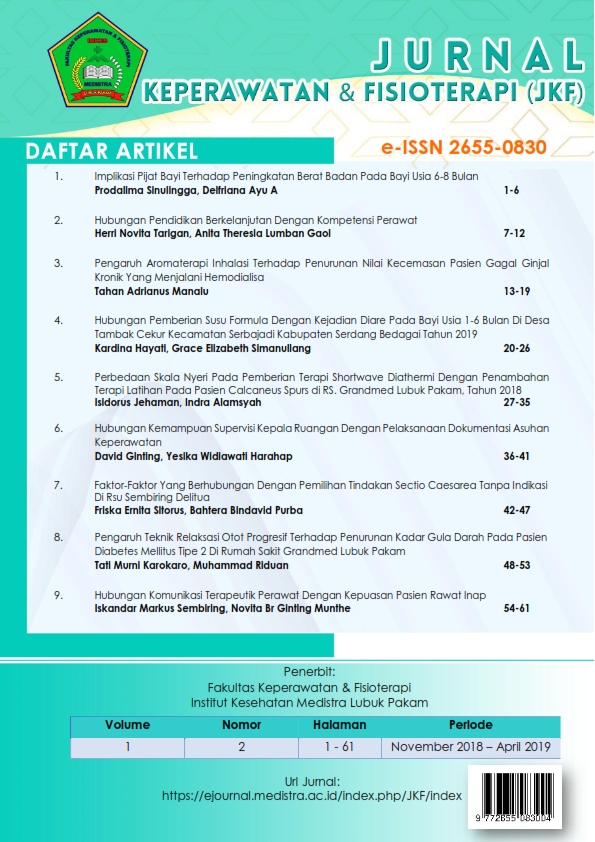 How to Cite
Jehaman, I., & Alamsyah, I. (2019). PERBEDAAN SKALA NYERI PADA PEMBERIAN TERAPI SHORTWAVE DIATHERMI DENGAN PENAMBAHAN TERAPI LATIHAN PADA PASIEN CALCANEUS SPURS DI RS. GRANDMED LUBUK PAKAM, TAHUN 2018. JURNAL KEPERAWATAN DAN FISIOTERAPI (JKF), 1(2), 27-35. https://doi.org/10.35451/jkf.v1i2.154
Copyright in each article is the property of the Author.