PENGARUH TEKNIK RELAKSASI OTOT PROGRESIF TERHADAP PENURUNAN KADAR GULA DARAH PADA PASIEN DIABETES MELLITUS TIPE 2 DI RUMAH SAKIT GRANDMED LUBUK PAKAM
Tati Murni Karokaro

Institut Kesehatan Medistra Lubuk Pakam

Muhammad Riduan

Institut Kesehatan Medistra Lubuk Pakam
Keywords:
type 2 diabetes mellitus, progressive muscle relaxation therapy, blood sugar levels
Abstract
The prevalence of diabetes occuring in 2015 is 9,3% and is expected to increase annualy. Type 2 diabetes mellitus occurs because insulin resistance, which glucose fails to enter the cell, usually occurs in the age above 30 years. One of the modalitas therapy that can be done is progressive muscle relaxation. The purpose of the study was to the identify the effect of progressive muscle relaxation therapy on the decrease in blood sugar levels in patients with type 2 diabetes mellitus at hospital GRANDMED  Lubuk Pakam. This research method used pre-experimental design with one group pretest-posttest. A sample size of 10 respondents selected by sampling technique of non-probability sampling type consecutive sampling. The result of paired hypothesis test of t-test sample at significance level 95%obtained p Value < α, that  is 0,001 indicates that there is influence of progressive muscle relaxation therapy to decrease blood glucose level in type 2 diabetes mellitus patient. Conclusion obtained there is significant difference between blood glucose levels before and after progressive muscle relaxation therapy. It is sugessted that health care institutions need to implement new policies related to the application of progressive muscle relaxation therapy.
Downloads
Download data is not yet available.
References
Damayanti, Santi. 2015. Diabetes Mellitus dan Penatalaksanaan Keperawatan. Nuha Medika, Yogyakarta

DinkesSUMUT,2009.DataPenelitian:http://rsupadammalik.blogspot.co.id/2013/06/data-penelitian-diabetes-mellitus.html,
di akses tanggal 15Desember 2018

Guyton, A.C & Hall, J.E. (2008). Buku Ajar Fisiologi Kedokteran. Edisi. 11. Jakarta : EGC

Kusuma, Hardhi dan Amin Huda Nurarif.2015. Asuhan Keperawatan NANDA NIC-NOC. Salemba Medika

Setyohadi dan Kushariyadi. 2011. Terapi Modalitas pada Klien Psikogeriatrik. Salemba Medika, Jakarta

Sudoyo, A.W., Setiyohadi,B., Alwi, I., & Setiati, S (2006). Buku Ajar Ilmu Penyakit Dalam. (edisi 3). Jakarta: Pusat Penerbit Departeman Penyakit Dalam FKUI

Wild et al., 2018. Report of the Expert Committee on the Diagnosis and Classification of Diabetes Mellitus. Diabetes Care: http://www.diabetes mellitus.com/2018, di akses tanggal 25 November 2018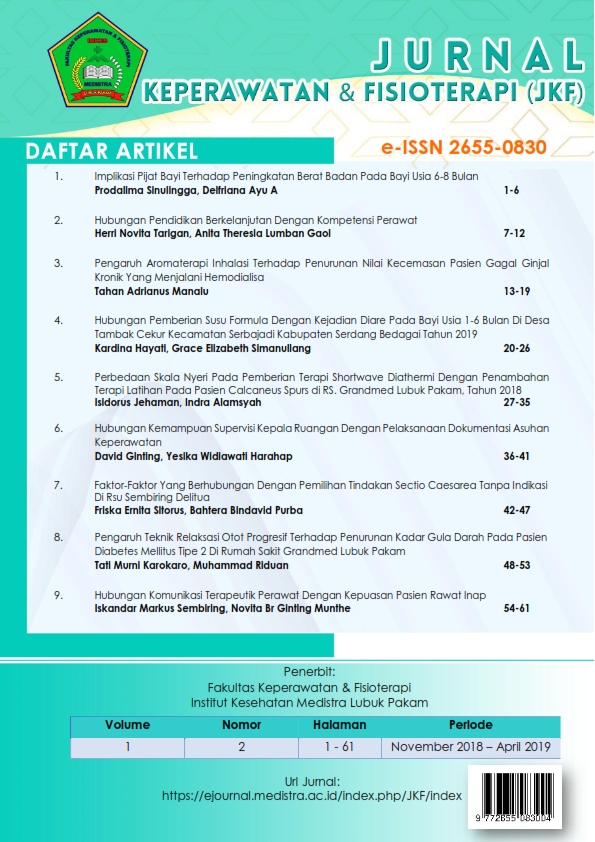 How to Cite
Karokaro, T., & Riduan, M. (2019). PENGARUH TEKNIK RELAKSASI OTOT PROGRESIF TERHADAP PENURUNAN KADAR GULA DARAH PADA PASIEN DIABETES MELLITUS TIPE 2 DI RUMAH SAKIT GRANDMED LUBUK PAKAM. JURNAL KEPERAWATAN DAN FISIOTERAPI (JKF), 1(2), 48-53. https://doi.org/10.35451/jkf.v1i2.169