ANALISIS KADAR VITAMIN D PADA MAHASISWA INSTITUT KESEHATAN MEDISTRA DAN MAHASISWA FAKULTAS KEDOKTERAN GIGI UNIVERSITAS SUMATERA UTARA
Miftahul Zannah

Universitas Sumatera Utara

Yahwardiah Siregar

Universitas Sumatera Utara

Ariyati Yosi

Universitas Sumatera Utara
Keywords:
vitamin D level, students
Abstract
Vitamin D levels influenced by many factors like formation, nutritions, malabsorbtion and degradation of 25(OH)D. Formation factors is one of important for metabolism vitamin D. Vitamin D is the main hormone regulating calcium phosphate homeostasis and mineral bone metabolism. Loss of muscle mass and fraity are prevalent in many chronic disease. The study group consisted of 31 samples from Institut Kesehatan Medistra (n=12) and  Fakultas Kedokteran Gigi USU (n=19). Vitamin D levels were measure with ELISA (Diagnostic Biochem Canada). Most age for student Institut Kesehatan Medistra is 21 years old and student Fakultas Kedokteran Gigi USU is 22 years old. Frequency of Vitamin D level student Institut Kesehatan Medistra is 91,7% (deficiency) and student Fakultas Kedokteran Gigi USU 84,2%(deficiency). There was significant difference in vitamin D levels between two group with significant (p=0,018).
Downloads
Download data is not yet available.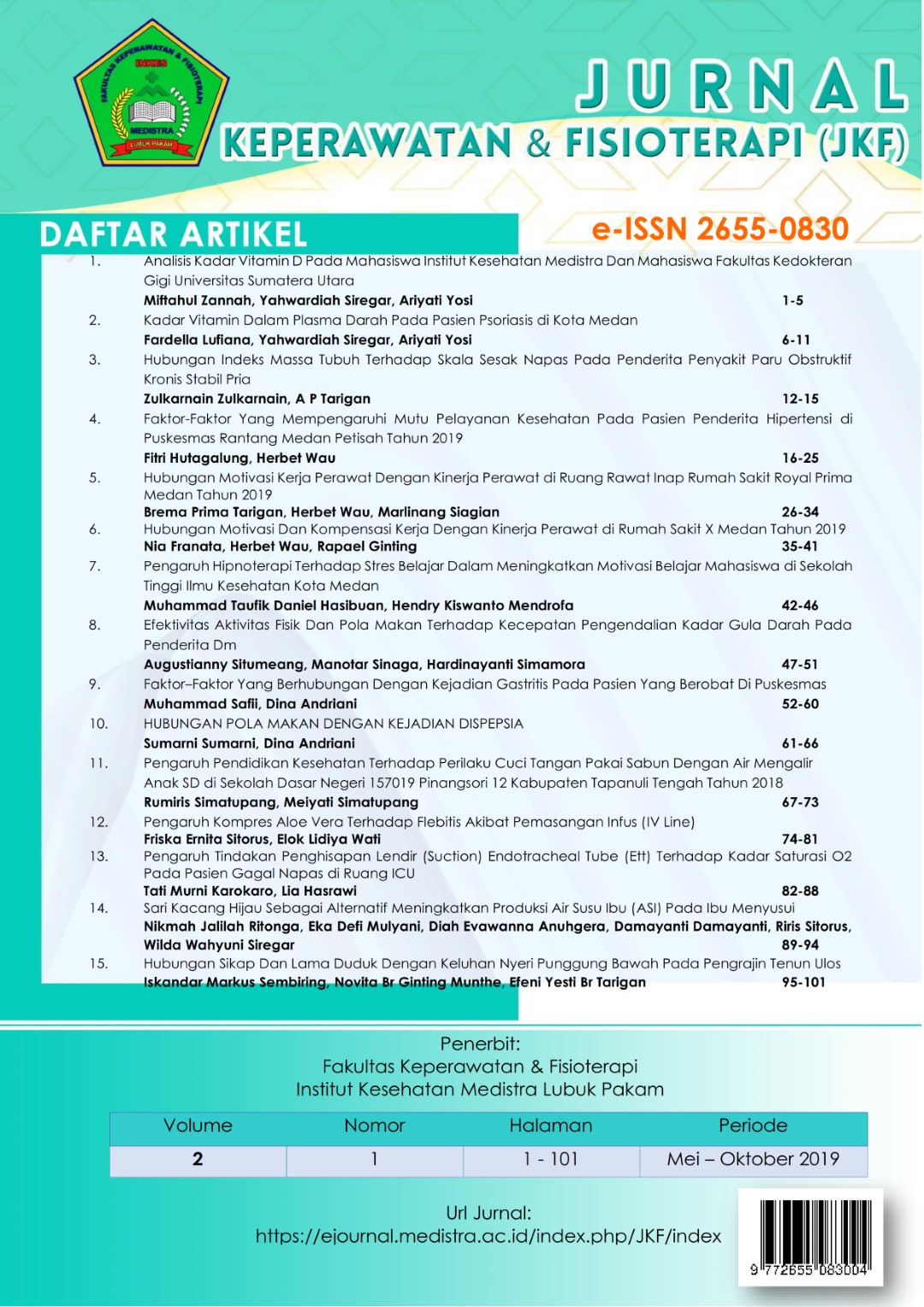 How to Cite
Zannah, M., Siregar, Y., & Yosi, A. (2019). ANALISIS KADAR VITAMIN D PADA MAHASISWA INSTITUT KESEHATAN MEDISTRA DAN MAHASISWA FAKULTAS KEDOKTERAN GIGI UNIVERSITAS SUMATERA UTARA. JURNAL KEPERAWATAN DAN FISIOTERAPI (JKF), 2(1), 1-5. https://doi.org/10.35451/jkf.v2i1.181
Copyright in each article is the property of the Author.