SARI KACANG HIJAU SEBAGAI ALTERNATIF MENINGKATKAN PRODUKSI AIR SUSU IBU (ASI) PADA IBU MENYUSUI
Nikmah Jalilah Ritonga

Institut Kesehatan Medistra Lubuk Pakam

Eka Defi Mulyani

Institut Kesehatan Medistra Lubuk Pakam

Diah Evawanna Anuhgera

Institut Kesehatan Medistra Lubuk Pakam

Damayanti Damayanti

Institut Kesehatan Medistra Lubuk Pakam

Riris Sitorus

Institut Kesehatan Medistra Lubuk Pakam

Wilda Wahyuni Siregar

Institut Kesehatan Medistra Lubuk Pakam
Keywords:
Green Beans, Breast Milk Production, Breastfeeding Mothers
Abstract
Abstract
Nursing mothers belong to one of the vulnerable groups of nutrition, because breast milk which is the main food for babies is obtained from the mother. Therefore, mothers who are breastfeeding must be controled to the intake of nutrients consumed. green beans as a food source of vegetable protein which has been very popular in everyday life. Based on the amount every 100 grams, protein is the second main constituent after calories, which contains 22.2% protein. The purpose of this study was to determine the effect of consumption of mungbean juice on breast milk production in nursing mothers. This research is a quantitative study with a pre-experimental design with one group pretest posttest, with a population of 20 breastfeeding mothers (0-2 months) and a total sample of 11 nursing mothers who delivered at Klinik Pratama Tutun Sehati. Data collection uses an observation sheet using indicators of Smooth Milk Production. The characteristic equality test showed that there was an effect of consuming mung bean extract on breast milk production in nursing mothers (p> α, α≤0.05). The results of the analysis test with the Wilcoxon test showed that there was a smooth effect of breast milk production (p = 0.046). It was recommended for nursing mothers whose milk was not smooth to pay attention to nutritional intake in order to improve the quality and amount of milk production, in packaging because the price is also affordable.
Downloads
Download data is not yet available.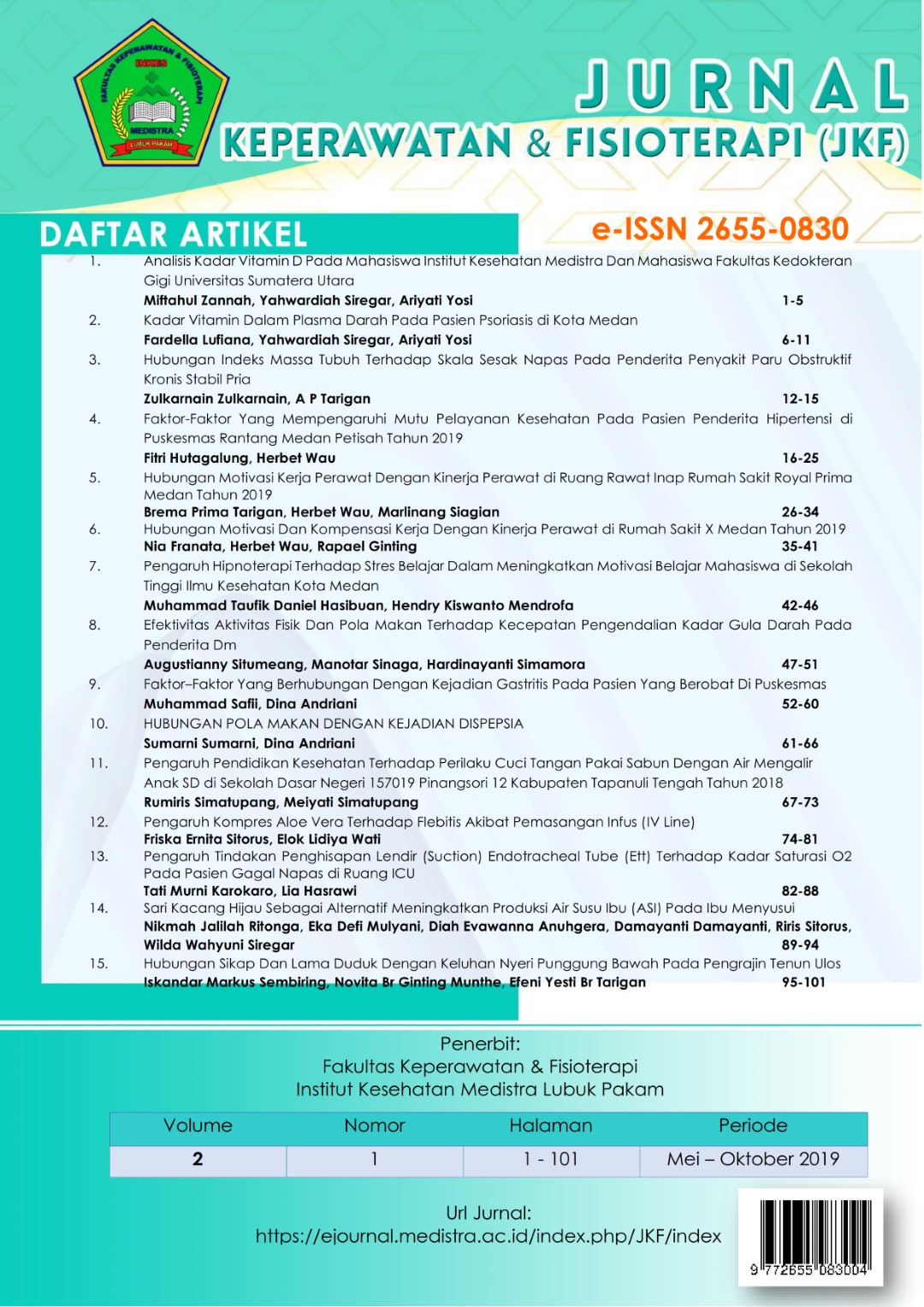 How to Cite
Ritonga, N., Mulyani, E. D., Anuhgera, D. E., Damayanti, D., Sitorus, R., & Siregar, W. W. (2019). SARI KACANG HIJAU SEBAGAI ALTERNATIF MENINGKATKAN PRODUKSI AIR SUSU IBU (ASI) PADA IBU MENYUSUI. JURNAL KEPERAWATAN DAN FISIOTERAPI (JKF), 2(1), 89-94. https://doi.org/10.35451/jkf.v2i1.272
Copyright in each article is the property of the Author.