PENGARUH PEMBERIAN D-GALAKTOSA TERHADAP PERUBAHAN BERAT BADAN MENCIT JANTAN
Indah Permata Sari

Universitas Sumatera Utara

Muhammad Ichwan

Universitas Sumatera Utara

Yahwardiah Siregar

Universitas Sumatera Utara
Keywords:
D-galactose , body weight, male mice
Abstract
D-galactose is aldohexose which occurs naturally in the body, including in the brain which is found in lactose disaccharides in honey, beets and milk products. Needed in the body for lactose formation during the process of lactogenesis. Provision of large amounts of D-galactose can cause oxidative damage to various tissues and organs. The purpose was to see changes in body weight in male rats after being given a D-galactose injection. Samples using male mice aged 8 weeks with a weight of ± 30 grams, the number of samples was 6 mice swiss webster strain. intra-peritoneal injection of D-galactose is given for 6 weeks every day (150 mg / kg / bb). The results of this study indicate that the statistical analysis is significant p <0.05 (p = 0.016). The conclusion after being given injection of D-galactose for 6 weeks every day intra peritoneally was found D-galactose had an effect on the weight gain of male mice.
Downloads
Download data is not yet available.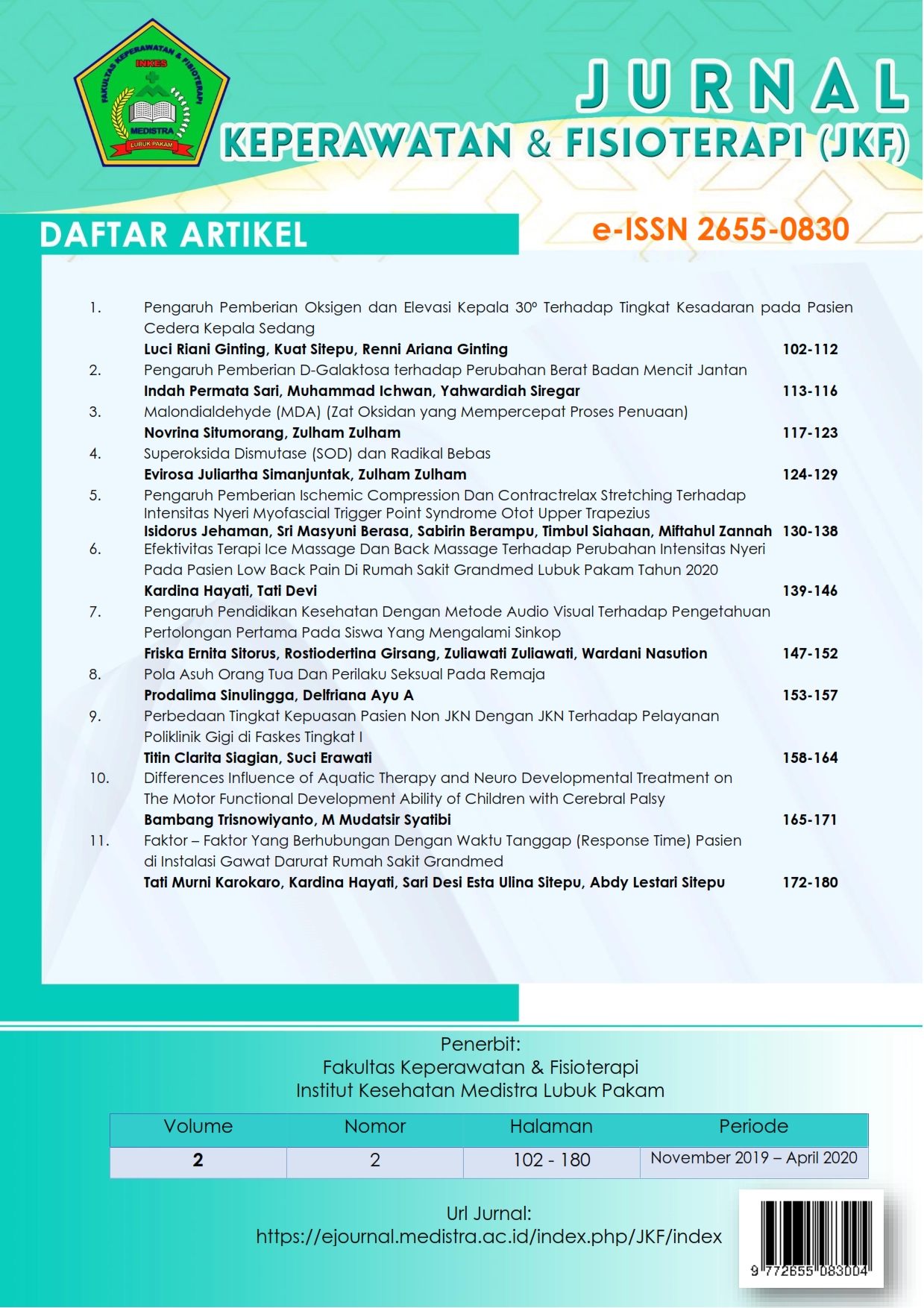 How to Cite
Sari, I. P., Ichwan, M., & Siregar, Y. (2020). PENGARUH PEMBERIAN D-GALAKTOSA TERHADAP PERUBAHAN BERAT BADAN MENCIT JANTAN. JURNAL KEPERAWATAN DAN FISIOTERAPI (JKF), 2(2), 113-116. https://doi.org/10.35451/jkf.v2i2.336
Copyright in each article is the property of the Author.