MALONDIALDEHYDE (MDA) (ZAT OKSIDAN YANG MEMPERCEPAT PROSES PENUAAN)
Keywords:
melondialdehyde, aging, oxidant
Abstract
Malondialdehyde (MDA) is the end product of fat peroxidation due to the breakdown of fatty acid chains which are compounds that  toxic to cells. Fat peroxidation is caused by body fat bound to free radicals such as hydroxyl radicals, superoxide anion radicals, and hydrogen peroxide, which are compounds or atoms that have unpaired electrons in their outer orbitals so that they are very reactive to cells or surrounding cell components including lipids. As a result of the lipid peroxidation reaction which is continuous which can cause various diseases and accelerate the aging process, because malondialdehyde causes cell damage. The aging process is the weakening of cells and organs as a whole starting from adulthood slowly and progressing quickly after the age of 50 years, marked by the body begins to ache and wrinkled skin. Naturally, the aging process will occur in every human being, but the process is different, some are fast (the process of premature aging) and some are slow (ageless). Although the aging process occurs for several reasons, free radicals such as melondialdehyde also contribute to accelerating the aging process. Efforts to slow down premature aging due to free radicals, namely antioxidants. As an active ingredient, antioxidants are used to protect skin from oxidation damage and prevent premature aging.
Downloads
Download data is not yet available.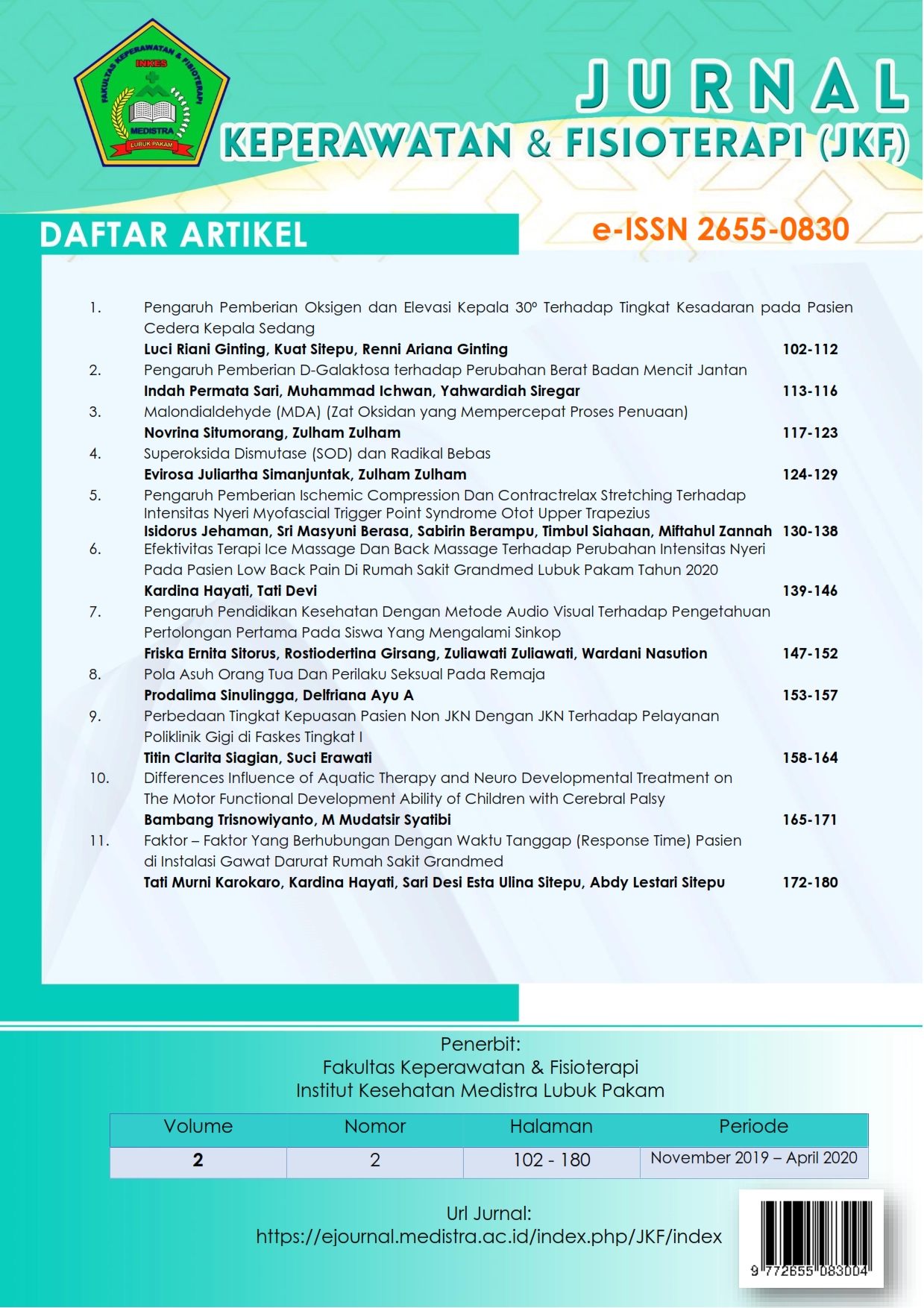 Downloads
How to Cite
Situmorang, N., & Zulham, Z. (2020). MALONDIALDEHYDE (MDA) (ZAT OKSIDAN YANG MEMPERCEPAT PROSES PENUAAN). JURNAL KEPERAWATAN DAN FISIOTERAPI (JKF), 2(2), 117–123. https://doi.org/10.35451/jkf.v2i2.338
License
Copyright in each article is the property of the Author.