SUPEROKSIDA DISMUTASE (SOD) DAN RADIKAL BEBAS
Evirosa Juliartha Simanjuntak

Magister Biomedik Fakultas Kedokteran USU

Zulham Zulham

Universitas Sumatera Utara
Keywords:
superoksida dismutase, radikal bebas, stress oksidatif,antioksidan
Abstract
Superoxide dismutase (SOD) is an endogenous antioxidant that works by regulating ROS levels. This group of enzymes functions to catalyze the efficient disposal of superoxide anions. Superoxide anions are produced enzymatically and non-enzymatically. In mammals there are 3 types of SOD, namely SOD1 (CuZnSOD), SOD2 (MnSOD), SOD3 (ECSOD). Oxidative stress caused by free radicals has been reported to be involved in several diseases. Various stressors trigger ROS production, also triggering the production of enzymatic antioxidants such as catalase (CAT), hydroperoxidase (HPx) and superoxide dismutase (SOD). Free radicals cause oxidative stress when the amount in the body is excessive, this situation will cause oxidative damage at the cellular, tissue to organ levels that will accelerate the aging process and the onset of disease. Free radicals are molecules that have one or more unpaired electrons and are therefore relatively unstable. Free radicals try to stabilize themselves by taking electrons from other molecules and will produce reactive oxygen species (ROS). If there is a disturbance in the balance of ROS products with antioxidants, oxidative stress will occur which results in damage to cell components. The higher levels of oxidative stress will increase the lipid peroxidation marker which is presented as malondialdehyde (MDA) and decrease the SOD enzyme activity. Thus the role of molecules that have antioxidant activity is very necessary to ward off oxidative stress.
Downloads
Download data is not yet available.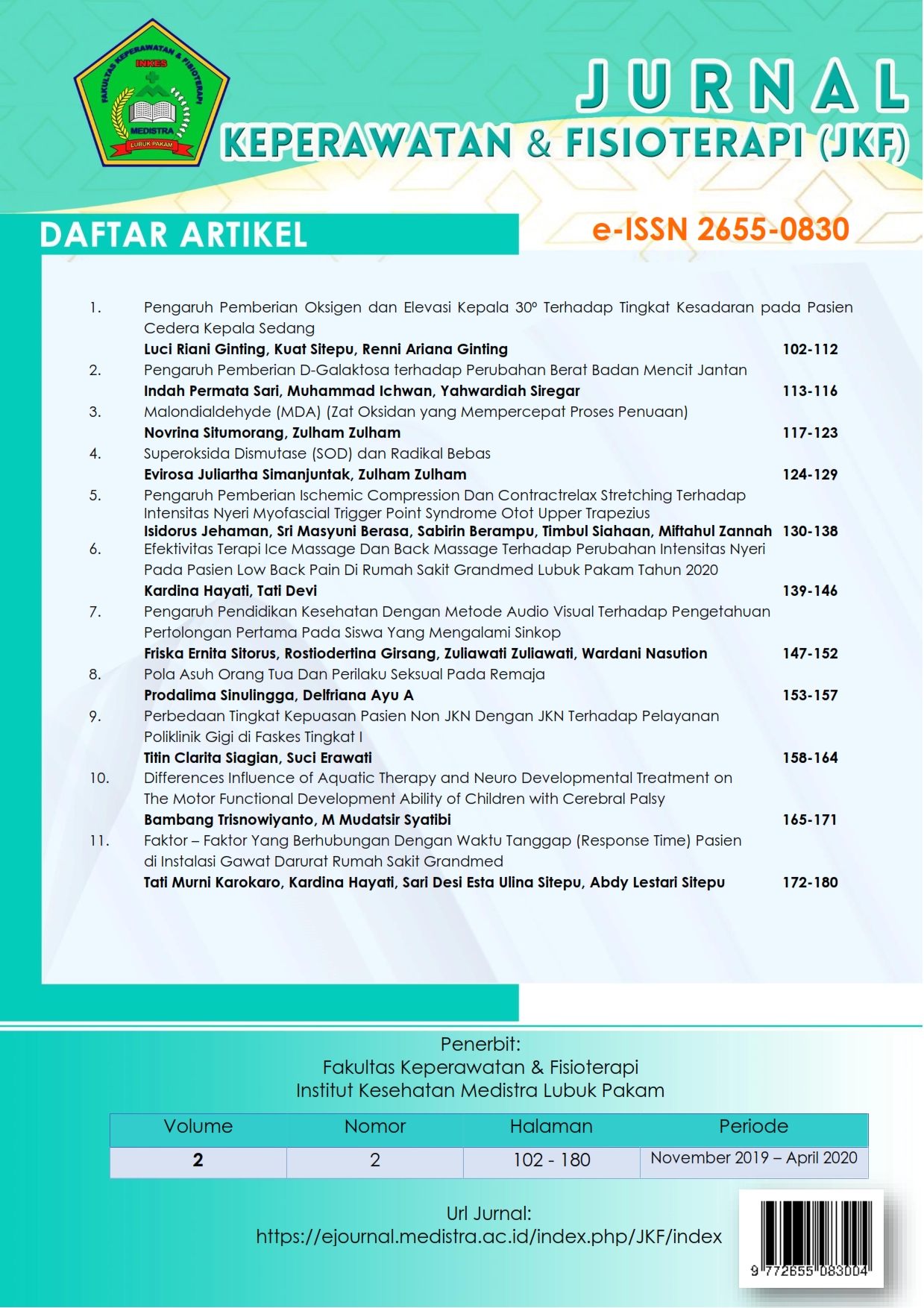 How to Cite
Simanjuntak, E., & Zulham, Z. (2020). SUPEROKSIDA DISMUTASE (SOD) DAN RADIKAL BEBAS. JURNAL KEPERAWATAN DAN FISIOTERAPI (JKF), 2(2), 124-129. https://doi.org/10.35451/jkf.v2i2.342
Copyright in each article is the property of the Author.