POLA ASUH ORANG TUA DAN PERILAKU SEKSUAL PADA REMAJA
Prodalima Sinulingga

STIKes Nurul Hasanah Kutacane

Delfriana Ayu A

Universitas Islam Negeri Sumatera Utara
Keywords:
Keywords : Parenting Patterns, Sex Behavior, Adolescents
Abstract
The family is the primary and first educator before the child obtains education in school and in the community. From the family was the first time to learn. So the family is the personality of the child is not limited to the successor. There are parents who want their children to behave according to their wishes, others who desire their children more freedom in thinking and action, some are too protective of their children, and some also invite their child to discuss in doing things. Sexual behavior is a behavior aimed at attracting the opposite sex and associated with sexual intercourse activity. Sexual activity is an activity undertaken in an effort to meet sexual urges. This research is done in order to know the overview of parenting patterns and adolescents ' sexual behavior. This type of research is descriptive by using a survey approach and a cross sectional approach. The total population in this study was 36 teenagers in Sub-district of Mangga Medan Tuntungan with sampling techniques using Simple Random Sampling. The study was conducted from February to April 2020. The conclusion that can be withdrawn from this study is; Based on 36 teenage boys and girls participating in the study were the result that the parenting patterns of their children were in the democratic category of 18 people, authoritarian as much as 13 people and permissive as many as 3 people. Later for sexual behavior in adolescents the majority of respondents said that it behaved not at risk as much as 28 people and at the risk of 8 people. It is hoped that this research further adds to the wider community's insight into how to create parents ' foster patterns towards their children and is expected to social institutions that have child and adolescent awareness programs to conduct health education not only about reproductive health but rather cover the overall aspects related to adolescents and their development.
Downloads
Download data is not yet available.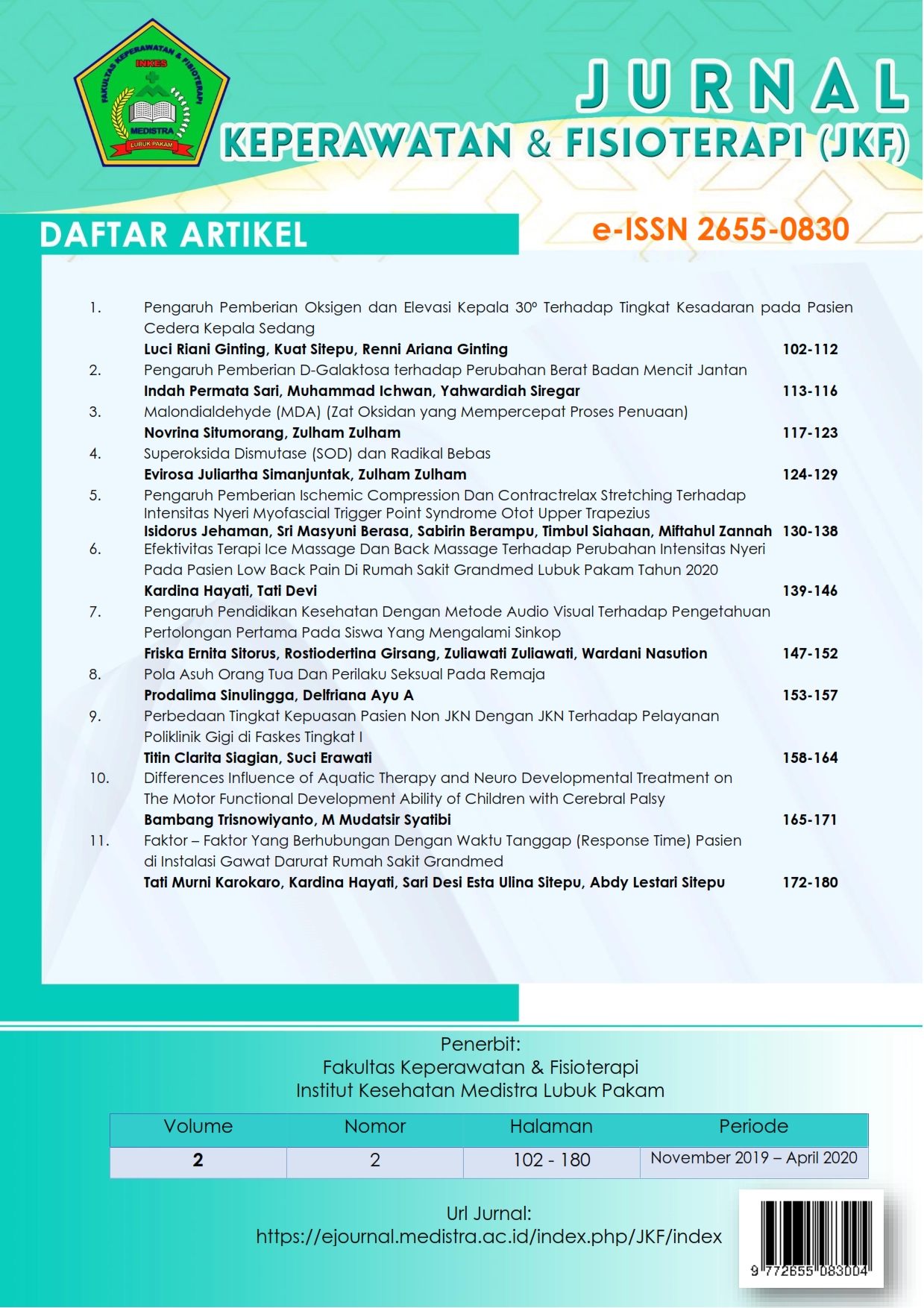 How to Cite
Sinulingga, P., & A, D. (2020). POLA ASUH ORANG TUA DAN PERILAKU SEKSUAL PADA REMAJA. JURNAL KEPERAWATAN DAN FISIOTERAPI (JKF), 2(2), 153-157. https://doi.org/10.35451/jkf.v2i2.405
Copyright in each article is the property of the Author.