PERAN POLIMORFISME GEN MATRIKS METALLOPROTEINASE-9 DENGAN KEJADIAN PENYAKIT PARU OBSTRUKTIF KRONIK
Wilson Arthur Zein

Universitas Sumatera Utara

Yahwardiah Siregar

Universitas Sumatera Utara

Amira P Tarigan

Universitas Sumatera Utara
Keywords:
COPD, MMP-9, Polymorphism
Abstract
Excessive secretion of MMP-9 is one of the cause of COPD is which can cause undesirable lung tissue degradation. Increased expression of MMP-9 is associated with increased gene promoter activity. The purpose of this study was to determine the role of mettaloproteinase-9 matrix gene polymorphisms with COPD events. This was a case-control study. With a total sample of 60 patients consisting of 30 COPD patients and 30 non-COPD patients. Samples were amplified by PCR (Polymerase Chain Reaction) The results of DNA amplification were digested with SphI restriction enzyme to see the allele variant of MMP-9 C-1562T. Visualization of restriction results with 2% agarose gel electrophoresis will show 2 bands on the T allele (188bp, 247bp), 1 band on the C allele (435bp). The results obtained were homozygous CC variants in COPD 20 (66.67%) and non-COPD 21 (70%). Heterozygous variant of CT 10 (33.33%) in COPD and 9 (30%) in non-COPD. TT variant is not found at all. Based on the results obtained by the most CC homozygous variants in COPD (66.67%) and non-COPD (70%) and no association was found between MMP-9 polymorphism and COPD events (p> 0.05). Based on the results of this study, there is no significant relationship that we can conclude.
Downloads
Download data is not yet available.
References
Caramori G, Ruggeri P, Stefano AD, Mumby S, Girbino G, Adcock IM, et al. 2017. Autoimmunity and COPD: clinical implications. CHEST, doi: 10.1016/j.chest.2017.10.033.
Andreeva E, Pokhaznikova M, Lebedev A, Moiseeva I, Kuznetsova O, Degryse JM. 2017. Spirometry is not enough to diagnose COPD in epidemiological studies: a follow-up study, npj Primary Care Respiratory Medicine 27:62 ; doi:10.1038/s41533-017-0062-6.
Grzela K, Litwiniuk M, Zagorska W, Grzela T. 2015. Airway Remodeling in Chronic Obstructive Pulmonary Disease and Asthma: the Role of Matrix Metalloproteinase-9, Arch. Immunol. Ther. Exp.
Lee S.Y, et al. 2010. Polymorphism in Matrix Metalloproteinase-1, -9 and -12 Genes and the Risk of Chronic Obstructive Pulmonary Disease in a Korean Population. Respiration, Volume 80:137.
Jiang S, Yang ZH, Chen YY, He Z, Zhou Y, Gao Y, et al. 2016. MMP-9 genetic polymorphism may confer suspectibility to COPD. Genetics and Molecular Research 15 (2): gmr. 15026272.
Montoya JH, Ramos JP, Montaño M, Venegas AR, Sansores RH, Rubio GP, et al. 2015. Genetic polymorphisms of matrix metalloproteinases and protein levels in chronic obstructive pulmonary disease in a Mexican population. Biomark Med, 9(10): 979 – 988.
[PDPI] Perhimpunan Dokter Paru Indonesia. 2003. Penyakit Paru Obstruktif Kronik :Pedoman Diagnosis & Penatalaksanaan di Indonesia.
[Riskesdas] Riset Kesehatan Dasar. 2013.
Sethi S, Mahler DA, Marcus P, Owen CA, Yawn B, Rennard S. 2012. Inflammation in COPD: Implications for Management, Am J Med, 125: 1162 – 1170.
Tarigan, R, Tarigan AP, Wahyuni DD, Eyanoer PC. 2019. Hubungan Pola Kuman dengan Derajat Obstruksi (VEP1) pada Penyakit Paru Obstruktif Kronik (PPOK) Eksaserbasi Akut. J Respir Indo Vol. 39 No. 3
Xu L, Bian W, Gu XH, Shen C. 2017. Genetic polymorphism in matrix metalloproteinase-9 and transforming growth faktor-β1 and susceptibility to combined pulmonary fibrosis and emphysema in a Chinese population, KJMS, 33, 124 – 129.
Zhou H, Wu Y, Jin Y, Zhou J, Zhang C, Che L, et al. 2013. Genetic Polymorphism of Matrix Metalloproteinase Family and Chronic Obstructive Pulmonary Disease Susceptibility: a Meta-analysis. Scientific Reports (3: 2818).
Gilowska I, Kasper A, Bogacz K, Szczegielniak J, Szymasek T, Kasper M, et al. 2018. Impact of Matrix Metalloproteinase 9 on COPD Development in Polish Patients: Genetic Polymorphism, Protein Level, and Their Relationship with Lung Function. Research Article. BioMed Research International. Volume 2018, Article ID 6417415, 11 pages. https://doi.org/10.1155/2018/6417415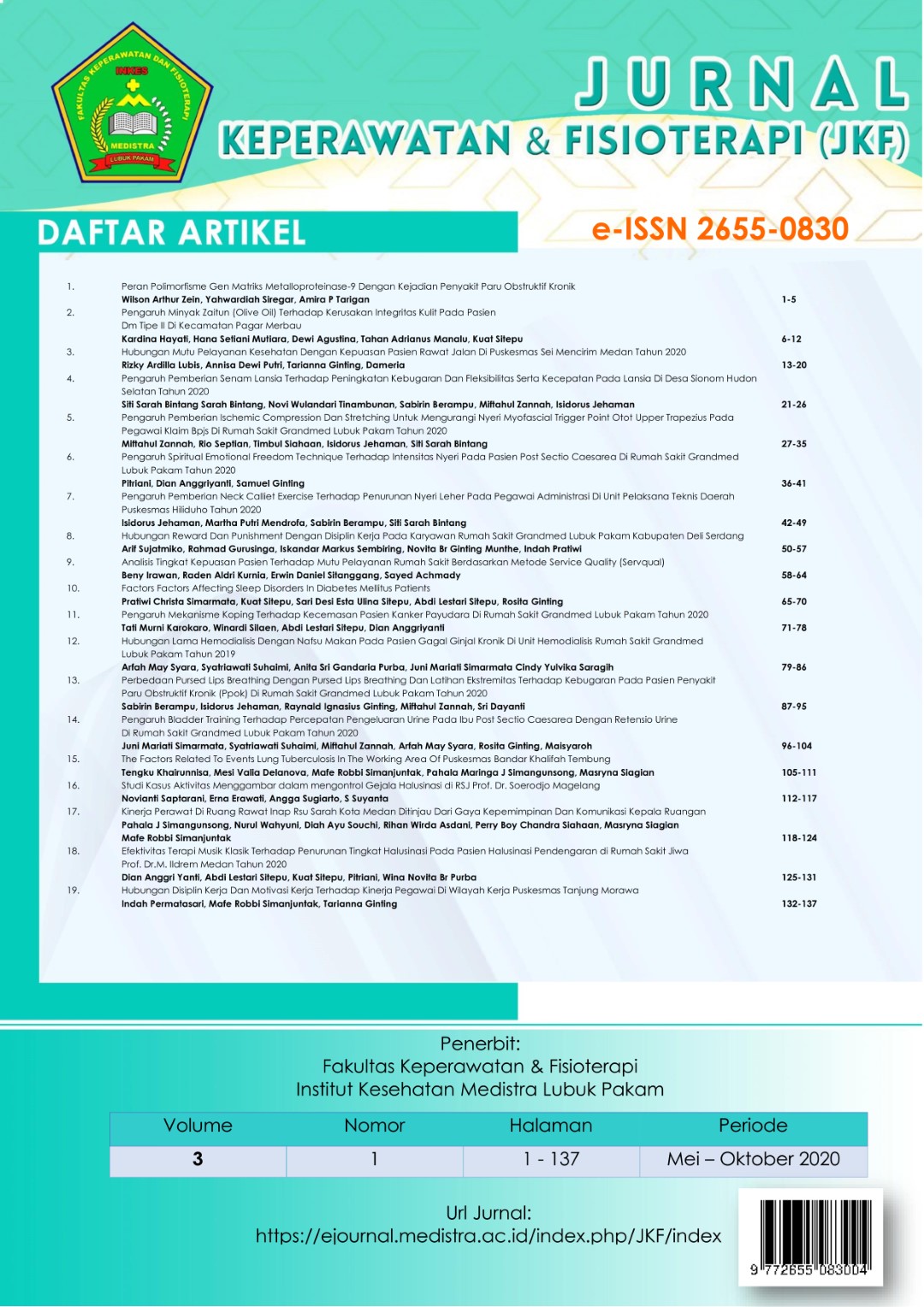 How to Cite
Zein, W., Siregar, Y., & Tarigan, A. (2020). PERAN POLIMORFISME GEN MATRIKS METALLOPROTEINASE-9 DENGAN KEJADIAN PENYAKIT PARU OBSTRUKTIF KRONIK. JURNAL KEPERAWATAN DAN FISIOTERAPI (JKF), 3(1), 1-5. https://doi.org/10.35451/jkf.v3i1.427
Copyright (c) 2020 Wilson Arthur Zein, Yahwardiah Siregar, Amira P Tarigan
This work is licensed under a Creative Commons Attribution-NonCommercial-ShareAlike 4.0 International License.
Copyright in each article is the property of the Author.