PENATALAKSANAAN SEPSIS AKI PADA PASIEN MULTIPLE MYELOMA DENGAN HIPERKALSEMIA BERAT
Agus Sumedi

Universitas Islam Sumatera Utara
Keywords:
Multiple Myeloma, pneumonia, AKI, hypercalcemia, multi drugs resistant
Abstract
This case report talking about a female 56 yo with Multiple Myeloma (MM) suffer from Pneumonia and Acute Kidney Injury (AKI). MM is haematology cancer   produce free light chain that impair renal tubulus, cause anemia,  bone lesion and hypercalcemia. This patient came to hospital withsevere pneumonia, acute kidney injury andsevere hypercalcemia. In intensive care unit supported by mechanical ventilation, diuretic, antibiotics administration,haemodialysis,vasoactive agents, bisphosphonat and others.The acitenobacter baumanni was identified from sputum culture and then developed become multidrugs resistant leading to septic syock and multi organs dysfunction and death in two weeks.
Downloads
Download data is not yet available.
References
Anunnatsiri. S and Tansawan P. 2011. Risk Factors and Clinical Outcome of Multi Drugs acinetobacter baumanni bacteria at University Hospital in Thailand. Southeast asian J Troop. Med. Public Health, Vol 42 (3).
Bradley M. et al. 2005. Early Mortality After Diagnosis Multiple Myeloma: Analysis of batient Entered Onto The United Kingdom Medical Research Council Trial between 1980 and 2002: Medical Research Council Adult Leukemia Working party. Journal of Oncology, Vol 23 (36).
Chen SJ. et al. 2011. Prediction of patient outcome from Acitenobacter baumanni bacteremia with Squential Organ Failure Assestment (SOFA) and Acute Physiologi and Chronic Health Evaluation (APACHE) score. Intern Med, Vol 50 (8), pp. 871–877.
Chu P. et al. 2013. Managing multiple myeloma patients with renal failure. Hongkong Journal of Nephrology, Vol 15, pp. 62–67.
Cohen G and Hol WH. 2012. Dysfunction in Uremia-An. Update Toxin Vol 4, pp. 962–990; doi : 103390/toxin 4110962.
Crouwn. LA. et al. 2009. Hypercalcemia crisis. A Case Study. American Journal of Clinical Medicine, Vol 6 (1).
Delinger R.P. et al. 2013. Surviving Sepsis Compaign International Guideline for Management of Severe Sepsis and Septic Shock 2012. Critical Care Medicine, Vol 4 (2).
Dimopoulos G. et al. 2007. Candidemia in immunocompromised and immuno competent critical ill patients: a prospective comparative study. The European Journal of Clinical Microbiology & Infection Diseases, Vol 26 (6), pp. 377-84.
Dimopoulos MA. Et al. 2008. Pathogrnesis and treatment of renal failure in multiple myeloma. Leukemia Vol 22, pp. 1485-1493.
Ferez. F et al. 2007. Global Challenge of Multi Drugs Resisten Acinotebacter baumannii. Antimicrobal Agent and Chemotheraphy, Edisi October 2007, pp. 3471-3484
Forni. L. 2016. Fluid therapy and acute kidney injury: a question of balance?. SIGNA VITA, Vol 11 (SUPPL 2), pp. 17–21.
Fraimow HS and Tsigrelis C. 2011. Antimicrobial Resistence in the Intensive Care Unit: Mechanisms, Epidemioloy and Management of Spsific Resistent Phatogens. Crit Care Clin Vol 27, pp. 163–205.
Hotchkiss RS. 2013. Immunosuppression in sepsis: a novel understandin of the disorder and a new therapeutic approach. Lancet Infect Dis, Vol 13 (3), pp. 260-268.
Kahlil AC, et al. 2016. Management of Adults With Hospital-acquired and Ventilator-associated Pneumonia: 2016 Clinical Practice Guidelines by the Infectious Diseases Society of America and the American Thoracic Society. Clinical snfectious Disease 2016.
Kidney Clinical. 2012. Kidney Disease: Improving Global Outcome (KDIGO). Acute Kidney Injury Work Group. KDIGO Clinical Practice Guideline For Acute Kidney Injury, Vol 2 (1).
Kumar, A. 2006. Duration hypotension before initation of effective antimicrobial therapy in the dterminant of survival in human septic shock. Critical Care Med, Vol 34 (6).
Loh H. H and Noor NM. 2014. The use of Hemodialysis in Refractory Hyper-calcemia Secondary to Parathyroid Carsinoma. Case Report in Critical Care Vol 2014.
Mandel LA. et al. 2007. Infection Diseases Society of American/American Thoracic Society Cocencus Guideline on Management of Community-Acquired Pneumonia in Adult. IDSA/ATS Guideline for CAP in Adult.
Moist L. et al. 1999. Plasma exchange in rapidly progressive renal failure due to multiple myeloma. A retrospective case series. Am J Nephrol, Vol 19 (1), pp. 45–50.
Nucci.M and Annaissie E. 2009. Infection in Patient with Multiple Myeloma in Era of hight theraphy and Novel agent. Review article. Infection in Multiple Myeloma, Vol 49.
Rice. Z. And Ronco. C. 2010. Pulmonary/ renal interaction. Current Opinion in Critical Care, Vol 16, pp. 13–18.
Sharman A and Low J. 2008. Vasopressin and its role in Critical Care. Continuing Education in Anesthesia. Critical Care & Pain, Vol 8 (4).
Singer M. et al. 2016. The Third International Concencus Definitions for Sepsis and septic Shock (Sepsis-3). JAMA, Vol 315 (8).
Terpos E et al. 2015. European Myeloma Network Guideline for the Management of Multiple Myeloma. Related Complications Haematologica, Vol 100 (10).
Tosi P. et al. 2015. Multiple Myeloma and Renal Failure. EMJ Oncol. Vol 3 (1), pp. 65–69.
Ziegler R. 2001. Hypercalcemia Crisis. J Am Nephrol, Vol 12.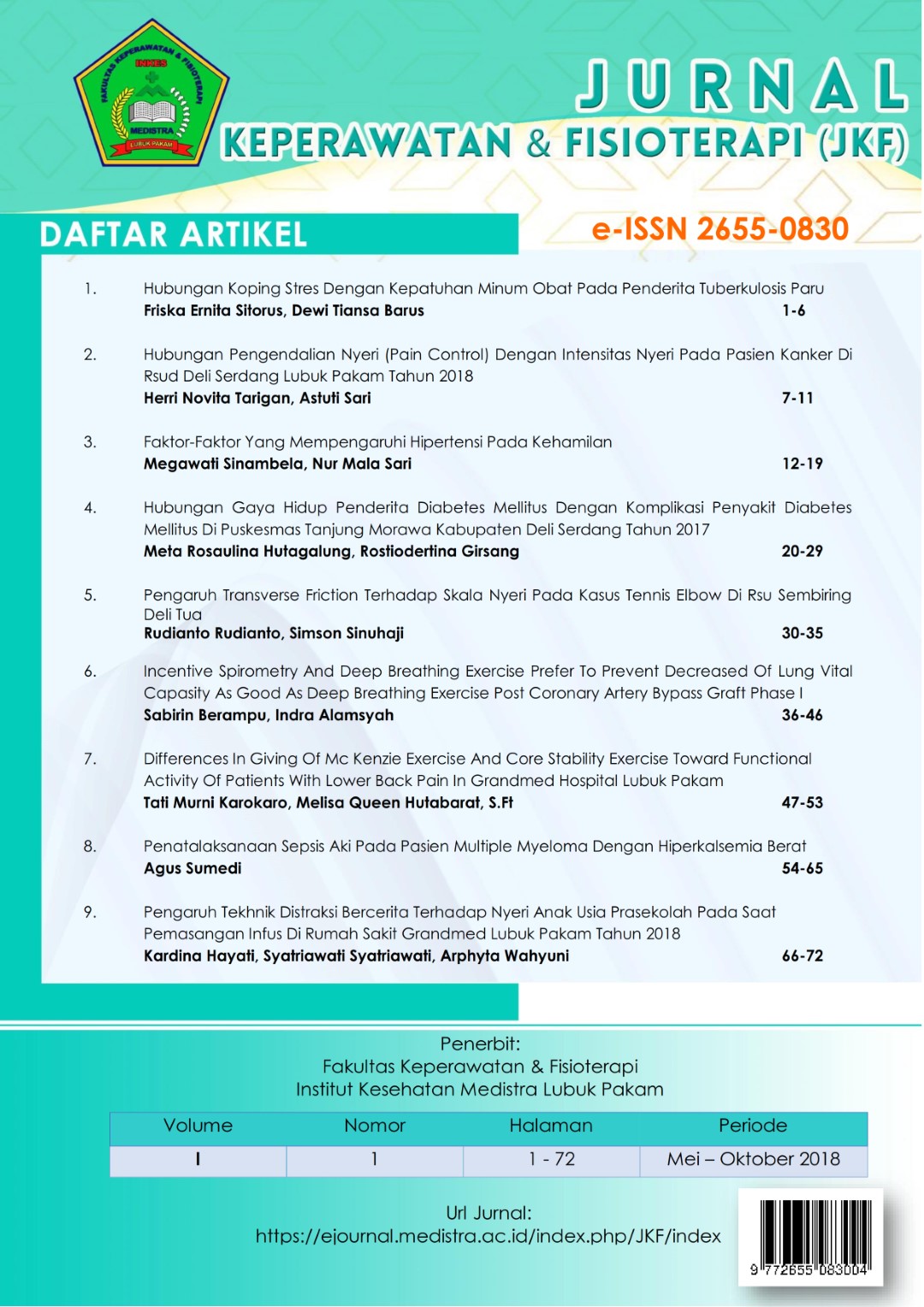 How to Cite
Sumedi, A. (2018). PENATALAKSANAAN SEPSIS AKI PADA PASIEN MULTIPLE MYELOMA DENGAN HIPERKALSEMIA BERAT. JURNAL KEPERAWATAN DAN FISIOTERAPI (JKF), 1(1), 54-65. https://doi.org/10.35451/jkf.v1i1.45
Copyright in each article is the property of the Author.