HUBUNGAN KOPING STRES DENGAN KEPATUHAN MINUM OBAT PADA PENDERITA TUBERKULOSIS PARU
Friska Ernita Sitorus

Institut Kesehatan Deli Husada Delitua

Dewi Tiansa Barus

Institut Kesehatan Deli Husada Delitua
Keywords:
Tuberculosis, Coping Stress, Medication Compliance
Abstract
Pulmonary Tuberculosis (TB) is an infectious disease that still has became theworld concern. In Indonesia, pulmonary tuberculosis is still major communityhealth problem eventhough the goverment have already develop Tuberculosis programsince decade ago. The purpose of this research is to describe factors contributing to pulmonary tuberculosis through general characteristic of the pulmonary Tubeculos is patients and their environmental especially housing condition.The aims of Reseach to know the relationship of coping stress with adherence to Medication in people with Tuberculosis in Delitua Sub district health centers Delitua Deli Serdang district the year 2017. The study is Observational, analytic approach of cross sectional. The subject of research was Pulmonary Tuberculosis sufferers in the region Delitua, County Health Center Deliserdang. The Data of obtained by the used of questionnaires and direct observations in the neighborhood Health Center. Sampling of the techniques, namely the minimum number of samples with 61 samples. The data  using computer programs with the chi-square test with a significance level of 95% (? = 0.05) value p = 0.001. The results of the data analysis Univariate statistics for trials with Koping stress indicate that the average sufferer of Tuberculosis are at categories de-stress kopingAdaktif 70.5%,as for compliance with medication is at a category i.e. 82.0% Obedient, Chi-square test results Showed there is Relationship stress Compliance with the Koping medication (0.001). The conclusions of this Reasech showed that stress Koping have relationships with Medication Compliance.
Downloads
Download data is not yet available.
References
Depkes RI. 2010. Pedoman Nasional Penanggulangan Tuberkulosis. Jakarta: Depkes.
Dinkes Prov SU. Profil Kesehatan Provinsi Sumatera Utara Tahun 2015. Medan; Dinas Kesehatan Provinsi Sumatera Utara. 2015.
Dinkes Kab.Deli Serdang. Profil Dinas Kesehatan Kab.Deli Serdang. 2015
Ernita Novalia. (2010). Koping Pasien Gagal Ginjal Kronis Yang Menjalani Hemodialisa di Rumah Sakit Umum Pusat H.Adam Malik Medan. http://repository.usu.ac.id/bitstream/123456789/24973/6/Abstract.pdf. Diunduh Tanggal 15 November 2017.
Fitriatun Rosidah. 2006. Beberapa faktor Yang berhubungan dengan keberhasilan pengobatan TB Paru Di BP4 Tegal Tahun 2006. Semarang. Universitas Muhhammdiyah Semarang
Gerald C.Davison, John M.Neale, Ann M.Kring. 2010. Psikologi Abnormal (diterjemahkan oleh Noermalasari Fajar), edisi ke-9, Jakarta: Raja Garfindo Persada
Issa BA, Yusuf AD, Kurangga SI. Depression comorbidity among patients with tuberculosis in a university teaching hospital outpatient clinic in Nigeria. Mental Health in Family Medicine; 2009. Vol 6 (3):133-8.
Keliat, B.A., 1997, Gangguan Koping, Citra Tubuh, dan Seksual pada Klien Kanker. Penerbit Buku Kedokteran EGC, Jakarta,
Keliat Budi A, 2005, Proses Keperawatan Jiwa, Edisi 2, Jakarta : EGC
Laban, Yoannes. 2008. TBC Penyakit Dan Cara Pencegahannya. Yogyakarta: Kanisius
Setyawan AB., 2007, Hubungan Antara Fungsi Keluarga Dengan Kepatuhan Berobat Pasien Program Terapi Rumatan Metadon RSU Dr. Soetomo Surabaya, Bagian Psikiatri Fakultas Kedokteran Universitas Wijaya Kusuma, Surabaya.
Stuart GW & Laraia, 2005, Principles and practice of psychiatric nursing, Elsevier Mosby, Alih Bahasa Budi Santosa, Philadelphia
Snyder, C, R. 1999. Coping; The Psychology of what work. World Health Organization (WHO). Global Tuberculosis Report 2015. Switzerland. 2015.
Widyastuti. (2003). Mekanisme Koping Penderita Diabetes Militus. Artikel : STIKES Maharani Malang.
Wu, S.F.V., Courtney, M., Edward, H., McDowell, J., Shortridge-Baggett, L.M., Chang, P.J., 2006. Selfefficacy, outcome expectation and self care behavior in p with type diabetes in taiwan.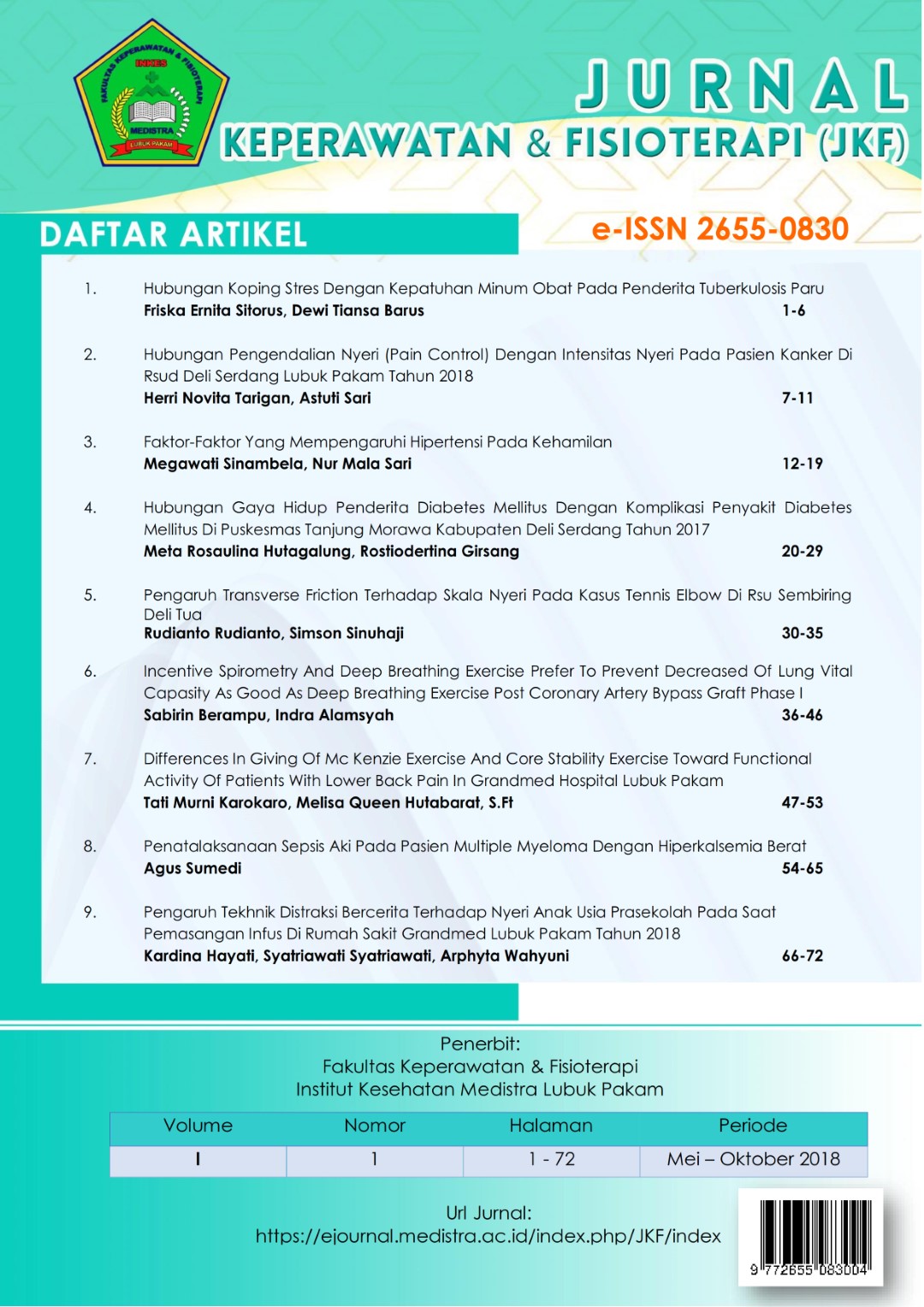 How to Cite
Sitorus, F., & Barus, D. (2018). HUBUNGAN KOPING STRES DENGAN KEPATUHAN MINUM OBAT PADA PENDERITA TUBERKULOSIS PARU. JURNAL KEPERAWATAN DAN FISIOTERAPI (JKF), 1(1), 1-6. https://doi.org/10.35451/jkf.v1i1.47
Copyright in each article is the property of the Author.