PENGARUH PEMBERIAN SENAM LANSIA TERHADAP PENINGKATAN KEBUGARAN DAN FLEKSIBILITAS SERTA KECEPATAN PADA LANSIA DI DESA SIONOM HUDON SELATAN TAHUN 2020
Siti Sarah Bintang Sarah Bintang

Institut Kesehatan Medistra Lubuk Pakam

Novi Wulandari Tinambunan

Institut Kesehatan Medistra Lubuk Pakam

Sabirin Berampu

Institut Kesehatan Medistra Lubuk Pakam

Miftahul Zannah

Institut Kesehatan Medistra Lubuk Pakam

Isidorus Jehaman

Institut Kesehatan Medistra Lubuk Pakam
Keywords:
Fitness, Flexibility, Speed, Elderly Gymnastics
Abstract
The fitness condition of the elderly is an indicator that can be used to determine the health level of the elderly. The level of physical activity is one of the factors that determine body composition from childhood to old age, proper flexibility helps people to have a functional balance throughout their life and to participate fully in countless recreational and communitarian activities. Lack of reasonable flexibility a greater chance of developing lesions and functional problems. Gymnastics for the elderly is a sport that can be done regularly so that the fitness of the elderly can increase. The study was to determine the effect of elderly exercise on improving fitness and flexibility and speed in the elderly in Sionom Hudon Selatan Village in 2020. Method of research is Quasi Experiment or quasi-experimental research with the design or research design used is one group pre and post test conducted in the Village of Sionom Hudon Selatan.The sample consisted of 12 people in each action taken. The results of the hypothesis test with the Wilcoxon signed rank test test p value α = (0.002 <0.05) which means "There is an effect of Giving Elderly Gymnastics Against Improvement of Fitness and Flexibility and Speed in the Elderly in the Village of Zion South Hudon in 2020".
Downloads
Download data is not yet available.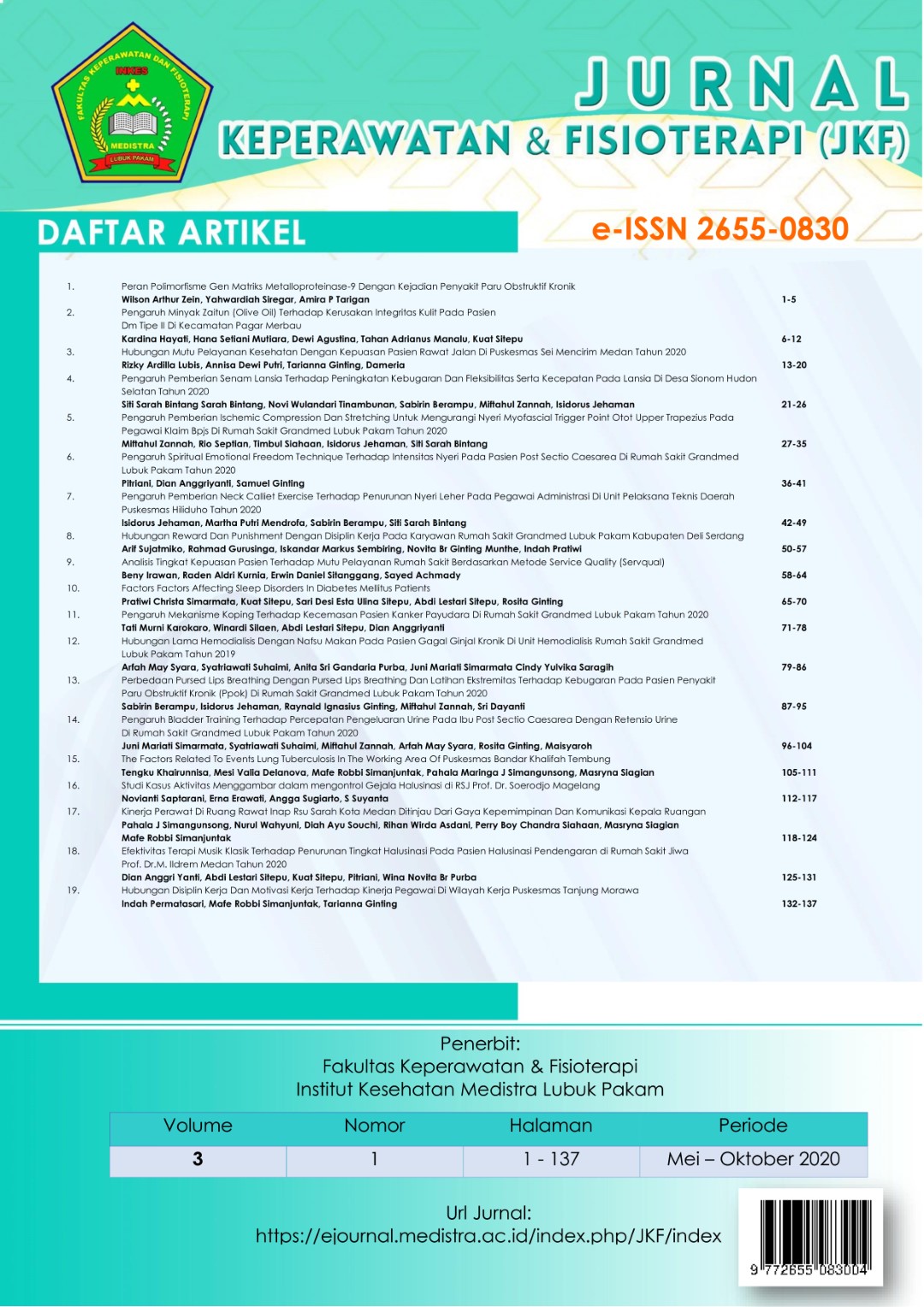 How to Cite
Bintang, S. S. B., Tinambunan, N., Berampu, S., Zannah, M., & Jehaman, I. (2020). PENGARUH PEMBERIAN SENAM LANSIA TERHADAP PENINGKATAN KEBUGARAN DAN FLEKSIBILITAS SERTA KECEPATAN PADA LANSIA DI DESA SIONOM HUDON SELATAN TAHUN 2020. JURNAL KEPERAWATAN DAN FISIOTERAPI (JKF), 3(1), 21-26. https://doi.org/10.35451/jkf.v3i1.485
Copyright (c) 2020 Siti Sarah Bintang Sarah Bintang, Novi Wulandari Tinambunan, Sabirin Berampu, Miftahul Zannah, Isidorus Jehaman
This work is licensed under a Creative Commons Attribution-NonCommercial-ShareAlike 4.0 International License.
Copyright in each article is the property of the Author.