HUBUNGAN PENGENDALIAN NYERI ( PAIN CONTROL ) DENGAN INTENSITAS NYERI PADA PASIEN KANKER DI RSUD DELI SERDANG LUBUK PAKAM TAHUN 2018
Herri Novita Tarigan

Institut Kesehatan DELI HUSADA Deli Tua

Astuti Sari

Institut Kesehatan DELI HUSADA Deli Tua
Keywords:
Pain Control, Pain Intensity, Cancer
Abstract
Cancer is an abnormal cell growth which tend to be attack the surrounding tissue and spread to other organs which is far away. The cause of cancer is uncontrolled cell proliferation. Whereas the complaints that often appear on patients with cancer is pain. Cancer pain is one result of the most feared cancer patients. In fact, pain is the most recent cancer symptom. When according to the intensity that the patient feel subjectively. This research aimed to analyzed the relationship between pain control with pain intensity on cancer patients. With descriptive correlation research design. Data collection started from February to April 2018. With the number of 96 respondents by using total samplingas the research instrument that used as method of sample collecting, demographic data, pain control questionnaires and observation sheets. The result of the research showed that the sign value is 0,005 which showed the correlation between pain control score with pain intensity is significant correlation value is -0,284. With a negative direction. Wherees the better of pain control means the lower of pain intensity. The correlation between  pain  control with pain intensity is two way relationship. Suggestion : Hopefully this research can be useful in the future in controlling of pain cancer patients.
Downloads
Download data is not yet available.
References
Badareo dkk, 2008. Seri Asuhan
Keperawatan Klien Kanker, Penerbit Buku Kedokteran ECG,Jakarta.
Departemen Kesehatan RI. (2013).
Riset Kesehatan Dasar (Riskesdas) 2007: Laporan Nasional 2013. Jakarta: Badan Penelitian dan Pengembangan Kesehatan Depkes RI.
Gartner, A.M. (2011). The Elkins Distress Inventory : Development of Brief Biopsychosocial Battery for The Assesment of Pain and Psychological Departement Distress in a Chronic Pain Population. Departement of Psychology and Neuroscience Baylor University. Proquest: United Stated.
Johnson, S., Maas, M. L., Moorhead,
S.,&Swanson, E. (2016 Nursing Outcomes Classification. In: Nurjannah, I&Tumanggor, R. D (editor). CV. Indonesia: Mocomedia.
Kozier, Barbara (2010). Buku Ajar
Fundamental Keperawatan : konsep, proses, dan paktik, edisi 7 Volume 1. Jakarta : EGC.
Notoadmojo, Soekidjo. (2012).
Metodologi Penelitian Kesehatan. Jakarta, Rineka Cipta.
Potter, P. A & Perry, A. G. (2009).
Buku Ajar Fundamental Keperawatan: Konsep, Proses, dan Praktik. Buku 3 Edisi 7. Jakarta: EGC.
Prasetyo, S. N. (2010). Konsep dan Proses
Keperawatan Nyeri. Yogyakarta: Graha Ilmu.
RISKESDAS (2013). Laporan Nasional 2013. Badan Penelitian Dan Pengembangan Kesehatan. Departemen Kesehatan Republik Indonesia.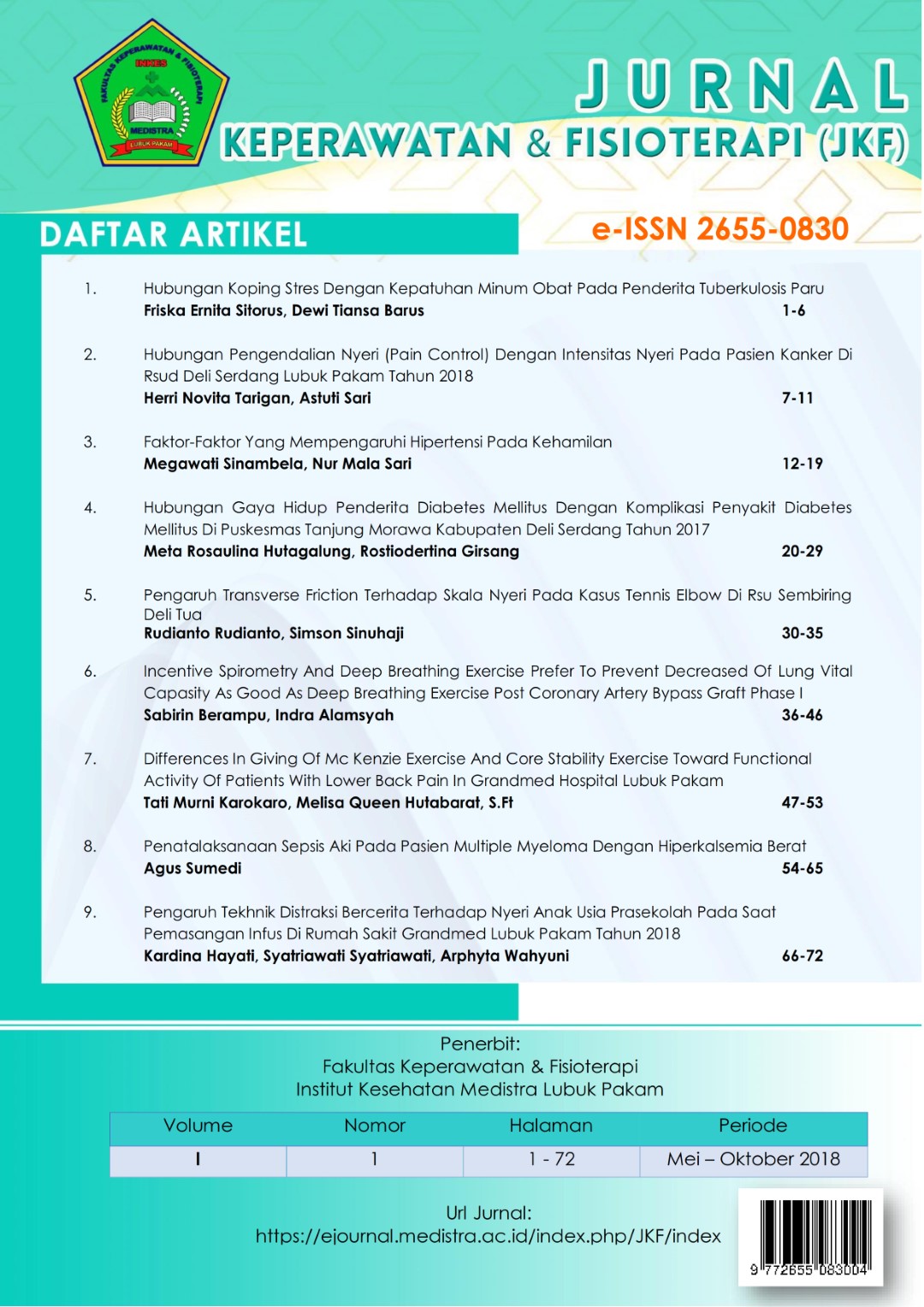 How to Cite
Tarigan, H., & Sari, A. (2018). HUBUNGAN PENGENDALIAN NYERI ( PAIN CONTROL ) DENGAN INTENSITAS NYERI PADA PASIEN KANKER DI RSUD DELI SERDANG LUBUK PAKAM TAHUN 2018. JURNAL KEPERAWATAN DAN FISIOTERAPI (JKF), 1(1), 7-11. https://doi.org/10.35451/jkf.v1i1.49
Copyright in each article is the property of the Author.