PENGARUH PEMBERIAN ISCHEMIC COMPRESSION DAN STRETCHING UNTUK MENGURANGI NYERI MYOFASCIAL TRIGGER POINT OTOT UPPER TRAPEZIUS PADA PEGAWAI KLAIM BPJS DI RUMAH SAKIT GRANDMED LUBUK PAKAM TAHUN 2020
Miftahul Zannah

INSTITUT KESEHATAN MEDISTRA LUBUK PAKAM

Rio Septian

INSTITUT KESEHATAN MEDISTRA LUBUK PAKAM

Timbul Siahaan

INSTITUT KESEHATAN MEDISTRA LUBUK PAKAM

Isidorus Jehaman

Siti Sarah Bintang

INSTITUT KESEHATAN MEDISTRA LUBUK PAKAM
Keywords:
Myofascial Trigger Point, Ischemic Compression, Stretching
Abstract
Background: Myofascial Trigger point syndrome is a local pain trigger point characterized by irritation, inflammation, and swelling. The main problem is that when the emphasis is made, it creates a hypersensitive pain. Myofacial trigger point occured by adhesions, increase by malnutritions and oxygen to ischemic. The problems are pain on muscle cervical contraction and spasm, tenderness, tightness, stiffness, decrease muscle strength.Physiotherapy modalities that can be used for Myofascial Trigger point syndrome are Ischemic Compression and Stretching exercise. Objectives: The study aims to determine influence of Ischemic Compression and Stretching exercise in patients with the myofascial trigger point syndrome with pain of the Upper Trapezius muscle Trigger Point at the Grandmed Lubuk Pakam Hospital. Research method: uses quasi experiments with one group pre test and post test. Samples for this research are 20 respondents got Ischemic Compression and Stretching exercise intervention. Respondents divided into two variable, dependent variable got stretching and ischemic compression method and independent variable is measure for pain in myofascial trigger point syndrome. Results: Hypotheses test results with the Wilcoxon saigned rank test result obtained by P-value ≤ α (0.000 < 0.05). Mean of pain based on Numeric rating scale before intervention (pre test) is 4,60 and after interventiom (post test) is 2,00. Conclusion:According to experimental decisions, there is an influence Ischemic Compression and Stretching exercise to decrease pain in the Myofascial trigger point syndromeof the upper trapezius muscle trigger point at the Grandmed Lubuk Pakam Hospital.
Downloads
Download data is not yet available.
References
Anggraeni, N. C. (2013). Penerapan Myofascial Release Technique Sama Baik Dengan Ischemic Compression Technique Dalam Menurunkan Nyeri Pada Sidroma Miofascial Otot Upper Trapezius. 1-10.

Buana, N. M., Purnawati, S., Sugijanto, Satriyasa, K., Sandi, N., & Imron, M. A. (2017). Perbedaan Kombinasi Myofascial Release Technique dengan Ultrasound dan Kombinasi Ischemic Compression Technique dengan Ultrasound dalam Meningkatkan Kekuatan Otot Leher Akibat Sindroma Miofasial pada Penjahit Pakaian di Kabupaten Gianyar. Sport and Fitness Journal, 5 (3), 71-77.

Esparza, D., Aladro-Gonzalvo, A. R., & Rybarczyk, Y. (2019). Effects of Local Ischemic Compression on Upper Limb Latent Myofascial Trigger Points: A Study of Subjective Pain and Linear Motor Performance. (E. Kerckhofs, Ed.) Rehabilitation Research and Practice , 1-8.

Makmuriyah, & Sugijanto. (2013). Iontophoresis Diclofenac Lebih Efektif Dibandingkan Ultrasound terhadap Pengurangan Nyeri pada Myofascial Syndrome Musculus Upper Trapezius.Jurnal Fisioterapi, 13 (1), 17-32.

Maruli, O.W. , Sutjana, I.D.P. , Indrayani, W.A. , (2014). perbandinganmyofascial release technique dengan contract relax streaching terhadap penurunan nyeri pada sindrommyofascial otot upper trapezius. Udayana
Permenkes RI No 65 tahun 2015 Pasal I ayat 2, Tentang Standar Pelayanan Fisioterapi.

Prianthara, M. D., Winaya, M. N., & Muliarta, M. (2014). Kombinasi Strain Counterstrain dan Infrared Sama Baik Dengan Kombinasi Contract Relax Stertching dan Infrared Terhadap Penurunan Nyeri Myoafacial Pain Syndrome Otot Upper Trapezius Pada Mahasiswa Fisioterapi Fakultas Kedokteran Universitas Udayana.

Ravichandran, P., Ponni, H. K., & Asser, P. A. (2016). Effektiveness of Ischemic Compression on Trapezius Myofascial Trigger Point in Neck Pain. Int J Physiother, 3(2), 186-192.

Silvia, N., Widyahening, I. S., & Soemarko, D. S. (2017). Efektivitas Latihan Leher dan Bahu dalam Mengurangi Nyeri Leher dan Bahu pada Pekerja Kantor dengan Komputer: Laporan Kasus Berbasis Bukti. J Indon Med Assoc, 67 (10), 592-598.

Sunyiwara, A. S., Putri, M. W., & Sabita, R. (2019). Pengaruh Myofacial Release Kombinasi dengan Hold Relax terhadap Myofacial Pain Syndrome. Jurnal Ilmiah Kesehatan, XII (II), 582-587.

Widyadharma, I. P. E., & Purwata, T. E. (2017). Nyeri Miofasial Servikal
Winihastuti, H. (2016). Hubungan Faktor Risiko Ergonomi dan Keluhan Cumulative Trauma Disorder pada Dokter Gigi di PT . X Tahun 2014. Jurnal Adiministrasi Rumah Sakit, 3(1), 53-65.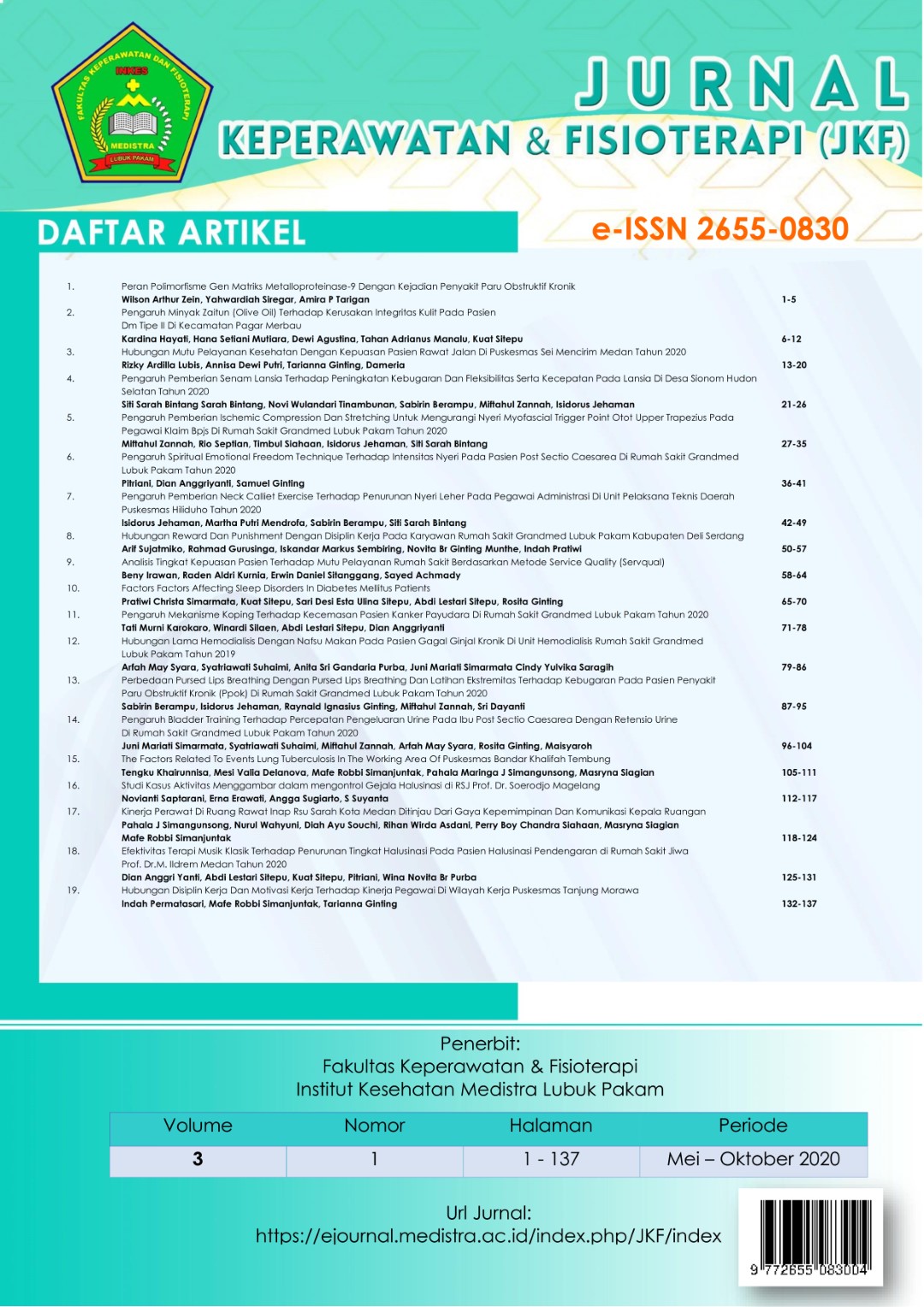 How to Cite
Zannah, M., Septian, R., Siahaan, T., Jehaman, I., & Bintang, S. (2020). PENGARUH PEMBERIAN ISCHEMIC COMPRESSION DAN STRETCHING UNTUK MENGURANGI NYERI MYOFASCIAL TRIGGER POINT OTOT UPPER TRAPEZIUS PADA PEGAWAI KLAIM BPJS DI RUMAH SAKIT GRANDMED LUBUK PAKAM TAHUN 2020. JURNAL KEPERAWATAN DAN FISIOTERAPI (JKF), 3(1), 27-35. https://doi.org/10.35451/jkf.v3i1.492
Copyright (c) 2020 Miftahul Zannah, Rio Septian, Timbul Siahaan, S.Ft, Ftr, M.Kes, Isidorus Jehaman, SST, Ftr, M.Kes, siti sarah bintang, S.Tr.Ftr, M.Biomed
This work is licensed under a Creative Commons Attribution-NonCommercial-ShareAlike 4.0 International License.
Copyright in each article is the property of the Author.