INCENTIVE SPIROMETRY AND DEEP BREATHING EXERCISE PREFER TO PREVENT DECREASED OF LUNG VITAL CAPASITY AS GOOD AS DEEP BREATHING EXERCISE POST CORONARY ARTERY BYPASS GRAFT PHASE I
Sabirin Berampu

Institut Kesehatan Medistra Lubuk Pakam

Indra Alamsyah

Institut Kesehatan Medistra Lubuk Pakam
Keywords:
Deep breathing exercises, incentive spirometry, lung vital capasity
Abstract
Coronary artery bypass graft (CABG) is a procedure to remove the blood vessels from internal mammary artery, radial artery or vein saphenus and to the surface of the heart to create a bypass in coronary artery narrowing. Data taken from the patients with heart disease from medical department of rehabilitation H.Adam Malik Medan who undergoing coronary bypass graft surgery. From 73 patients with post-cardiac surgery who were referred to the Medical Rehabilitation, 49 people were post-CABG (in 2010), and 57 people in 2011. General anesthesia, diaphragmatic dysfunction, abdominal distension, changes in chest wall, surgical wound, pleural effusion, pain and dysfunction of the respiratory muscles, may lead to reduction in lung vital capasity of up to 55% post operative. Intervention were incentive spirometry and breathing exercise. The purposes of this study is knowing whether the intervention incentive spirometry and breathing exercise  can  more minimize the decline in lung capasity than  breathing exercise intervention only on post-CABG in phase I. Experimental research with non-probability sampling two group pre test and post test design . Subjects of group I (n = 9) receive incentive spirometry (IS) and deep breathing exercises (DBE), while group II (n=9) receive only a deep breathing exercise. Data analysis with paired samples t-test suggested the mean value of vital capasity (VC) from group I (IS and DBE) was 73.78% (pre op) after 6 days postoperatively decreased to 59.56, average decline in 14.22, P = 0.002. While the VC on group II (DBE) was 74.11 after 6 days postoperatively decreased to 55.78. Average reduction was 18, 33, p value = 0.0001. There was no significantly differences between group I and group II from statistical analysis Independent t-test, with p-value = 0.512 (p>0.05). Conclusions of this study: There was a significant effect of incentives spirometry and deep breathing exercises in preventing the decrease of lung vital capasity in post-CABG patients, There was a significant influence provision of deep breathing exercises in preventing the decrease of  lung vital capasity, There were no significant differences between treatment combinations of incentive spirometry and deep breathing exercises with deep breathing exercises only in preventing the decrease of lung vital capasity in post-CABG, with a p-value = 0.512
Downloads
Download data is not yet available.
References
Adam Malik, RSUP, 2011, Laporan Evaluasi Kinerja Rumah Sakit Umum Pusat H.Adam Malik tahun 2011.Medan
Adriskanda, B. Yunus, F. Setiawan, B. 1997. Perbandingan nilai kapasitas Difusi paru antara orang yang terlatih dan tidak terlatih. Jurnal Respirologi Indonesia, 17, 76– 83.
Alsagaf.dkk.2002. Dasar-dasar Ilmu Penyakit Paru .Surabaya: Airlangga Press.
Anonim. 2010. Laporan Tahunan Cardiac Vascular Care Unit RSUP H.Adam Malik Tahun 2010. Medan
Atmadja DS, Doewes M. 2004. ACSM: Panduan Uji Latihan Jasmani dan Peresepannya.Edisi 5, EGC. Jakarta.
Bahri T.2009, Penyakit jantung koroner beserta penanggulangannya, USU, Medan.
Despopoulos,AMD.Color Atlas of Physiology.edisi 5, New York:Thieme, 2003.
Freitas FR, 2007. Incentive spirometry for preventing pulmonary complication after coronary artery bypass graft, Brazil Centro Physical Therapy Department, Parana, Brazil
Ganong WF. 2003, Fisiologi Kedokteran, editor, H.M.Djauhari, EGC, Jakarta, P.621-670.
Gosselink.R. .2005, Respiratory Muscle Assesment, Europa Respiratory Society journals.
Guimaraes. et al, 2006. Incentive Spirometry For Prevention of Post Operative Pulmonary Complication in Upper Abdominal Surgery, Department of Aesthetics and Cosmetology, CESUMAR,Brazil.
Irawati. ch,2005, Program Fisioterapi Pada Kasus Pulmonal, RSAB Harapan Kita,Jakarta
Kusmana D, 1997, Olahraga Bagi Kesehatan Jantung, Cetakan pertama, Balai Penerbit FKUI, Jakarta.
Kusmana.D. dkk. 2003. Simposium Rehabilitasi Jantung Indonesi II, Indonesia heart Association, Jakarta.
Mulyono D.1997. Rehabilitasi pada Penyakit Paru Obstruktif Menahun. CDK,114:p.33-36. Jakarta
Nurbasuki,2010 , Problematik Fisioterapi pada Kasus Respirasi, Universitas Indonusa Esa Unggul Jakarta.
Overend T.J, Anderson C.M, Lucy D,Jonson B.I, 2001. The Effect of Incentive Spirometry on Postoperative Pulmonary Complications. Chest Journal.chestpubs.org; 120:3:971-978.
Pocock, SJ, 2008. Clinical Trial A Practical Approach, John wiley & Sons, England
Rhoades,RA,2006. The Control of Ventilasi and Mechanics of Breathing,Medical Physiologi, lippin cott, p. 363 – 374.
Saunders WB,2006. Pulmonary Ventilation.in: Guyton , Hall.Text Book of Medical Physiology . 11 th. Ed .New York. P. 477 – 545.
Sema S.et al.2006. Active Cycle of Breathing Techniques and Incentive Spirometri in Coronary Artery Bypass Graff Surgery. Journal.Fyzioterapy rehabilitation.17 (2). Turki P.61-69
Ulfa.A. 2001. Buku Ajar Kardiovaskuler. Bidang diklat National Cardiovascular Center Harapan Kita.Jakarta
Umar N.2004. Sistem Pernapasan dan Suctioning Pada Jalan Napas. Bagian Anestesiologi Fk.USU.RSAM.Medan.
Westerhal et al, (2005), Chest Fisioterapy for preventing Pulmonary Complication, Coruna hospital, Spanyol.
Wikipedia.org. Praktek klinik insentif spirometri . diakses: 26 Desember 2011. Diunduhdari: file:///C:/Users/Admin/Pictures/karya%20amii/animee/spiro.htm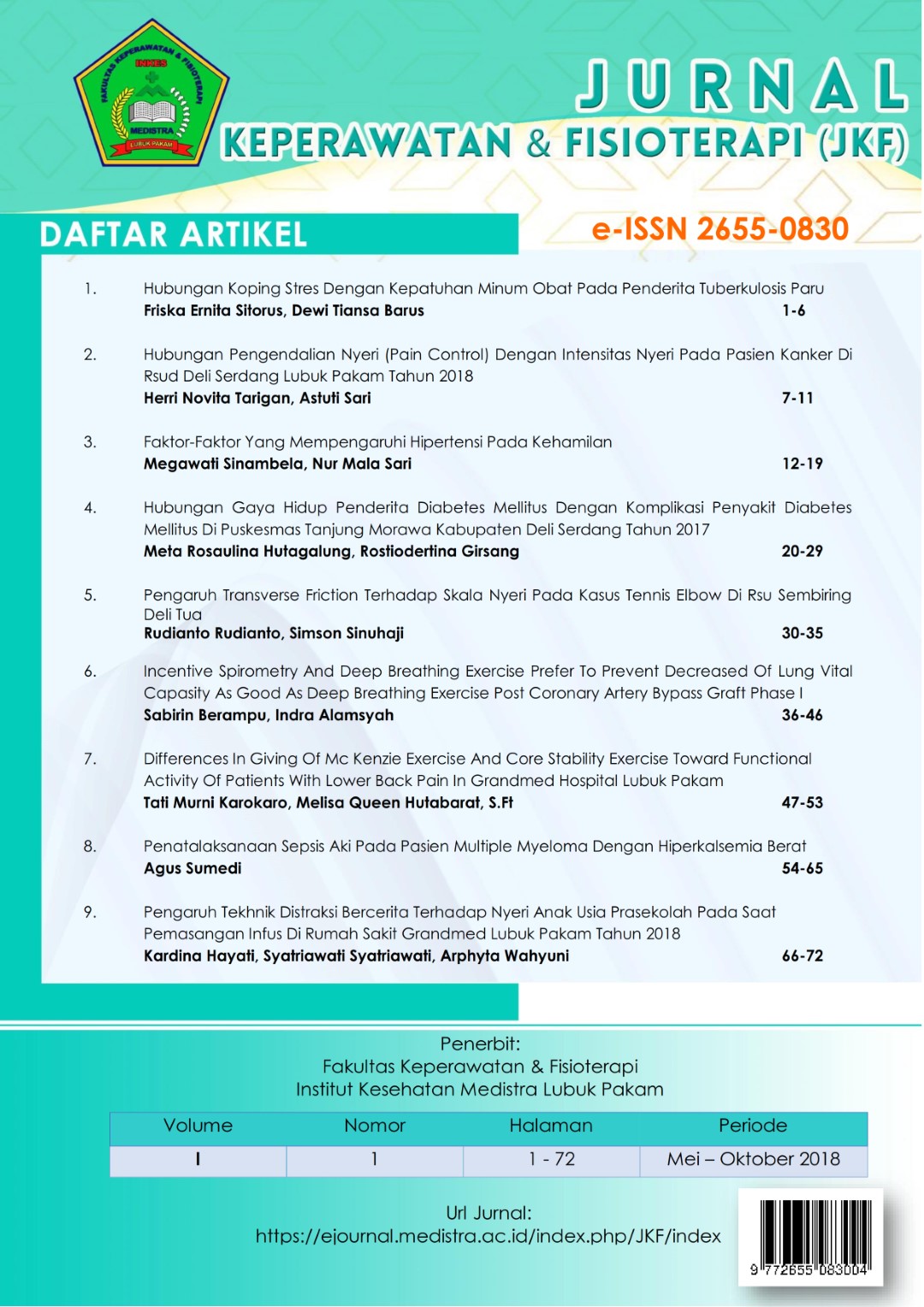 How to Cite
Berampu, S., & Alamsyah, I. (2018). INCENTIVE SPIROMETRY AND DEEP BREATHING EXERCISE PREFER TO PREVENT DECREASED OF LUNG VITAL CAPASITY AS GOOD AS DEEP BREATHING EXERCISE POST CORONARY ARTERY BYPASS GRAFT PHASE I. JURNAL KEPERAWATAN DAN FISIOTERAPI (JKF), 1(1), 36-46. https://doi.org/10.35451/jkf.v1i1.50
Copyright in each article is the property of the Author.