PENGARUH PEMBERIAN NECK CALLIET EXERCISE TERHADAP PENURUNAN NYERI LEHER PADA PEGAWAI ADMINISTRASI DI UNIT PELAKSANA TEKNIS DAERAH PUSKESMAS HILIDUHO TAHUN 2020
Isidorus Jehaman

Institut Kesehatan Medistra Lubuk Pakam

Martha Putri Mendrofa

Institut Kesehatan Medistra Lubuk Pakam

Sabirin Berampu

Institut Kesehatan Medistra Lubuk Pakam

Siti Sarah Bintang

Institut Kesehatan Medistra Lubuk Pakam
Keywords:
Keywords: neck pain, neck cailliet exercise
Abstract
Neck pain is a collection of symptoms related to degenerative processes as well as those that are not related to degenerative processes such as poor positioning in job activity, direct trauma or repetitive micro-trauma. In helping to reduce neck pain in patients, the treatment given is neck cailliet exercise. To find out the influence of neck cailliet exercise to decrease neck pain in administration. This research is a quantitative study, a pseudo-experimental quasi by using the one group pre-Test post-Test design, having a sample of 18 respondents with a total sampling technique. Data analysis obtained using T-Test paired sample test which obtained the mean result prior to the administration neck Cailliet exercise is 5.50 with a standard deviation of 0.985 and the mean after giving neck cailliet exercise is 3.44 with a standard deviation 0.856, which means there is a decrease in neck pain after given the neck cailliet exercise with P value = 0.000 (P < 0.05). Result showed that the giving of neck cailliet exercise was influential for the reduction of neck pain in administration. Conclusion: giving neck cailliet exercise is very effective against reduction of neck pain in administration. Suggestion: The patient must re-apply the instruction given by the physiotherapy at home
Downloads
Download data is not yet available.
References
Binarfika, M. N., Martiana, T. 2014. "Analisis tingkat resiko musculoscletal disordes (MSDs) dengan rappid upper limb assesment (RULA) dan karakteristik individu terhadap keluhan MSDs." The Indonesian Journal of Occupational Safety and Health.3 (2): 160–169
Cailliet, R. 2014. Neck and Arm Pain. Phyladelpia: F. A. DavisCompany.
Dharmajaya, Ridha. 2017. "Arsberet Kobenhavns Univ Med Hist Mus Spondylosis Cervicalis. "
Haryatno, Pajar dan Heru Purbo Kuntono, 2016. "Pengaruh Pemberian Tens Dan Myofascial Release Terhadap Penurunan Nyeri Leher Mekanik." Jurnal Terpadu Ilmu Kesehatan 5(2): 182–88.
Hidayat., 2011. "Metode Penelitian Keperawatan Dan Teknik Analisis Data". Jakarta :Salemba Medika.
Howard, N. et al., 2016. Work Related Musculoskeletal Disorders (WMSDs) in Washinton State Services, Safety and Health Assessment and Research for Prevention (SHARP) Program. Washington
Juliastuti, 2017. "Perbedaan Pengaruh Pemberian Auto Stretching Dan Kinesio Taping Terhadap Penurunan Nyeri Pada Sindroma Nyeri." 5.
Kusuma, H. dan Trisnowiyanto B., 2017. "Pengaruh Cailliet Dan Mc. Kenzie Neck Latihan Dalam Mengurangi Rasa Sakit Di Siklus Miofacial." Departemen Fisioterapi Politeknik Kesehatan Kementerian Kesehatan Republik Indonesia.
Nadhifah, Naurah. Irianto.dan A Besse Ahsaniyah. 2019. "Nusantara Medical Science Journal." : 7–13.
Notoatmodjo S., 2010. Metodelogi Penelitian Kesehatan. Jakarta : Rineka Cipta.
Nursalam, 2010.Variabel Dan Operasional Variabel.
Prianthara, I Made Dhita, I Made Niko Winaya dan I Made Muliarta, 2014. "Kombinasi Contract Relax Stretching Dan Infrared Terhadap Penurunan Nyeri Myofascial Pain Syndrome Otot Upper Trapezius Pada Mahasiswa Fisioterapi Fakultas Kedokteran Universitas Udayana." Fisioterapi Fakultas Kedokteran Universitas Udayana.
Riadho, Eliza dan Wahyuddin, 2019. "Hubungan Posisi Kerja Statis Terhadap Timbulnya Pendidikan Dan Kebudayaan Kota Jambi.". Fakultas Fisioterapi, Universitas Esa Unggul, and Kebon Jeruk.
Samara, Diana, 2017. Nyeri Muskuloskeletal Pada Leher Pekerja Dengan Posisi Pekerjaan Yang Statis. Vol. 26 (No.3) 137-142.
Sastroasmoro, Harun, 2014. Dasar-Dasar Metodelogi Penelitian Klinis.Edisi 5
Sekaaram, Vimalavarati, dan Luh Seri Ani. 2017. "Prevalensi Musculoskeletal Disorders ( MSDs ) Pada Pengemudi Angkutan Umum Di Terminal Mengwi , Kabupaten Badung-Bali." 8(2): 118–24.
Silvia, Nelmi, dan Indah Suci Widyahening, 2017. "Efektivitas Latihan Leher Dan Bahu Dalam Mengurangi Nyeri Leher Dan Bahu Pada Pekerja Kantor Dengan Komputer : Laporan Kasus Berbasis Bukti." : 592–98.
Soumya Bangalore Anandarao and Lakshmi Thimmaraju, (2014). Gender differences in cardiovascular response toupper limb isometric exercises. International Journal of Research in Health Sciences. 2(2). 2321–7251
Sudaryanto. 2015. "Biomekanik Vetebra." Vol 2 (no.3) 1-21
Tarwaka, 2016. "Dasar-dasar Keselamatan Kerja Serta Pencegahan Kecelakaan di Tempat Kerja. " Surakarta: Harapan Press
Syamsul, Ikhsan Dermawan. 2018. Pengaruh Muscle Energy Techniq (Met) Terhadap Perubahan Fungsional Cervical Pada Penderita Non-Spesific Neck Pain Di Rsud Haji.Global Health Science Volume 3 (No. 2) 106-112.
U.S Bureau of Labor Statistics, 2017. Survey of Occupational Injuries & Illnesses Charts Package
Wahyuningsih, Ni Wayan, Nila Wahyuni dan Luh Made Indah Sri Handari Adiputra Wahyuni, 2018. Efektivitas Mulligan Mobilization Dan Infrared Dengan Myofascial Release Technique Dan Infrared Terhadap Peningkatan Lingkup Gerak Sendi Nyeri Leher Non Spesifik.
Wibaya, Made Bisma, I Made Niko Winaya dan I.G.N. Dedi Silakarma, 2019. "Kombinasi Masase Lebih Baik Dibandingkan Kontraksi Isometrik Pada Intervensi Mwd , Tens Dalam Penurunan Nyeri Pada Kasus Spondylosis Massage Combination Better Than Isometric Contraction At Intervention Of Mwd , Tens In Decrease Of Pain At Case Of Spondyl."
Widodo A., 2011. "Penambahan Ischemic Pressure, Sustained Stretching, Dan Treatment Of Myofacial Pain. " A Literature Review. Volume 4(n0.2).
Yudiyanta, Novita Khoirunnisa, Ratih Wahyu Novita Nari. 2015. "Assessment Nyeri." Departement Neurologi, Fakultas Kedokteran Universitas Gadjah Mada, Yogyakarta, Indonesia 42(3): 214–34.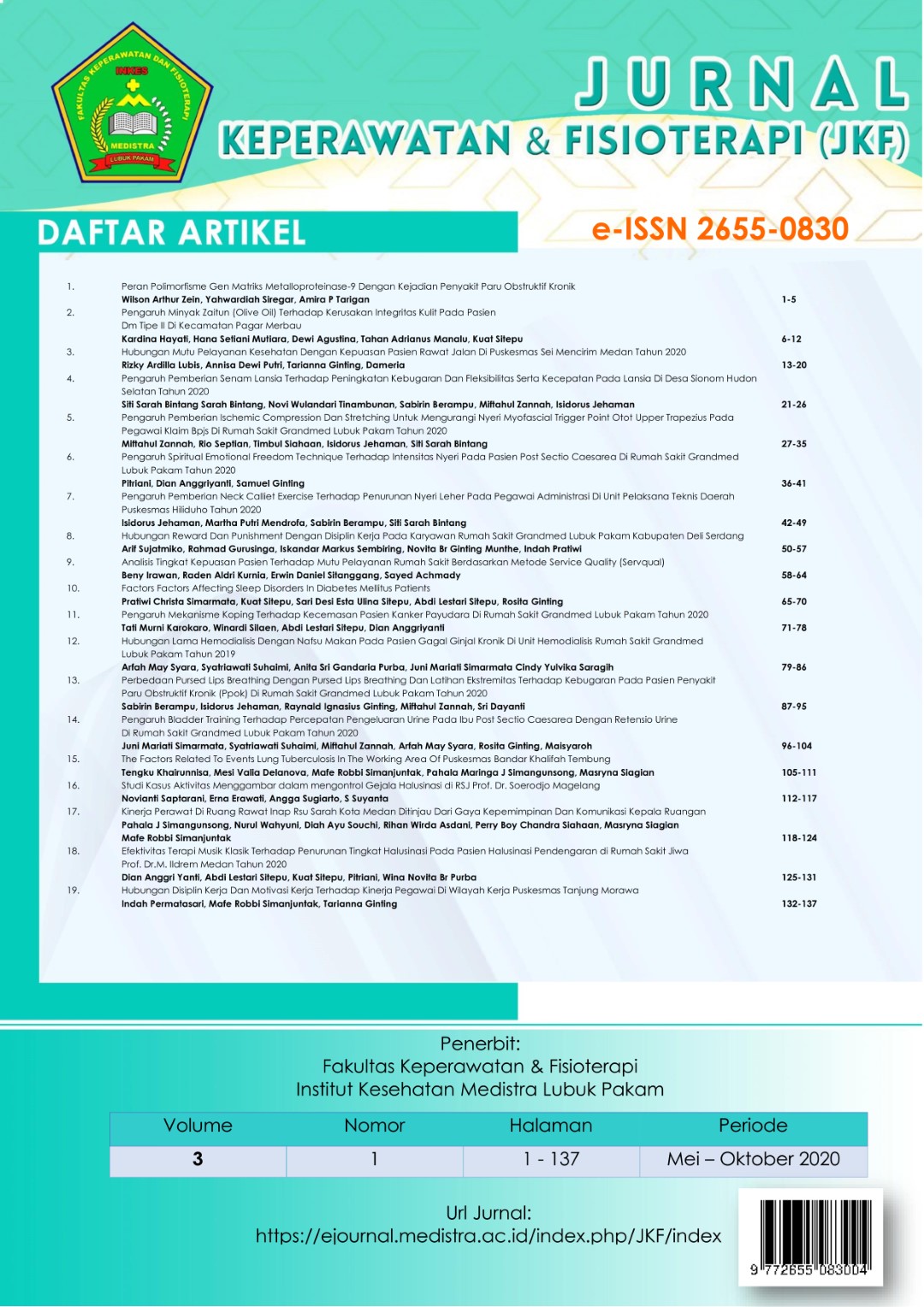 How to Cite
Jehaman, I., Mendrofa, M., Berampu, S., & Bintang, S. (2020). PENGARUH PEMBERIAN NECK CALLIET EXERCISE TERHADAP PENURUNAN NYERI LEHER PADA PEGAWAI ADMINISTRASI DI UNIT PELAKSANA TEKNIS DAERAH PUSKESMAS HILIDUHO TAHUN 2020. JURNAL KEPERAWATAN DAN FISIOTERAPI (JKF), 3(1), 42-49. https://doi.org/10.35451/jkf.v3i1.508
Copyright (c) 2020 Isidorus Jehaman, Martha Putri Mendrofa, Sabirin Berampu, Miftahul Zannah, Siti Sarah Bintang
This work is licensed under a Creative Commons Attribution-NonCommercial-ShareAlike 4.0 International License.
Copyright in each article is the property of the Author.