HUBUNGAN DISIPLIN KERJA DAN MOTIVASI KERJA TERHADAP KINERJA PEGAWAI DI WILAYAH KERJA PUSKESMAS TANJUNG MORAWA
Indah Permatasari

Universitas Prima Indonesia

Mafe Robbi Simanjuntak

Universitas Prima Indonesia

Tarianna Ginting

Universitas Prima Indonesia
Keywords:
Motivation, discipline, employee performance
Abstract
Puskesmas is a place for health services in the form of health development which is responsible for the technical implementation unit of the District or City Service. Motivation and work discipline are factors that affect employee performance. Employee performance is real behavior that is displayed by employees as work performance that is generated in accordance with their position in a workplace. This research method used a cross sectional design with a total sampling of 50 respondents. The results of the study using the Chi-Square Test can be seen from the results of the statistical test for the work discipline variable, which has a p value of 0.02 0.05, so there is no relationship between work motivation and employee performance in the Tanjung Morawa Health Center work area.
Downloads
Download data is not yet available.
References
Baharudin. (2012). Kepemimpinan Pendidikan Islam. Yogyakarta: Ar-Ruz Media.
Depkes RI. (2011). Rencana Strategis Departemen Kesehatan. Jakarta.
Dinas Kesehatan. (2011). Penilaian Prestasi Kerja Pegawai Negeri Sipil.
Dinas Kesehatan. (2017). Dokumen Badan Kepegawaian Dinas Kesehatan Provinsi Jawa Barat.
Fathoni, A. (2006). Manajemen Sumber Daya Manusia. Jakarta: PT. Rineka Cipta.
Handoko, H. (1990). Manajemen, Edisi 2. Yogyakarta.
Hasibuan. (2016). Organisasi Dan Motivasi. Jakarta: Binarupa Aksara.
Latief, A. (2012). Obat Tradisional.
Mangkunegara, anwar. (2013). Manajemen Sumber Daya Manusia Perusahaan. Bandung: PT. Remaja Rosdakarya.
Munandar, U. (2014). Pengembangan Kreativitas Anak Berbakat. Jakarta: Rineka Cipta.
Octavianasari, putri. (2017). Hubungan Antara Motivasi Kerja engan Kinerja Karyawan.
Notoatmodjo. (2012). Metodologi Penelitian Kesehatan. Jakarta: PT. Rineka Cipta.
Puskesmas Tanjung Morawa. (2020). Puskesmas Tanjung Morawa.
Rivai, dkk. (2010a). Manajemen Sumber Daya Manusia. 2010: PT. Raja Grafindo Persada.
Said, E. (2016). Hubungan Kepemimpinan, Pengawasa dan Motivasi dengan Peningkatan Disiplin Pegawai di Puskesmas Motaha Kabupaten Konawe Selatan.
Susanti, L. (2011). Pengaruh Motivasi Dan Kepuasan Kerja Terhadap Disiplin Kerja Dan Kinerja Pegawai Badan Kepegawaian Daerah Kota Surakarta. EJurnal Universitas Airlangga.
Usman. (2016). Analis Kinerja Tenaga Kesehatan Pada Puskesmas Lapadde Kota Parepare, 12 (1), 21–28.
Wahyudi, A., Salham, M., & Kadri, A. (2018). Faktor Yang Berhubungan Dengan Kinerja Petugas Kesehatan Pelayanan Manajemen Terpadu Balita Sakit Di Puskesmas Kamonji Kota Palu, 208–219.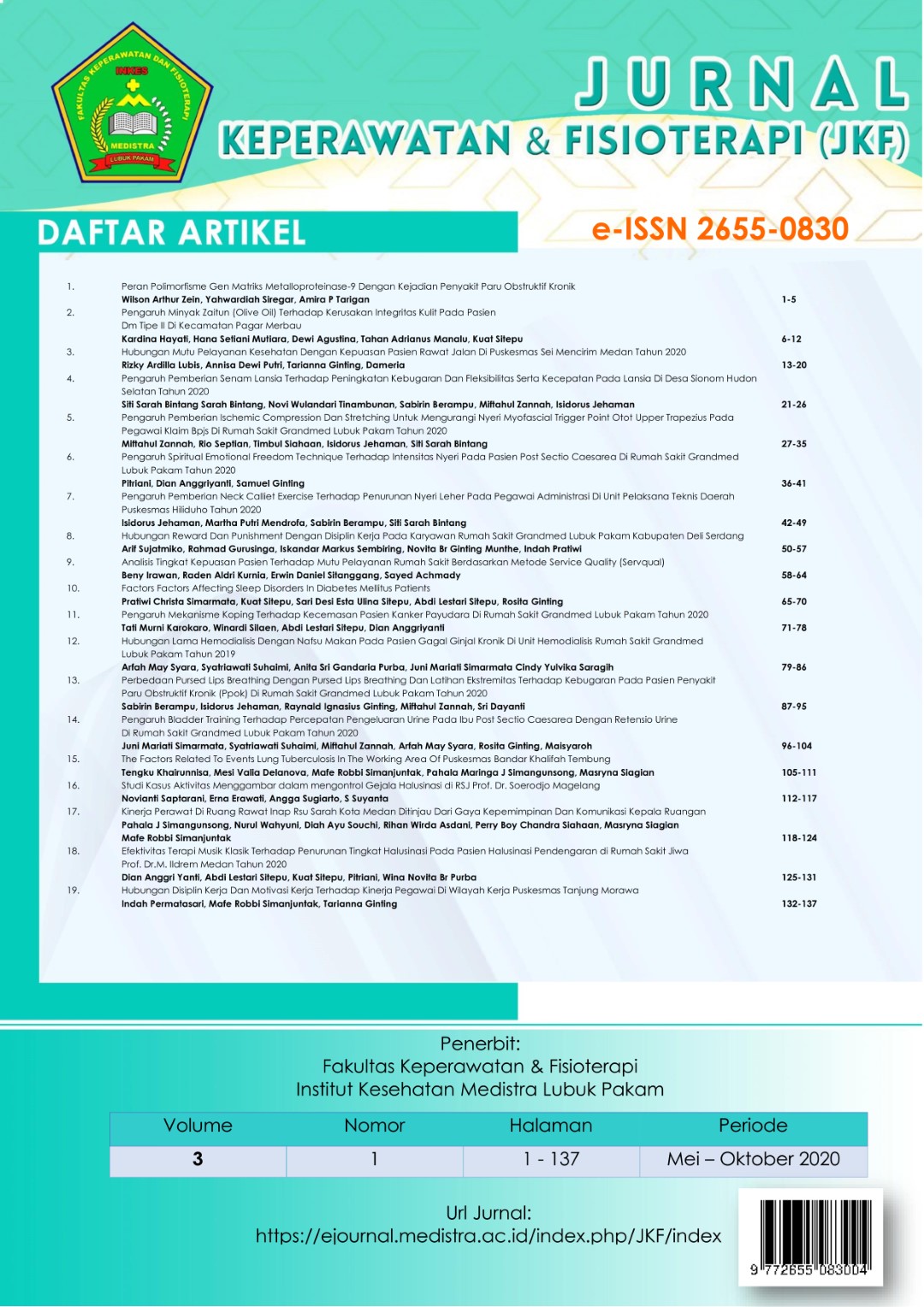 How to Cite
Permatasari, I., Simanjuntak, M., & Ginting, T. (2020). HUBUNGAN DISIPLIN KERJA DAN MOTIVASI KERJA TERHADAP KINERJA PEGAWAI DI WILAYAH KERJA PUSKESMAS TANJUNG MORAWA. JURNAL KEPERAWATAN DAN FISIOTERAPI (JKF), 3(1), 132-137. https://doi.org/10.35451/jkf.v3i1.529
Copyright (c) 2020 Indah Permatasari, Mafe Robbi Simanjuntak, Tarianna Ginting
This work is licensed under a Creative Commons Attribution-NonCommercial-ShareAlike 4.0 International License.
Copyright in each article is the property of the Author.