PENGARUH BLADDER TRAINING TERHADAP PERCEPATAN PENGELUARAN URINE PADA IBU POST SECTIO CAESAREA DENGAN RETENSIO URINE DI RUMAH SAKIT GRANDMED LUBUK PAKAM TAHUN 2020
Juni Mariati Simarmata

Institut Kesehatan Medistra Lubuk Pakam

Syatriawati Suhaimi

Institut Kesehatan Medistra Lubuk Pakam

Miftahul Zannah

Institut Kesehatan Medistra Lubuk Pakam

Arfah May Syara

Institut Kesehatan Medistra Lubuk Pakam

Rosita Ginting

Institut Kesehatan Medistra Lubuk Pakam

Maisyaroh .

Institut Kesehatan Medistra Lubuk Pakam
Keywords:
Key : retensio urine,bladder training
Abstract
Urinary retention in women is most likely to occur in the post-caesarean section or after pelvic surgery.  According to Stanton, urinary retention is the inability to urinate for 24 hours which requires catheter assistance, where the inability to pass urine is more than 25-50% of the bladder capacity.  When urinary retention occurs, non-invasive methods are first attempted such as bladder training using Sitz bath hydrotherapy so that the urinary elimination function can occur spontaneously.  If these efforts are unsuccessful, bladder training with catheterization is required by inserting a foley catheter in the bladder for 24 - 48 hours to keep the bladder empty and allow the bladder to regain its normal muscle tone to achieve spontaneous urination.
Postoperative urinary retention is the patient's inability to urinate after surgery even though the patient's bladder is full, in most cases, postoperative urine retention does not last long, but in some cases postoperative urinary retention can be prolonged even for days after surgery.  especially if properly identified and handled.  Postoperative urinary retention can cause several complications such as urinary tract infections, bladder overdistention, detrusor damage and can lead to hydronephrosis and kidney damage which can lead to chronic kidney disease, especially in elderly patients.
Downloads
Download data is not yet available.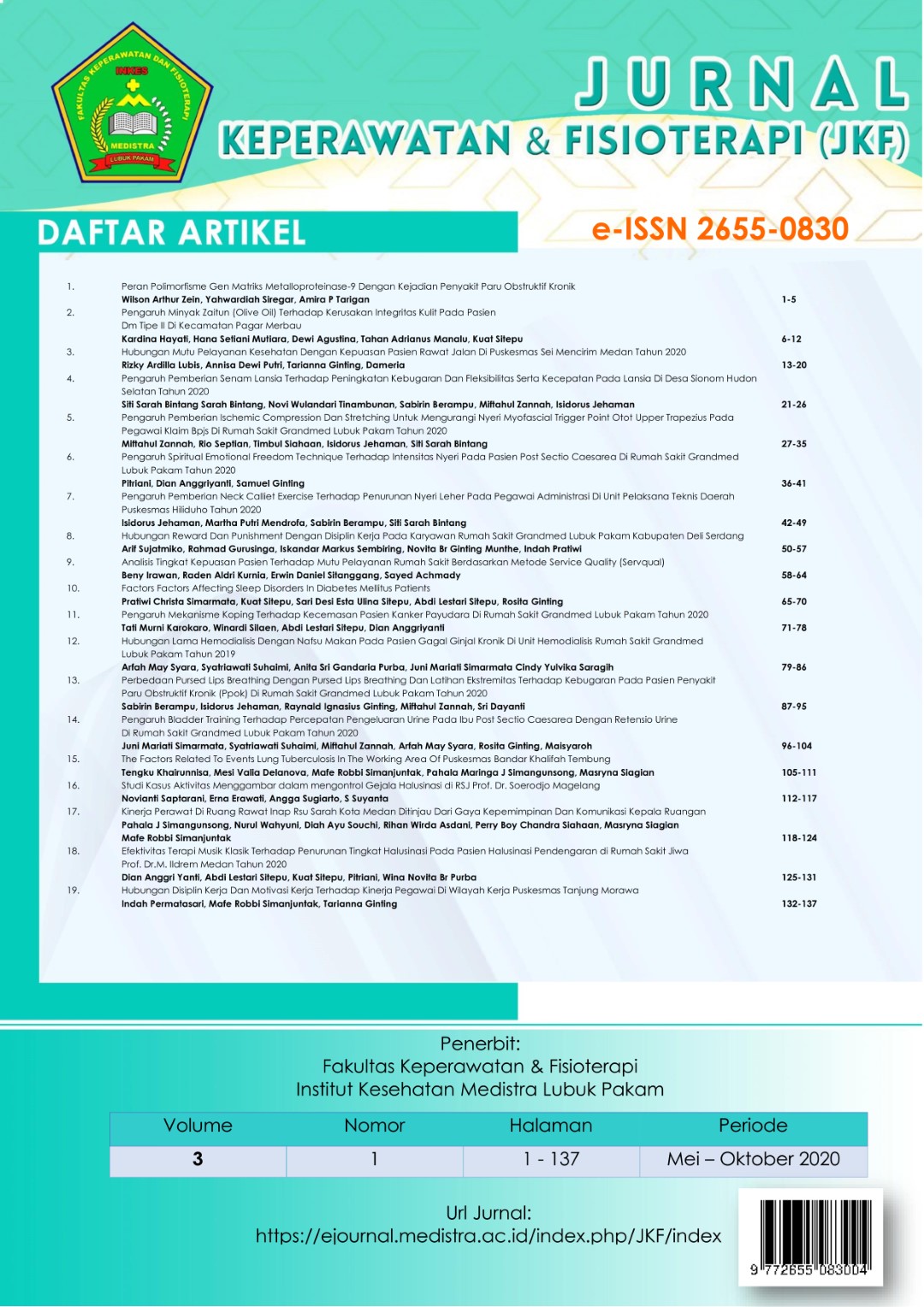 How to Cite
Simarmata, J., Suhaimi, S., Zannah, M., Syara, A., Ginting, R., & ., M. (2020). PENGARUH BLADDER TRAINING TERHADAP PERCEPATAN PENGELUARAN URINE PADA IBU POST SECTIO CAESAREA DENGAN RETENSIO URINE DI RUMAH SAKIT GRANDMED LUBUK PAKAM TAHUN 2020. JURNAL KEPERAWATAN DAN FISIOTERAPI (JKF), 3(1), 96-104. https://doi.org/10.35451/jkf.v3i1.539
Copyright (c) 2020 Juni Mariati Simarmata, Syatriawati Suhaimi, Miftahul Zannah, Arfah May Syara, Rosita Ginting, Maisyaroh .
This work is licensed under a Creative Commons Attribution-NonCommercial-ShareAlike 4.0 International License.
Copyright in each article is the property of the Author.