HUBUNGAN GAYA HIDUP PENDERITA DIABETES MELLITUS DENGAN KOMPLIKASI PENYAKIT DIABETES MELLITUS DI PUSKESMAS TANJUNG MORAWA KABUPATEN DELI SERDANG TAHUN 2017
Meta Rosaulina Hutagalung

Institut Kesehatan DELI HUSADA Deli Tua

Rostiodertina Girsang

Institut Kesehatan DELI HUSADA Deli Tua
Keywords:
lifestyle, diabetes mellitus, complications of diabetes mellitus
Abstract
Lifestyle is the lifestyle of a person in the world expressed in his activities, interests, and opinions. The purpose of this study was to determined the lifestyle relationship of people with diabetes mellitus with complications of diabetes mellitus.  This research was conducted by descriptive correlative research method with cross sectional approach. The sampling technique used purposive sampling with 104 respondents in accordance with researcher desire. Then the data obtained by using the questionnaire and observation were analyzed bivariate using chi square test with ?: 0,05. The result of the researcher and the statistic test that the DM patient about there are no complication that most lifestyle good as many as 24 respondents (23,1%) while DM patient there are complication that most lifestyle not good as much 65 respondent (76%). The result of calculation of statistical test obtained ?: 0,000.Research result  Ha accepted which means there is a significant relationship between lifestyle of DM patient with the occurance of complication of DM patient. Suggestion It is recommended to health workers to increase the frequency of counseling for DM patients about complications of DM in order to know and do prevention with complications.
Downloads
Download data is not yet available.
References
Ghozali, Imam. (2013). Aplikasi Analisis Multivariate dengan Program IBM SPSS 21 Update PLS Regresi. Semarang : Badan Penerbit Universitas Diponegoro.
Hidayat, A. Aziz Alimul. (2007). Metode Penelitian Keperawatan dan Teknik Analisa Data. Jakarta : Salemba Medica.
Junaidi, Iskandar. (2010). Kencing Manis. Jakarta : PT.Bhuana Ilmu Populer.do
Notoatmodjo, soekidjo. (2009). Metedelogi Penelitian Kesehatan. Jakarta : PT. Rineka Cipta.
Notoatmodjo, Soekidjo. (2010). Pendidikan dan Perilaku Kesehatan Edisi I. Jakarta: PT.Rineka Cipta.
Nursalam. (2008). Konsep dan Penerapan Metedelogi Penelitian Ilmu Keperawatan. Jakarta : Medika
Setiadi, (2010). Konsep dan Penulisan Riset Keperawatan Edisi I. Yogyakarta : Graha Ilmu.
Soewondo, pradana. (2012). Hidup Sehat dengan Diabetes. Jakarta : Balai Penerbit FKUI.
Suyono, Selamet, dkk. (2009). Penatalaksanaan Diabetes Mellitus Terpadu Edisi II. Jakarta : Balai Penerbit FKUI.
Tarwoto, dkk. (2014). Keperawatan Medical Bedah Gangguan Sistem Endokrin. Jakarta : Trans Info Media.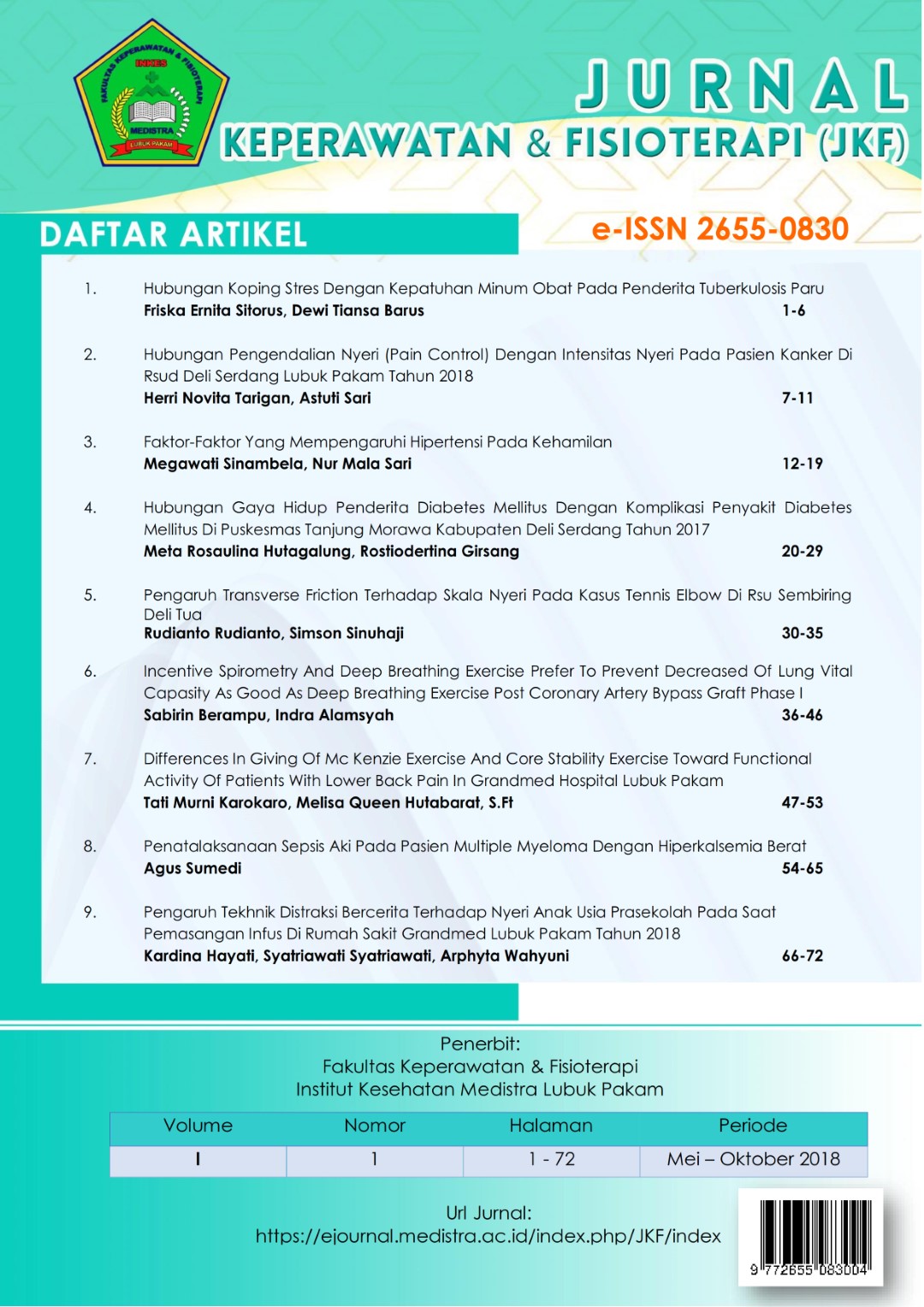 How to Cite
Hutagalung, M., & Girsang, R. (2018). HUBUNGAN GAYA HIDUP PENDERITA DIABETES MELLITUS DENGAN KOMPLIKASI PENYAKIT DIABETES MELLITUS DI PUSKESMAS TANJUNG MORAWA KABUPATEN DELI SERDANG TAHUN 2017. JURNAL KEPERAWATAN DAN FISIOTERAPI (JKF), 1(1), 20-29. https://doi.org/10.35451/jkf.v1i1.56
Copyright in each article is the property of the Author.