HUBUNGAN PERAN EDUCATOR PERAWAT DALAM DISCHARGE PLANNING DENGAN TINGKAT KEPATUHAN PASIEN RAWAT INAP UNTUK KONTROL DI RUMAH SAKIT GRANDMED LUBUK PAKAM TAHUN 2021
Pitriani .

Institut Medistra Lubuk Pakam

Samuel Ginting

Institut Kesehatan Medistra Lubuk Pakam

Dian Anggri Yanti

Institut Kesehatan Medistra Lubuk Pakam

Juni Mariati Simarmata

Institut Kesehatan Medistra Lubuk Pakam

Arfah May Syara

Institut Kesehatan Medistra Lubuk Pakam

Rita Ayu Butar Butar

Institut Kesehatan Medistra Lubuk Pakam
Keywords:
the role of educator, compliance, discharge planning.
Abstract
The role of educators is to help patients improve their health by providing knowledge about medical treatments and actions received so that patients or families can find out important knowledge for patients or their families. The research objective was to analyze the relationship between the role of the nurse educator in discharge planning with the level of compliance of inpatients for control at Grandmed Lubuk Pakam Hospital. The research method is this research using analytic observational research using a cross sectional study. In a study with a cross sectional study, measurement and data collection were carried out on the cause and effect variables for a moment at a time. The results of the research in this study The statistical test results showed the value of p = 0.001. Ha is accepted if Ho is rejected, where Ho is rejected if the p value is ≤ α, 0.001 ≤ 0.05. The results of statistical analysis showed that there was a significant relationship between the role of nurse educators in discharge planning and the level of inpatient compliance for control. Conclusion: The role of nurse educators in discharge planning was in the good category, namely 23 people, the level of patient adherence to control was 24 people (60%).
Downloads
Download data is not yet available.
References
Asmuji, et all (2018). FAKTOR FAKTOR YANG BERHUBUNGAN DENGAN KAPASISTAS KERJA TERHADAP PERILAKU CARING PERAWAT DI RSD BALUNG. DOI: https://doi.org/10.32528/psn.v0i0.1754.
Baker, et all (2019). KEPUASAN PASIEN DALAM PELAKSANAAN DISCHARGE PLANNING. http://ejournal.unair.ac.id/FMNJ.
Gholizadeh, M., Delgoshaei, B., Gorji, H. A., Torani, S., & Janati, A. (2016). CHALLENGES IN PATIENT DISCHARGE PLANNING IN THE HEALTH SYSTEM OF IRAN: A QUALITATIVE STUDY. Global journal of health science, 8(6), 168.
Ilmah, (2015). KEPATUHAN PASIEN RAWAT INAP DIET DIABETES MELLITUS BERDASARKAN TEORI KEPATUHAN NIVEN. Jurnal Administrasi Kesehatan Indonesia Volume 3 Nomor 1 Januari-Juni 2015.
Rezkiki. Fardillah (2019). DESKRIPSI PELAKSANAAN DISCHARGE PLANNING DI RUANG RAWAT INAP. REAL in Nursing Journal (RNJ), Vol. 2, No. 3 Rezkiki, F & Fardilah, VN. (2019). RNJ. 2(3) : 126-136.
Saputra, et, all (2020). HUBUNGAN PENGETAHUAN PERAWAT TENTANG DISCHARGE PLANNING DENGAN PELAKSANAAN DISCHARGE PLANNING : Literature Review.
Sulistyawati, W., Hariyati, R. and Kuntarti (2016) 'IMPLEMENTASI SISTEM JENJANG KARIR DALAM PELAKSANAAN DISCHARGE PLANNING', Jurnal Ilmu Keperawatan, 4. Medika.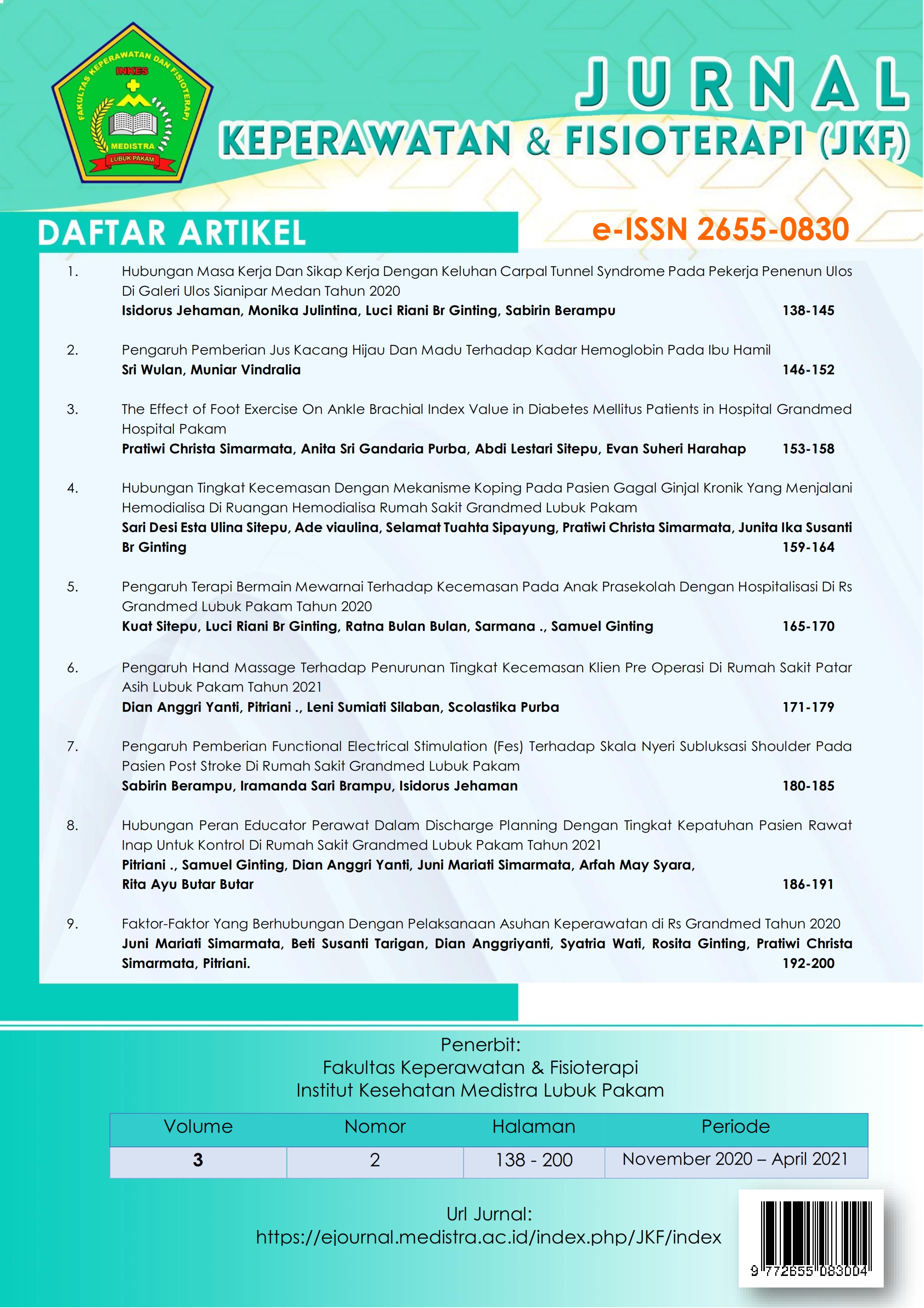 How to Cite
., P., Ginting, S., Yanti, D., Simarmata, J. M., Syara, A. M., & Butar Butar, R. (2021). HUBUNGAN PERAN EDUCATOR PERAWAT DALAM DISCHARGE PLANNING DENGAN TINGKAT KEPATUHAN PASIEN RAWAT INAP UNTUK KONTROL DI RUMAH SAKIT GRANDMED LUBUK PAKAM TAHUN 2021. JURNAL KEPERAWATAN DAN FISIOTERAPI (JKF), 3(2), 186-191. https://doi.org/10.35451/jkf.v3i2.603
Copyright (c) 2021 Pitriani ., Riau Ayu Butar Butar
This work is licensed under a Creative Commons Attribution-NonCommercial-ShareAlike 4.0 International License.
Copyright in each article is the property of the Author.