HUBUNGAN MASA KERJA DAN SIKAP KERJA DENGAN KELUHAN CARPAL TUNNEL SYNDROME PADA PEKERJA PENENUN ULOS DI GALERI ULOS SIANIPAR MEDAN TAHUN 2020
Isidorus Jehaman

Institut Kesehatan Medistra Lubuk Pakam

Monika Julintina

Institut Kesehatan Medistra Lubuk Pakam

Luci Riani Br Ginting

Institut Kesehatan Medistra Lubuk Pakam

Sabirin Berampu

Institut Kesehatan Medistra Lubuk Pakam

Miftahul Jannah

Institut Kesehatan Medistra Lubuk Pakam
Keywords:
Working period, Work attitude, Carpal Tunnel Syndrome
Abstract
Carpal tunnel syndrome is an eddy condition where the middle nerve is compressed in the wrist which results in parasthesia, numbness and muscle weakness in the hand. One nactor in the increasing number on carpal tunnel syndrome complaints is the outbreak on activities that use the hands especially those that carry out long periods on time. based on a preliminary study on 10 ulos weavers, there were 7 ulos weavers who had Carpal tunnel syndrome complaints in the norm on hand pain, tingling and numbness in the hands. The purpose on this study was to determine the relationship on work tenure and work attitude with complaints on carpal tunnel syndrome in ulos weaver workers at the Galery Ulos Sianipar Medan. The method in this study is an analytic observer research method with a cross sectional research approach. The respondents on this study are the ulos weavers in the Galery Ulos Sianipar Medan. Research instruments in the norm on questionnaires and measurement on phalen test data were analyzed by chi-square test. Based on the results on the study, the majority on ulos weavers experienced complaints on carpal tunnel syndrome as many as 34 people (65.4%). In this study it was nound that there was a relationship between work period (p = 0.003<0.05) with complaints on carpal tunnel syndrome, while work attitude (p = 0.399 >0.05) had no relationship with complaints on carpal tunnel syndrome. Suggestions nor ulos weaver workers are expected to take regular breaks by bending and straightening hands nor 3-5 minutes to reduce the risk on carpal tunnel syndrome
Downloads
Download data is not yet available.
References
Ali, K. M dan B.W.C Sathiyasekaran 2011 â€Computer Pronessionals and carpal tunnel syndrome (CTS)†dalam Internasional Journal on Occupational Sanety and Ergonomics (JOSE). Chennai (Madras): Department on ommmunity Medicine,, Sri Ramaccchandra edical Collage & Research Institute Vol. 12, No 3, 319-32
American Academy of Orthopaedic Surgeons. 2016. Management on Carpal tunnel syndrome Evidence-Based Clinical Practice Guideline. Rosemont: IL, USA. http://www.aaos.org (diakses pada 21 Januari 2020)
Barcenilla A. Carpal tunnel syndrome and its Relationship to Occupation, A Meta-analysis: Rheumatology. Oxnord University Press 2012; 51(2): 250-261.
Basuki, R., M.N. Jenie, dan Z. Nikri. 2015. Faktor Prediktor Carpal tunnel syndrome (CTS) pada Pengrajin Alat Tenun Bukan Mesin (ATBM). Jurnal kedokteran Unimus. 4(10): 1-7.
Buckle, Peter W. 2010. "Nortnightly review: Work nactors and upper limb disorders†dalam BMJ Robens Center not Health Ergonomics. University on Surrey, Guildnord, volume 315:1360-3
Bur, R.P.Y. Hubungan Faktor Pekerjaan Dengan Keluhan Carpal tunnel syndrome Pada Karyawan Bagian Produksi PT.Sumatera Tropical Berseri Kab.Padang Pariaman Tahun 2015 [Skripsi]. Padang: Unand; 2015
Burt, Susan et al. 2010 "Workplace and individual risk nactors nor carpal tunnel syndrome†dalam Journal Article: Occcupational and environmental medicine. 2010:68:12 928-933
Dina, E. Faktor-faktor yang Berhubungan dengan Risiko Terjadinya Carpal tunnel syndrome pada Perajin Batik di Kelurahan Pasirsari Kota Pekalongan Tahun 2016. Semarang : UDINUS; 2016
Febriana, Kartika. 2014. "Gambaran factor-faktor risiko di PT. ASTRA internasional tbk-head onnice sunter ii, Jakarta utara tahun 2014.†Skripsi. fakultas Kesehatan Masyarakat.
Fitriani, R.N. Faktor-faktor yang berhubungan dengan dugaan carpal tunnel syndrome (CTS) pada operator komputer bagian sekretariat di Inspektorat Jenderal Kementerian Pekerjaan Umum tahun 2012 [Skripsi]. Jakarta: UIN; 2012.
International Labour Organization. 2015. The Prevention on Occupational Disease
Kemenkes RI. Prevalensi terjadinya CTS (Carpal tunnel syndrome). 2016. Dalam www.depkes.go.id diakses tanggal 12 Februari 2020.
Nanasa, K., N. Nurimaba, dan C. Tresnasari. 2018. Hubungan Masa Kerja dengan Keluhan Carpal tunnel syndrome paa Karyawan Pengguna Komputer di Bank BJB Cabang Subang. Jurnal Integrasi Kesehatan dan Sains. Vol 1 No.1
Notoatmodjo, S. Metodologi Penelitian Kesehatan. Rineka Cipta. Jakarta, 2012.
Occupational Sanety and Health Administration. 2015. Preventing on Musculoskeletal Disorders in the Workplace). https://www.osha.gov/SLTC/ergonomics (Diakses 23 November 2019).
Pramana, IGP Indrayuda. 2015. Hubungan Sikap Kerja Dengan Keluhan Mus kuloskeletal Pada Pengrajin Patung Kayu Di Desa Kemenuh, Gianyar Tahun 2015. Denpasar: Universitas Udayana
Takala J, Paivi H, Kaija LS et al, 2014, Global Estimates Of The Barden Of Injuryand Illness At Work In 2012, Journal Of Occupational And Environmental Hygine
Tarwaka. 2015.Ergonomi Indutri: Dasar-Dasar Ergonomi dan Implementasi di Tempat Kerja. Surakarta. Harapan Press.m
Rambe, AS. Sindrom Terowongan Karpal (Carpal tunnel syndrome). Bagian Neurologi Nakultas Kedokteran USU/RSUP H Adam Malik, 2004.
Yunus, M., Hasbie, N.N., Tami, G.R. Hubungan Masa Kerja dan Sikap Kerja Dengan Kejadian Carpal Tunnel Syndrome Pada Pekerja Pembuatan Kerupuk Di Industri Pembuat Kerupuk Ahak Kecamatan Sungailiat Provinsi Bangka Belitung, 2016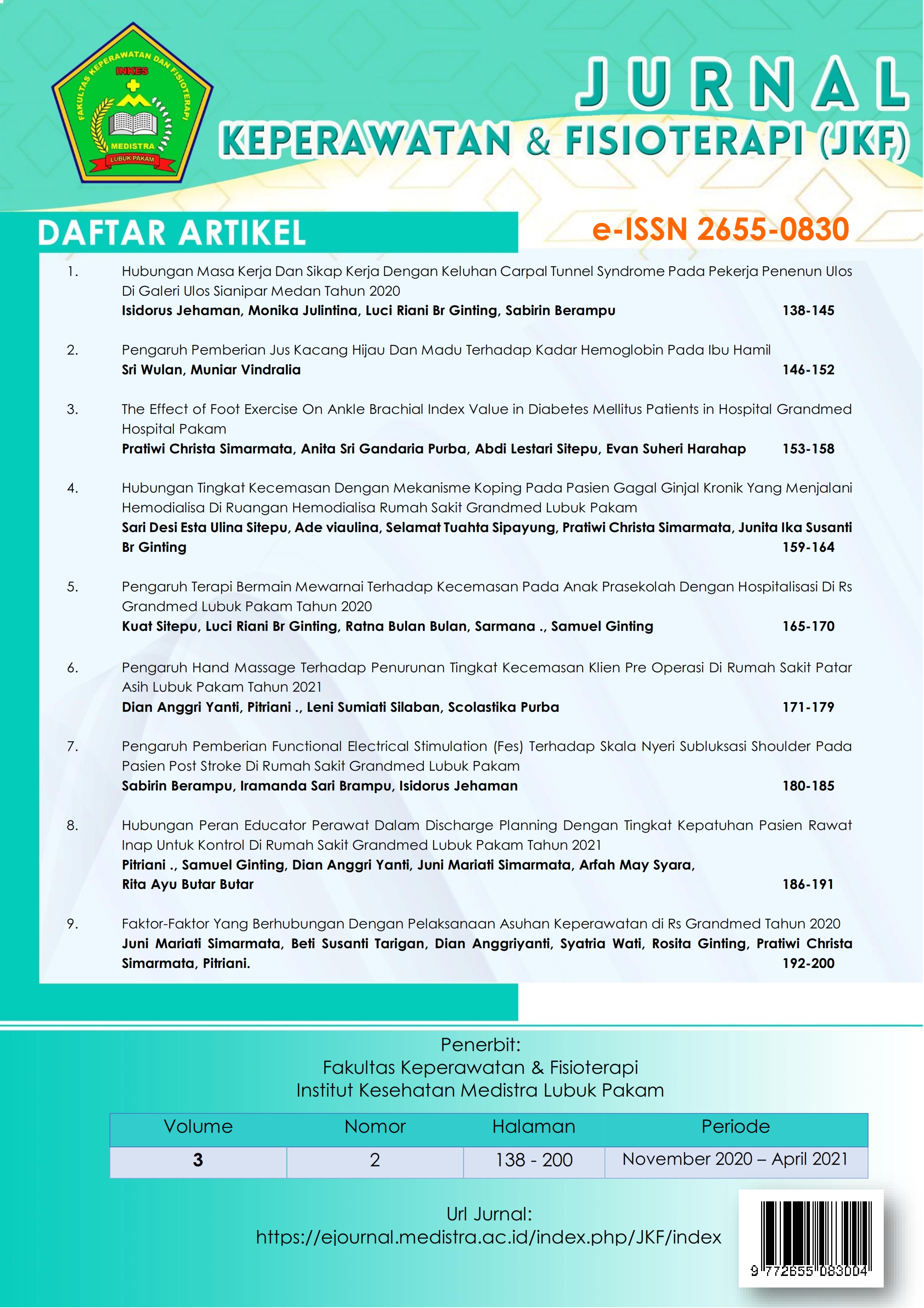 How to Cite
Jehaman, I., Julintina, M., Br Ginting, L. R., Berampu, S., & Jannah, M. (2021). HUBUNGAN MASA KERJA DAN SIKAP KERJA DENGAN KELUHAN CARPAL TUNNEL SYNDROME PADA PEKERJA PENENUN ULOS DI GALERI ULOS SIANIPAR MEDAN TAHUN 2020. JURNAL KEPERAWATAN DAN FISIOTERAPI (JKF), 3(2), 138-145. https://doi.org/10.35451/jkf.v3i2.607
Copyright (c) 2021 Isidorus Jehaman, Monika Julintina, Luci Riani Br Ginting, Sabirin Berampu, Miftahul Jannah
This work is licensed under a Creative Commons Attribution-NonCommercial-ShareAlike 4.0 International License.
Copyright in each article is the property of the Author.