PENGARUH TERAPI BERMAIN MEWARNAI TERHADAP KECEMASAN PADA ANAK PRASEKOLAH DENGAN HOSPITALISASI DI RS GRANDMED LUBUK PAKAM TAHUN 2020
Kuat Sitepu

INSTITUT KESEHATAN MEDISTRA LUBUK PAKAM

Luci Riani Br Ginting

Ratna Bulan Bulan

Sarmana .

Institut Kesehatan Medistra Lubuk Pakam

Samuel Ginting

Institut Kesehatan Medistra Lubuk Pakam
Keywords:
Coloring play therapy, anxiety, hospirtalization
Abstract
In general, children who experience hospitalization often experience separation from their parents, children who experience hospitalization must be able to adapt to the new environment and the people around them, the impact of this being cared for and hospitalized is fear around them, anxiety, trauma and anxiety.  According to WHO in 2018, almost 52.38% of children experienced hospital treatment. In 2016 in Indonesia as many as 33.2% of 1,425 children experienced the impact of severe hospitalization, 41.6% experienced moderate hospitalization. The National Health Surveillance (SUSENAS), the number of preschool children in Indonesia is 72% of the total population of Indonesia, it is estimated that 35 per 100 children undergo hospitalization and 45% of them experience anxiety. Types and Research Design This research is a quantitative research that is experimental in nature with a Quasi-experimental approach with one group pretest and posttest design. The data analysis of the profitability of the bivariate calculation in this study used a paired sample test at a significance level of 95%. The result of the research is the p value = 0.000, where the p value is <0.05. This shows that the difference before and after doing coloring play therapy on the anxiety of preschool children is very real.
Downloads
Download data is not yet available.
References
Azizah & Ernawati (2015). PENGARUH TERAPI BERMAIN WAIKE TERHADAP KECEMASAN AKIBAT HOSPITALISASI DI RSUD DR. MOEWARDI.
Devi Purwanti. (2015). PENGARUH PEMBERIAN TERAPI BERMAIN ANAK PRASEKOLAH SELAMA HOSPITALISASI DI RSUD KOTA MADIUN.
Febriana, Desita. (2016). KAJIAN STRES HOSPITALISASI TERHADAP PEMENUHAN POLA TIDUR ANAK USIA PRASEKOLAH DI RUANG ANAK RS BAPTIS KEDIRI
Hockenberry & Wilson (2015) WONG'S NURSING CARE OF INFANTS' AND CHILDREN Edition 9. St. Lous, Missouri: ELSEVIER MOSBY.
Kyle, Terri., & Carman, Susan. (2015). BUKU AJAR KEPERAWATAN PEDIATRI Edisi 2. Jakarta : Buku Kedokteran EGC.
Purwandari, Haryatiningsih. (2009). PENGARUH TERAPI SENI TERHADAP KECEMASAN ANAK USIA SEKOLAH SELAMA HOSPITALISASI DI RSMS. Skripsi. Tidak diterbitkan. Depok: Fakultas Ilmu Keperawatan Universitas Indonesia.
Rusmariana, A., Faridah, N., & Ariyani, R. (2013). EFEKTIFITAS BERMAIN MENGGAMBAR TERHADAP KECEMASAN ANAK USIA PRASEKOLAH AKIBAT HOSPITALISASI. Journal Kesehatan, Volume V, No. 2.
Supartini, Y. (2015). BUKU AJAR KONSEP DASAR KEPERAWATAN ANAK. Jakarta : EGC.
Winarsih, D, B. (2015). HUBUNGAN PERAN SERTA ORANG TUA DENGAN DAMPAK HOSPITALISASI PADA ANAK USIA PRASEKOLAH DI RSUD KARTINI JEPARA. Thesis. Depok : Universitas Indonesia.
Wong, D.L. (2016). BUKU AJAR KEPERAWATAN PEDRIATIK. Jakarta : EGC
Zuhdatani, Munfarikatuz. (2015). HUBUNGAN DUKUNGAN KELUARGA DENGAN TINGKAT KECEMASAN AKIBAT HOSPITALISASI PADA ANAK USIA PRASEKOLAH (3-6 TAHUN) DI RUANG ANAK RSUD BALUNG. Skripsi. Diakses melalui https://Journal.umm.ac.id pada 8 Juli 2020.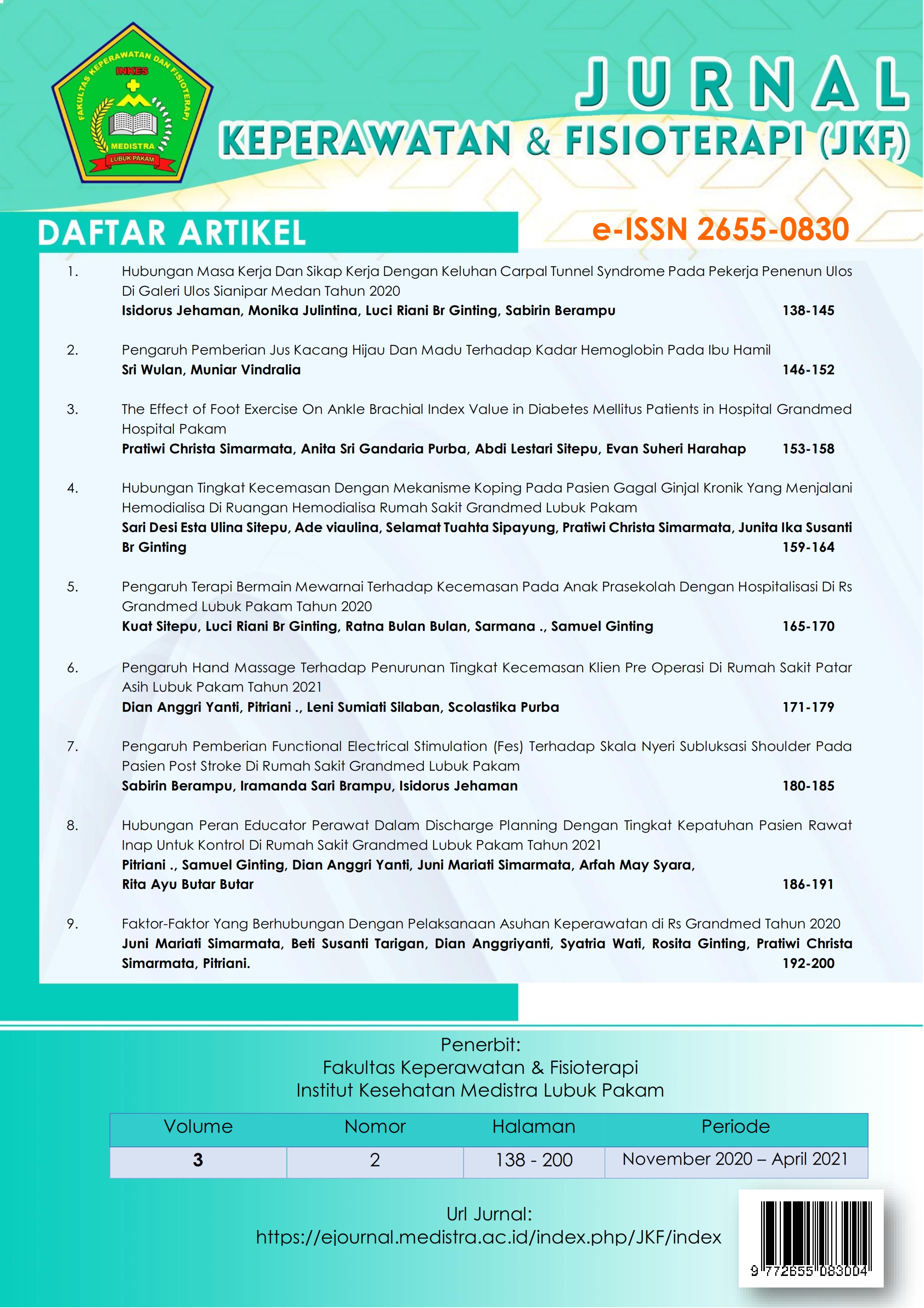 How to Cite
Sitepu, K., Ginting, L. R., Bulan, R., ., S., & Ginting, S. (2021). PENGARUH TERAPI BERMAIN MEWARNAI TERHADAP KECEMASAN PADA ANAK PRASEKOLAH DENGAN HOSPITALISASI DI RS GRANDMED LUBUK PAKAM TAHUN 2020. JURNAL KEPERAWATAN DAN FISIOTERAPI (JKF), 3(2), 165-170. https://doi.org/10.35451/jkf.v3i2.651
Copyright (c) 2021 Kuat Sitepu, Luci Riani Br Ginting, Ratna Bulan Bulan, Sarmana ., Samuel Ginting
This work is licensed under a Creative Commons Attribution-NonCommercial-ShareAlike 4.0 International License.
Copyright in each article is the property of the Author.