PENGARUH PEMBERIAN FUNCTIONAL ELECTRICAL STIMULATION (FES) TERHADAP SKALA NYERI SUBLUKSASI SHOULDER PADA PASIEN POST STROKE DI RUMAH SAKIT GRANDMED LUBUK PAKAM
Sabirin Berampu

Institut Kesehatan Medistra Lubuk Pakam

Iramanda Sari Brampu

Institut Kesehatan Medistra Lubuk Pakam

Isidorus Jehaman

Institut Kesehatan Medistra Lubuk Pakam

Miftahul Jannah

Institut Kesehatan Medistra Lubuk Pakam
Keywords:
Functional Electrical Stimulation (FES), Post Stroke, Shoulder Subluxation
Abstract
Science and technology today become an inseparable part of the technology of modern society's life. Functional Electrical Stimulation (FES) to support recovery of upper limb after stroke. This research is a quantitative research with a quasi-experimental / quasi-experimental approach to the research design using pre-test and post-test. Determination of the number of samples using the Purposive Sampling method and get a sample of 12 people. Data collection was carried out by direct interview using observation sheets. The independent variable in this study is Functional Electrical Stimulation (FES) while the dependent variable is the Shoulder Subluxation Pain Scale. The assessment of shoulder subluxation pain scale includes a mild pain scale category of 6 people (50%), and moderate pain 4 people (33.3%) and very severe pain 2 people (16.7). Statistical test using Paired Sample T-test with α = 0.05. The results of the analysis show that there is a significant influence between the provision of Functional Electrical Stimulation (FES) on the scale of shoulder pain subluxation in post-stroke patients, ie with a p value (0.001≤0.05). The conclusion of this study is that there is an influence between Functional Electrical Stimulation (FES) with Shoulder Subluxation Pain. Advice can be given is expected for post stroke patients and family support to pay attention to the patient's monotonous sleeping position.
Downloads
Download data is not yet available.
References
American Heart Affiliation. (2015) Rules for the Early Administration of Patient With Intense Ischemic Stroke A Rule forHealthcare Professionals.
Anggraini, G. D., Septiyanti, S. what's more, Dahrizal, D. (2018) 'Scope Of Movement (ROM) Circular Hold dapat Meningkatkan Kekuatan Otot Ekstremitas Atas Pasien Stroke', Jurnal Ilmu dan Teknologi Kesehatan, 6(1), pp. 38– 48. doi: 10.32668/jitek.v6i1.85.
Aras, M., Gokkaya, N., Comert, D., Kaya, A. and Cakci, A., 2004, 'Shoulder torment in Hemiplegia', American Diary of Actual Medication and Restoration 83, 713–719. doi.org/10.1097/01.PHM.0000138739.18844.88
Arya, K. N. et al. (2018) 'Recovery techniques for lessening shoulder subluxation in post-stroke hemiparesis: a methodical review*', Points in Stroke Restoration. Taylor and Francis, 25(1), pp. 68–81. doi: 10.1080/10749357.2017.1383712.
Bakara, D. M. also, Warsito, S. (2016) 'Latihan Scope of Movement (Rom) Pasif Terhadap Rentang Sendi Pasien Pasca Stroke', Thought Nursing Diary, 7(2), pp. 12–18.
Brault, M., Hootman, J., Helmick, C., Theis, K. and Shield, B., 2009, 'Habitats for and counteraction: Commonness and most basic reasons for incapacity among adults — US, 2005', Dismalness and Mortality Week by week Report 58, 421–426.
Dinata, C. A., Safrita, Y. what's more, Sastri, S. (2012) 'Gambaran Faktor Risiko dan Tipe Stroke pada Pasien Rawat Inap di Bagian Penyakit Dalam RSUD Kabupaten Solok Selatan Periode 1 Januari 2010 - 31 Juni 2012', Jurnal Kesehatan Andalas, 2(2), pp. 57–61. Accessible at: http://jurnal.fk.unand.ac.id/index.php/jka/article/see/119.'FACTORS CAUSING NON-HEMORRHAGIC STROKE AT THE AGE OF Youthful Grown-ups Hendrik' (2018), (December), pp. 293–301.
Faghri, P. D. et al. (2016) 'The Impacts of Useful Electrical on Shoulder Subluxation, Arm Capacity Recuperation, and ShoukIer Agony in Hemiplegic Stroke Patients', 75, pp. 73–79.
Freixes, O. et al. (2017) 'Shoulder useful electrical incitement during wheelchair impetus in spinal line injury subjects', Points in Spinal Line Injury Restoration, 23(2), pp. 168–173. doi: 10.1310/sci2302-168.
Hankey, G., Spiesser, J., Hakimi, Z., Bego, G., Carita, P. and Gabriel, S., 2007, 'Rate, degree, and indicators of recuperation from inability following ischemic stroke', Nervous system science 68, 1583–1587. doi.org/10.1212/01.wnl.0000260967. 77422.97.
Hughes, A. M. et al. (2009) 'Achievability of iterative learning control intervened by useful electrical incitement for coming to after stroke', Neurorehabilitation and Neural Fix, 23(6), pp. 559–568. doi: 10.1177/1545968308328718.
Jensen, M. P. furthermore, Jensen, M. P. (2011) 'Estimating torment power', The agony stethoscope: A clinician's manual for estimating torment, pp. 3–7. doi: 10.1007/978-1-908517-43-2_2.
Johnson, J. R. (2016) 'PhUSE 2016 Standard Strategies for Investigation and Announcing of VAS or NRS Inferred Relief from discomfort Reaction Scores', p. 14. Accessible at:
Junaidi Iskandar., (2011), Stroke waspadai ancamannya, Andi. Yogyakarta.
Jung, K. M. (2019) 'The Impacts of Dynamic Shoulder Exercise with a Sling Suspension Framework on Shoulder Subluxation , Proprioception, and Upper Extremity Capacity in Patients with Intense Stroke', pp. 4849–4855. doi: 10.12659/MSM.915277.
Laily, S. R. (2017) 'Pengetahuan dan Tindakan Pencegahan Penularan Penyakit Tuberkulosa Paru pada Keluarga Kontak Serumah', in Jurnal Berkala Epidemologi, pp. 85–94. doi: 10.20473/jbe.v5i1.
Mir, M. A., Al-Baradie, R. S. furthermore, Alhussainawi, M. D. (2014) Pathophysiology of Strokes.
Murie-Fernández, M. et al. (2012) 'Hombro doloroso hemipléjico en pacientes con ictus: Causas y manejo', Neurologia. SEGO, 27(4), pp. 234–244. doi: ci, M.,
Nannetti, L. furthermore, Rinaldi, L. A. (2005) 'Glenohumeral subluxation in hemiplegia: An outline', Diary of Recovery Exploration and Development, 42(4), pp. 557–568.doi:10.1682/JRRD.2004.08.0112
Notoatmodjo, Soekidjo., (2012), Metodelogi penelitian kesehatan, Rineka Cipta, Jakarta.
Saryono, dkk. 2013. Metodologi Penelitian Kualitatif dan Kuantitatif Dalam Bidang Kesehatan, Yogyakarta: Nuha Medika.
Smith, C. et al. (2018) 'Expectation of arrangement times for a high level upper appendage functional electrical incitement framework', Diary of Recovery and Assistive Advances Designing, 5, p. 205566831880256. doi: 10.1177/2055668318802561.
Stahmeyer, J. T. et al. (2019) 'Häufigkeit und Zeitpunkt von Rezidiven nach inzidentem Schlaganfall', Deutsches Arzteblatt Global, 116(42), pp. 711–717. doi: 10.3238/arztebl.2019.0711.
Suethanapornkul, S. furthermore, Kuptniratsaikul, P. S. (2008) 'Post Stroke Shoulder Subluxation and Shoulder Pain : An Accomplice Multicenter Study', 91(12), pp. 1885–1893.
Suharti, A., Sunandi, R. furthermore, Abdullah3, F. (2018) 'Penatalaksanaan Fisioterapi pada Frozen Shoulder Sinistra Terkait Hiperintensitas Labrum Back Superior di Rumah Sakit Pusat Angkatan Darat Gatot Soebroto', Jurnal Vokasi Indonesia, 6(1), pp. 51–65. doi: 10.7454/jvi.v6i1.116.
Sulistyaningsih. 2011. Metodologi Penelitian Kesehatan Kebidanan Kuantitatif-Kualitatif. Yogyakarta: Graha Ilmu.
Suryawijaya, B. R., Rahmatillah, D. L. furthermore, Eff, A. R. (no date) 'Assessment OF Medication RELATED Issues IN STROKE HEMORRHAGIC PATIENTS WITH Ongoing KIDNEY Sickness Complexities WHICH TREATED IN RSPAD GATOT SOEBROTO', 6, pp. 1627–1635.
Treister, A. K. et al. (2018) 'Demystifying post-stroke pain : from etiology to treatment', 9(1), pp. 63–75. doi: 10.1016/j.pmrj.2016.05.015.Demystifying.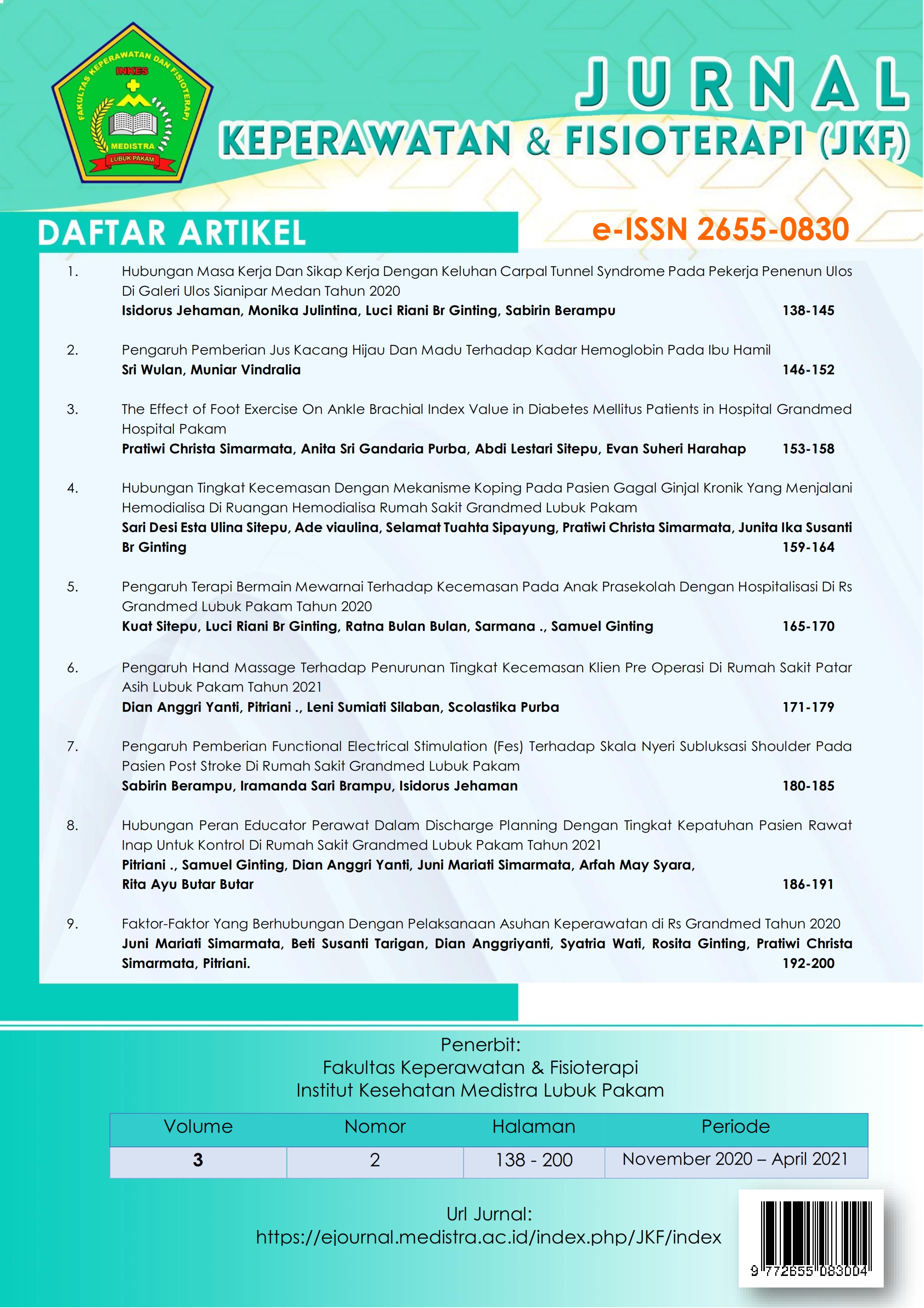 How to Cite
Berampu, S., Brampu, I. S., Jehaman, I., & Jannah, M. (2021). PENGARUH PEMBERIAN FUNCTIONAL ELECTRICAL STIMULATION (FES) TERHADAP SKALA NYERI SUBLUKSASI SHOULDER PADA PASIEN POST STROKE DI RUMAH SAKIT GRANDMED LUBUK PAKAM. JURNAL KEPERAWATAN DAN FISIOTERAPI (JKF), 3(2), 180-185. https://doi.org/10.35451/jkf.v3i2.659
Copyright (c) 2021 Sabirin Berampu
This work is licensed under a Creative Commons Attribution-NonCommercial-ShareAlike 4.0 International License.
Copyright in each article is the property of the Author.