FAKTOR-FAKTOR YANG MEMPENGARUHI HIPERTENSI PADA KEHAMILAN
Megawati Sinambela

Institut Kesehatan DELI HUSADA Deli Tua

Nur Mala Sari

Institut Kesehatan Deli Husada Delitua
Keywords:
Hypertension, Pregnancy
Abstract
Hypertension is a state of elevated blood pressure that can lead to various complications, such as stroke, and kidney failure. Hypertension in pregnancy is a blood pressure higher than 140/90 mmHg that caused by pregnancy itself, and it has the potential to cause serious disruption in pregnancy.This study aims to determine the factors that affect hypertension in pregnancy in the Working Area of Public Center Of Pancur Batu, Pancur Batu Sub-District, Deli Serdang District In 2018, with type of quantitative research, analytie case control design. The population in this study is the total number of pregnant women who experience hypertension consisting of case and control group of 72 people. Sampling technique used Total Sampling. Data was collected by interview by using questionnaire. Data analysis was done by bivariate with Chi-Square test at 95% confidence level, α=5%.The result showed that there was influence between age (p=0,016), parity (p=0,028), obesity (p=0,018), descent (p=0,000), physical activity (p=0,000), excessive food comsumption (p=0,001), stress (p=0,031) on hypertension in pregnancy. Multivariate analysis results that the risk level of hypertension in pregnancy is affected by heredity, physical activity and excessive food consumption of 99,5%.For Pancur batu Community Health Center, Pancur Batu Subdistrict, Deli Serdang Regency, to make policy in order to give information about hypertension problem in pregnancy, danger, and how to overcome hypertension in pregnant women.
Downloads
Download data is not yet available.
References
Bothamley, Judy, 2011. Patofisiologi Dalam Kebidanan. Jakarta: EGC.
Chairiah. 2012. Pola Makan Dan Status Gizi Yang Berpengaruh Terhadap terjadinya Hipertensi Pada Ibu Hamil Di RSU Tanjung Pura Kabupaten Langkat.
Cunningham, Mac Donald, et al. 2010. Obstetri William. Jakarta: EGC.
Harefa, dan Yabesman S. 2013.Hubungan Karakteristik Ibu Hamil Dengan Kejadian Preeklampsia Di Rumah Sakit Santa Elisabeth Medan.
Jufri, dkk. 2012. Gaya Hidup Yang Berhubungan Dengan Terjadinya Hipertensi Pada Pasien Rawat Jalan Puskesmas Ranaikang Kecamatan Sinjai Timur Kabupaten Sinjai.
Kurniasih, I., dan Muhammad, R. S. 2013. Risiko Terjadinya Hipertensi di Puskesmas Srondol Semarang Periode Bulan September-Oktober 2011.
Mannan, H.,Wahiduddin., Rismayanti. 2012. Faktor Risiko Kejadian Hipertensi Di Wilayah Kerja Puskesmas Bangkala Kabupatn Jeneponto Tahun 2012.
Novitaningtyas, T. 2014. Karakteristik Yang Berhubungan Dengan Aktivitas Fisik Terhadap Tekanan Darah Pada Lansia Di Kelurahan Makam Haji Kecamatan Kartasura Kabupaten Sukoharjo.
Odeger. 2012. Patologi Kebidanan. Yogyakarta: Nuha Medika.
Paramitasari. 2011. Faktor Kejadian Hipertensi Pada Kehamilan Di Wilayah Kerja Puskesmas Gatak Kabupaten Sukoharjo.
Powrie dan Miller. 2012. Hubungan Faktor Risiko Dengan Kejadian Pre-eklamsia Berat Di RSUP Dr. M. Djamil Padang.
Prawirohardjo, Sarwono. 2010. Ilmu Kebidanan. Jakarta: Bina Pustaka.
Sugiharto, A. 2011.Faktor-Faktor Risiko Hipertensi Grade II Pada Masyarakat Kabupaten Karanganyar.
Tiran, Denise. 2011. Mengatasi Mual-Muntah Dan Gangguan Lain Selama Kehamilan. Yogyakarta: Diglossia.
Walidah. 2012. Faktor-Faktor Yang Berhubungan Dengan Hipertensi Pada Kehamilan Di Poli Klinik Obstetri Ginekologi Rumah Sakit Jiwa Prof. Dr. V. L. Ratumbuysang Kota Manado.
Wahyuningsih, Heni Puji. 2012. Dasar-Dasar Ilmu Kesehatan Masyarakat Dalam Kebidanan. Yogyakarta: Fitramaya.
Zakiah, N., Mato, R., dan Sjafaraenan. 2012. Beberapa Faktor Penyebab Terjadinya Hipertensi Pada Ibu Hamil di Rumah Sakit Khusus Daerah Ibu Dan Anak Siti Fatimah Makassar.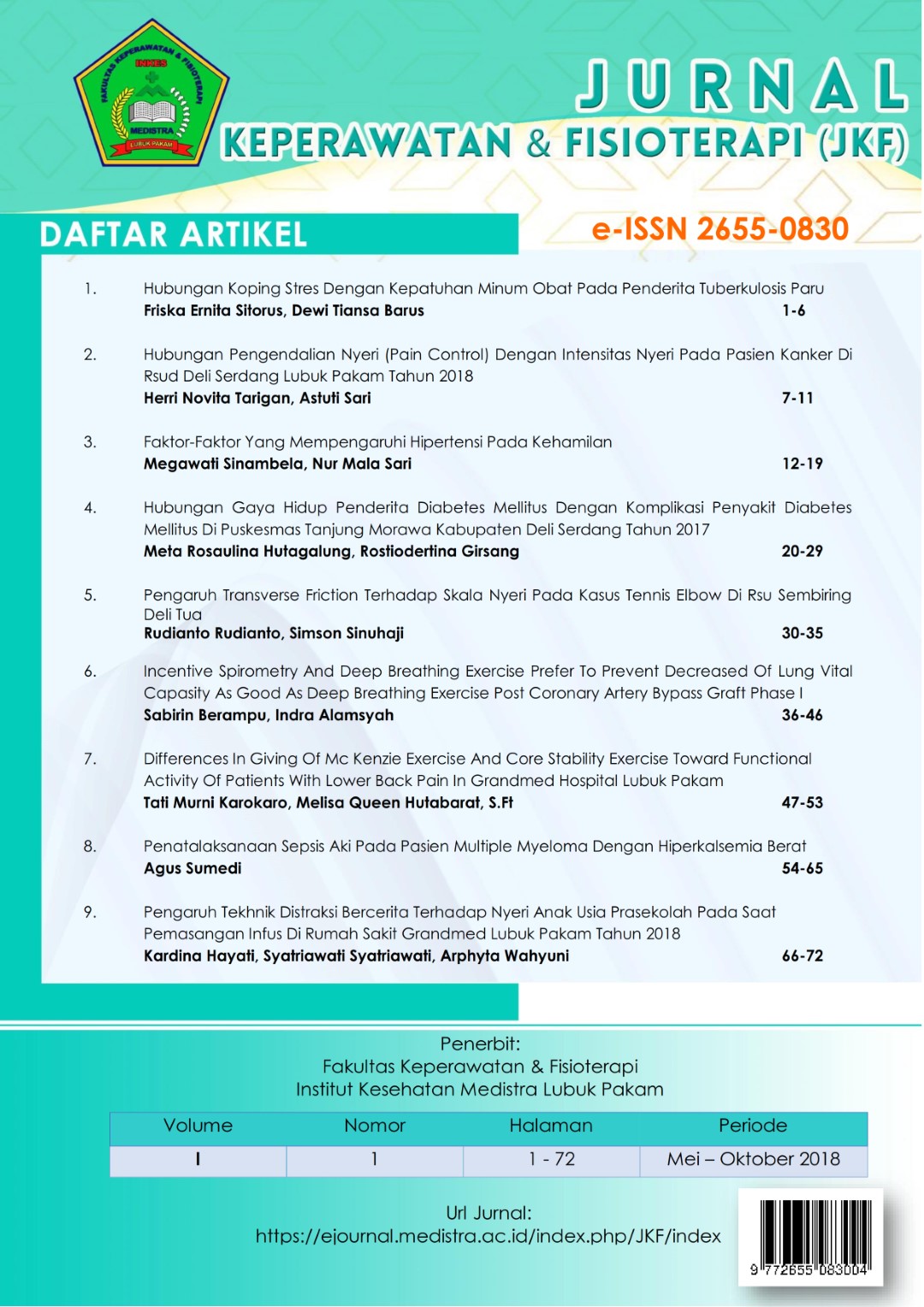 How to Cite
Sinambela, M., & Sari, N. (2018). FAKTOR-FAKTOR YANG MEMPENGARUHI HIPERTENSI PADA KEHAMILAN. JURNAL KEPERAWATAN DAN FISIOTERAPI (JKF), 1(1), 12-19. https://doi.org/10.35451/jkf.v1i1.7
Copyright in each article is the property of the Author.