The Effect of The Use of Gloves on Complaints of Skin Disorders (Dermatitis) in Fish Sorting Workers in Fish Auction Places (TPI) at Pantai Labu District
Raisha Octavariny

Institut Kesehatan MEDISTRA Lubuk Pakam
Keywords:
Gloves, Complaints of skin disorders (Dermatitis)
Abstract
Health is a right for workers who are in the formal and informal sectors, as well as fishermen who especially work in the fish sorting section are very vulnerable to skin diseases. This is because most fishermen do not want to use gloves while working due to inconvenience reasons. Prevention efforts that can be done by implementing a work system using gloves starting from the beginning of work until the end of work. The purpose of this study was to determine the effect of using gloves on complaints of skin disorders (dermatitis) in fish sorting workers at the fish auction place (TPI) Pantai Labu District. This type of research is a quantitative study with a quasi-experimental approach to the research design of one group pretest posttest. Using the Purposive Sampling technique with a sample of 32 respondents. Data collection using the Observation sheet. The statistical test in this study used the Wilcoxon test to see the difference in the average results between the pre-test and post-test. The average difference in complaints of skin disorders (dermatitis) before being given an intervention was 2.31 and after being given an intervention of 1.84, which means that there was a significant effect on reducing complaints of skin disorders in workers. The results of this study indicate that there is an effect of using gloves on complaints of skin disorders (dermatitis) in workers in the fish sorting section at the fish auction place (TPI) Pantai Labu District with the results (p = 0.000 < 0.05). Workers should get used to using gloves. hands while working, To minimize complaints of skin disorders (dermatitis) that are felt so that workers are more productive in doing their work.
Downloads
Download data is not yet available.
References
Anshar et all. (2016). Electrical energy potential of rice husk as fuel for power generation in Indonesia
Nanto, S.S., (2015). Kejadian Timbulnya Dermatitis Kontak Pada Petugas. Kebersihan
Saftarina et al. (2015). Penatalaksanaan Penyakit Paru Obstruktif
Sasseville D. (2008). Occupational contact dermatitis. Allergy Asthma Clin Immunol.
Suma'mur. (2009). Hygiene Perusahaan dan Kesehatan Kerja. Jakarta: Sagung Seto.
Sumita (2018). Perbandingan Faktor Resiko Kejadian Dermatitis Kontak Iritan Antara Pentani Garam Dan Pentani Sawah di Kecamatan Kaliori Kabupaten Rempang. Jurnal Kesehatan Masyarakat. Vol 5 No 4.
Utama, R.W. (2018). Hubungan Pengetahuan dan Pengalaman terhadap Pencegahan Dermatitis pada Nelayan di Wilayah Batang Kapas Kabupaten Pesisir Selatan Tahun 2018. [Skripsi]. STIkes Perintis Padang.
Wulandari, (2013). Pengaruh Pemakaian Sarung Tangan terhadap Penurunan Kejadian Dermatitis Kontak Alergi pada Pekerja Pengolahan Biji Mete di Wonogiri. [Skripsi]. Universitas Sebelas Maret.
Yunanto, Rohmat. (2012). Pengaruh Penggunaan Sarung Tangan Vinyl terhadap Upaya Pencegahan Keluhan Iritasi Kulit pada Pekerja di CV Batik Printing Karonsih Kelurahan Pasar Kliwon Surakarta. [Skripsi]. Universitas Sebelas Maret Suraka.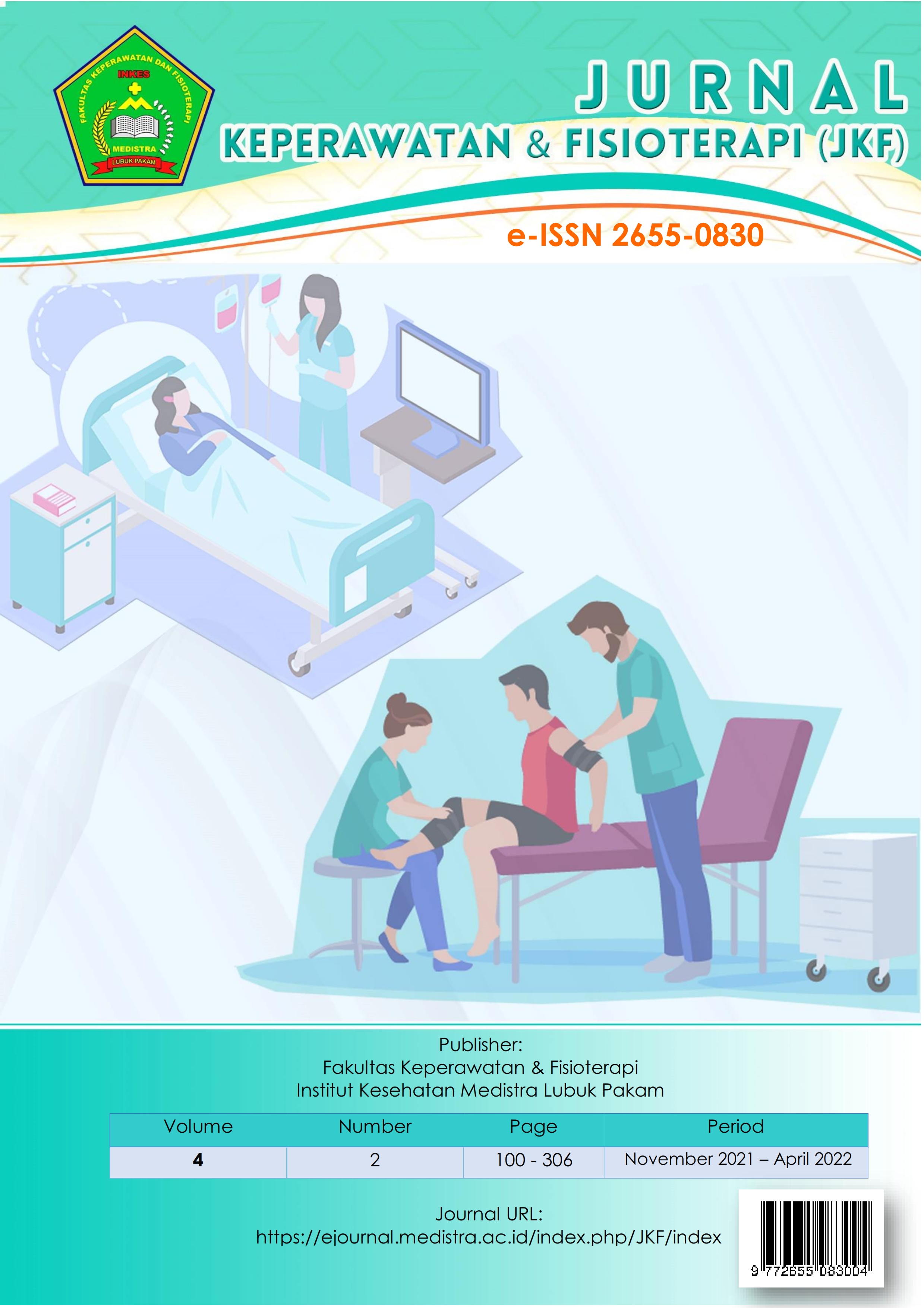 How to Cite
Octavariny, R. (2022). The Effect of The Use of Gloves on Complaints of Skin Disorders (Dermatitis) in Fish Sorting Workers in Fish Auction Places (TPI) at Pantai Labu District. JURNAL KEPERAWATAN DAN FISIOTERAPI (JKF), 4(2), 117-123. https://doi.org/10.35451/jkf.v4i2.944
Copyright (c) 2022 Raisha Octavariny
This work is licensed under a Creative Commons Attribution 4.0 International License.
Copyright in each article is the property of the Author.