The Effect of Slow Stroke Back Massage Cutaneus Stimulation on Pain Intensity Osteoarthritis in The Elderly
Anita Gandaria Purba

InstitutKesehatan Medistra Lubuk Pakam

Arfah May Syara

Institut Kesehatan Medistra Lubuk Pakam

Luci Riani Br Ginting

Institut Kesehatan Medistra Lubuk Pakam
Keywords:
Back Massage Slow Stroke, Pain, Elderly
Abstract
Osteoarthritis (OA) also known as degenerative joint disease is the most common in all forms of arthritis and causes pain and disability in the elderly. This disease is characterized by progressive loss of joint cartilage, synovitis (inflammation of the synovium lining the joints), joint pain, stiffness, and loss of joint movement (Lemone, 2018:1679). Skin stimulation that can be done is Slow-Stroke Back Massage. Proper use of skin stimulation: slow-stroke back massage can reduce pain perception and help reduce muscle tension which can reduce pain intensity, but it can also cause dilation of blood vessels and improve blood circulation in tissues. This activity was carried out at the Lubuk Pakam Health Center in January 2021. The target of this community service is 30 elderly people with osteoarthritis. The method used in this community service is providing education or counseling to patients with Osteoarthritis. The media used are Power point presentation (PPT) and LCD for approximately 90 minutes. To measure the success of the education or counseling provided, knowledge measurement before and after education or counseling was carried out using a questionnaire. Data analysis for bivariate calculations in this study used Pair Samples t-test with the provisions of 0.05. Based on the results of statistical tests using paired sample t-test, p value (= 0.000) < (= 0.05) it can be concluded that the hypothesis in this study is accepted,
Downloads
Download data is not yet available.
References
Adhyati, S. 2011. Pengaruh Stimulasi Kutaneus Slow-Stroke Back Massage Terhadap Intensitas Nyeri pada Penderita Low Back Pain (LBP) di Kelurahan Aek Gerger Sidodadi. (http://repository.usu.ac.id).
Caldwell & Hegner, Barbara J. 2016. Asisten Keperawatan Suatu Pendekatan Proses
Keperawatan. Jakarta : EGC.
Darmojo, B. 2016. Buku Ajar Geriatri (Ilmu Kesehatan Usia Lanjut), Balai Pustaka FKUI, Jakarta.
Esther. 2015. Patofisiologi Aplikasi pada Praktek Keperawatan.Jakarta: EGC.
Guyton, A.C., & Hall, J.E. 2007. Buku Ajar Fisiologi Kedokteran. Edisi 9. Jakarta: EGC.
Irianto. 2015. Memahami Berbagai Macam Penyakit. Bandung: CV Alfabeta.
Kusyanti, dkk. 2016. Pemanfaatan Tumbuhan Obat Hipertensi Dan Diabetes Mellitus Pada Masyarakat Rundeng Kota Subulussalam
Kristanto, T & Arina Maliya. 2011. Pengaruh Terapi Back Massage terhadap
Intensitas Nyeri Reumatik pada Lansia di Wlayah Puskesmas Pembantu Karang Asem.
LeMone, Burke, & Bauldoff. 2016. Keperawatan Medikal Bedah. Alih bahasa. Jakarta: EGC.
Ni Putu dan I.Gusti Ngurah Agung Suaryana. 2014. Pengaruh Kecanggihan Teknologi Informasi, Partisipasi Manajemen, dan Kemampuan Teknik Pemakai Sistem Informasi Akuntansi pada Kinerja Individu. ISSN: 2302-8556 E-Jurnal Akuntansi Universitas Udayana.
Noer, Didin, As'ad, Syarif, (et.al.) . 2016. Modul Komputer Statistik. Yogyakarta : Laboratorium Mini Banking Prodi Muamalat
Konsentrasi Ekonomi dan Perbankan Islam Fakultas
Potter & Perry. 2005. Buku Ajar Fundamental Keperawatan: Konsep, Proses, dan Praktik Volume 2 Edisi 4. Jakarta: EGC.
_______________. 2010. Fundamental Of Nursing: Consep, Proses and Practice. Edisi 7. Jakarta: EGC.
Reeves, G. R. 2017. Keperawatan Medical Bedah. Setyomono Joko, (Penterjemah). Jakarta: Salemba Medika.
Sudirman. 2017. Interaksi dan Motivasi Belajar dan Mengajar. Jakarta : PT. Grafindo Indonesia.
Shocker, M. 2018. Pengaruh Stimulus Kutaneus: Slow-Stroke Back Massage terhadap Intensitas Nyeri Osteoarthritis. http://www.scribd.com.
Wiyono. 2014. Manajemen Lanjut Usia. Yogyakarta: UPP.
World Health Organization (WHO). 2019. Maternal mortality. https://www.who.int/news-room/fact-sheets/detail/maternal-mortality.
Zuliani dkk. 2014. Pengaruh Profitabilitas, Pertumbuhan Penjualan, Struktur
Aset, dan Tingkat Pertumbuhan terhadap Struktur Modal. Jurnal Ilmu
dan Riset Akuntansi. Vol. 3 No. 7 (2014).
Zheng Y ., Bai J., Wang G., et al. 2016. Protective Effect of D-Limonene
against Oxidative Stress-Induced Cell Damage in Human Lens Epithelial Cells
via the p38 Pathway. Oxidative Medicine dan Cellular Longevity.Availble at: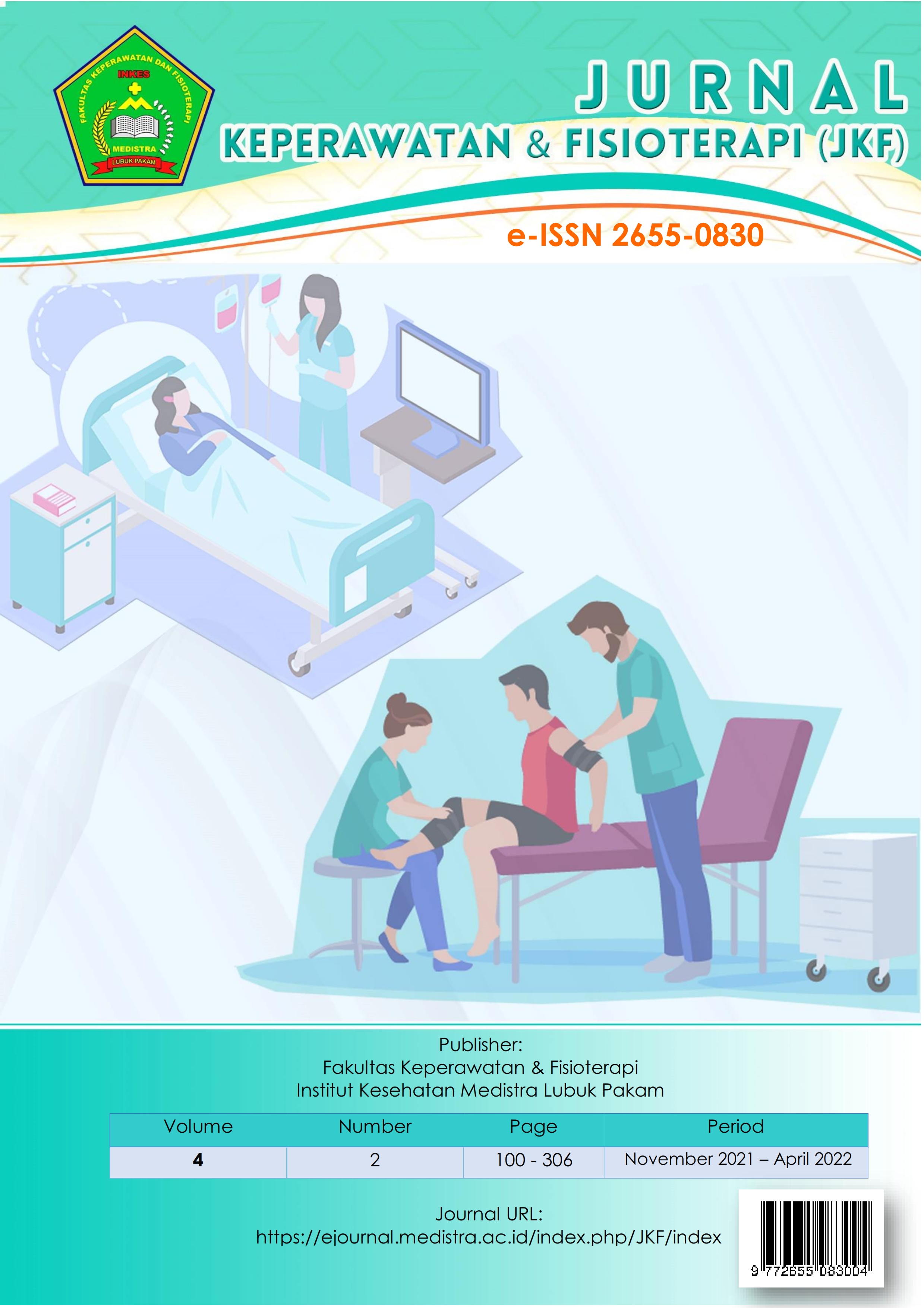 How to Cite
Purba, A., Syara, A. M., & Br Ginting, L. (2022). The Effect of Slow Stroke Back Massage Cutaneus Stimulation on Pain Intensity Osteoarthritis in The Elderly. JURNAL KEPERAWATAN DAN FISIOTERAPI (JKF), 4(2), 132-139. https://doi.org/10.35451/jkf.v4i2.951
Copyright (c) 2022 Anita Gandaria Purba, Arfah May Syara, Luci Riani Br Ginting
This work is licensed under a Creative Commons Attribution 4.0 International License.
Copyright in each article is the property of the Author.