The Relationship Between Therapeutic Communication With The Patient's Level of Anxiety Performed Thoracentesis invasive Actions in the Room Lung Actions RSU Karsa Husada Batu
Ferawati .

Stikes Maharani Malang

Wiwik Agustina

STIKES MAHARANI MALANG

Sih Ageng Lumadi

STIKES MAHARANI MALANG
Keywords:
therapeutic communication, anxiety, invasive action
Abstract
Anxiety is often experienced by patients who undergo an invasive procedure in health services. One such invasive procedure is thoracentesis. Efforts by officers to reduce patient anxiety by conducting therapeutic communication. The purpose of the study was to determine the relationship between therapeutic communication and the patient's level of anxiety on invasive thoracentesis in the pulmonary surgery room at Karsa Husada Batu General Hospital. The research design uses Correlative Study. The data collection method used observational research with a cross sectional approach. Respondents in this study were divided into 2, namely patient respondents as many as 41 people and officer respondents as many as 6 people. The independent variable was assessed using an observation sheet while the dependent variable was measured using the HARS instrument. The results showed that the value of good communication (53.7%) had an effect on the value of the level of mild anxiety (53.7%), sufficient communication (41.5%) had an effect on the value of the moderate level of anxiety (39%) and poor communication (4.9). %) affects the level of severe anxiety (7.3%). This shows the relationship between therapeutic communication with the patient's level of anxiety. Pearson's statistical test showed a significance value of 0.000 or (p <0.05), meaning that there was a relationship between therapeutic communication and anxiety levels of patients undergoing invasive thoracentesis. The value of r = +0.6, this indicates that the better the therapeutic communication, the lower the anxiety. It is recommended for officers to apply therapeutic communication so that the anxiety of patients facing thoracentesis can be controlled.
Downloads
Download data is not yet available.
References
Anjaswarni, T. (2016). Komunikasi Dalam Keperawatan.
Diana. (2016). Hubungan Pengetahuan Komunikasi Terapeutik Terhadap Kemampuan Komunikasi Perawat Dalam Melaksanakan Asuhan Keperawatan di RS Elisabeth Purwokerto.
Firmansyah. (2017). Hubungan Tingkat Pengetahuan Perawat Tentang Komunikasi Terapeutik Dengan Pelaksanaan Komunikasi Terapeutik Pada Usia Prasekolah di Ruang Perawatan 1 RSUD Polewali Mandar.
G.W.Stuart. (2016a). Prinsip dan Praktik Keperawatan Kesehatan Jiwa Stuart.
herlina. (2015). Hubungan Tingkat Pengetahuantentang Informasi Pra Bedah Dengan Tingkat Kecemasan Orang Tua Pasien Bedah Anak Di Ruang Preoperatif Instalasi Bedah Sentral Rsud Abdul Wahab Sjahranie Samarinda.
Luh, N., Purnama, A., & Lupita, M. (2018a). Kecemasan Pasienpraoperasi. 14–20.
M. Nur Ghufron & Rini Risnawita, S. (2014). Teori-Teori Psikologi. Ar- Ruzz Media.
Murdiningsih, & Ghofur. (2013). Faktor-faktor yang mempengaruhi kecemasan.
Nugraheni, C., & Ramdaniati, S. (2018). Faktor-faktor Yang Berhubungan Dengan Tingkat Kecemasan Kecemasan Pasien Kanker Di Poli Bedah Onkologi Rumah Sakit Hasan Sadikin Bandung.
Putra, A. (2016b). Hubungan Komunikasi Terapeutik Perawat Dengan Kepuasan Pasien Di Ruang Rawat Inap Rumah Sakit Umum Daerah Dr. Zainoel Abidin, 2013. Jurnal Ilmu Keperawatan, 1(1).
Putra. (2016a). Hubungan komunikasi terapeutik perawat dengan kepuasan pasien di ruang rawat inap rumah sakit umum daerah dr. Zainoel abidin, 2013. Jurnal Ilmu Keperawatan.
Rahmadani, M. (2018). Hubungan Komunikasi Terapeutik Perawat Terhadap Tingkat Kecemasan Pasien Pre Operasi Di Ruang Rawat Inap RS PKU Muhammadiyah Gamping.
Sasmito, P., Majadanlipah, M., Raihan, R., & Ernawati, E. (2019). Penerapan Teknik Komunikasi Terapeutik Oleh Perawat pada Pasien. Jurnal Kesehatan Poltekkes Ternate, 11(2), 58. https://doi.org/10.32763/juke.v11i2.87
Sutarwi, E. W., Ilmu, J., & Indonesia, K. (2019). Pengaruh Supportif Edukatif terhadap Kecemasan pada Pasien Pre Operasi. 12(1), 18–27.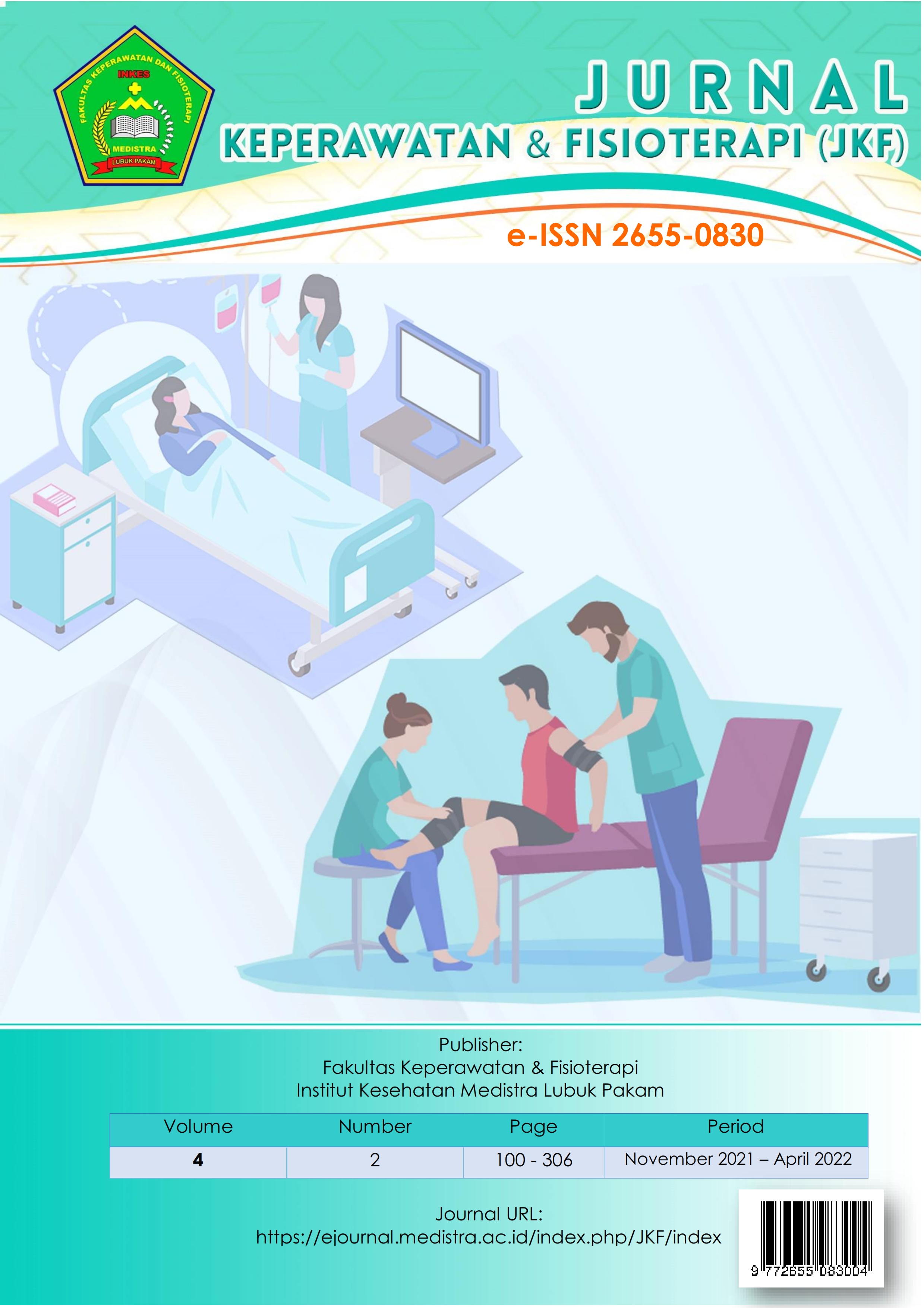 How to Cite
., F., Agustina, W., & Lumadi, S. A. (2022). The Relationship Between Therapeutic Communication With The Patient's Level of Anxiety Performed Thoracentesis invasive Actions in the Room Lung Actions RSU Karsa Husada Batu. JURNAL KEPERAWATAN DAN FISIOTERAPI (JKF), 4(2), 172-179. https://doi.org/10.35451/jkf.v4i2.959
Copyright (c) 2022 Ferawati .
This work is licensed under a Creative Commons Attribution 4.0 International License.
Copyright in each article is the property of the Author.