Relationship Between Participation In Sport Physio Study Club With Sports Physiotherapy Course Values In Physiotherapy Students Of Universitas Muhammadiyah Surakarta
Arif Pristianto

Program Studi Fisioterapi, Universitas Muhammadiyah Surakarta

Khairunnisa Pebriana

Universitas Muhammadiyah Surakarta

Adnan Faris Naufal

Universitas Muhammadiyah Surakarta
Keywords:
Study Club, Active Learning, Learning Achievement
Abstract
There are various forms of active lerning, one of which is interest-based and is called Study Club. In Physiotherapy department Universitas Muhammadiyah Surakarta, There is a Study Club that can help learning in a comprehensive sports physiotherapy course namely Sportphysio. The purpose This study was to determine the relationship in the participation of the Sportphysio study club to the comprehensive sports physiotherapy course in the Physiotherapy study program, Muhammadiyah University of Surakarta. The research used analytic observational, questionnaire distribution, filling was done using google form. This study used a simple correlation test, the chi square test. Sampling with purposive sampling technique, the study used a sample of the batch 2015, 2016 and 2017 physiotherapy students as many as 120 students. Students who already have a Study Result Card for Comprehensive Sports Physiotherapy course are divided into two groups, namely 60 students who take part in the study club and 60 students who do not join the study club, comparing the two groups. The results of the analysis of the chi square test showed that p0.011 had a significant relationship in the participation of the Sportphysio study club with the results of the Comprehensive Sports Physiotherapy course score. The results show that there is a relationship between the participation of the Sportphysio study club and the results of the Comprehensive Sports Physotherapy course scores. The hypothesis is accepted that there is a positive relationship, with the results of students who take part in the Sportphysio study club having good scores, compared to students who don't take part in the Sportphysio study club.
Downloads
Download data is not yet available.
References
Asiah, N. (2017). Analisis kemampuan praktik strategi pembelajaran aktif (active learning ) mahasiswa PGMI Fakultas Tarbiyah dan Keguruan IAIN Raden Intan Lampung. Jurnal Pendidikan Dan Pembelajaran Dasar, 4(1), 20–33. DOI: https://doi.org/10.24042/ terampil.v4i1.1803
Dewi, H. (2012). Pengaruh Kegiatan Study club (Kelompok Belajar Siswa pada Mata Pelajaran Ekonomi di Madrasah Aliyah Negeri 1 PekanBaru (Vol. 7, Issue 6).
Hadi, S. N., & Noor, A. J. (2013). Keefektifan Kelompok Belajar Siswa Berdasarkan Sosiometri dalam Menyelesaikan Soal Cerita Matematika di SMP. NEDU-MAT: Jurnal Pendidikan Matematika, 1(1), 60–67. DOI: https://doi.org/10.20527/edumat.v1i1.564
Hasminidiarty. (2015). Faktor-Faktor Yang Berkaitan Dengan Prestasi Belajar Mahasiswa Hasminidiarty 1. Ilmiah, Jurnal Batanghari, Universitas Vol, Jambi, 15(3), 96–110. DOI: https://doi.org/10.33 087/jiubj.v15i3.155
Junaidi, A., Wulandari, D., Arifin, S., Soetanto, H., Kusumawardani, S. S., Wastutiningsih, S. P., Utama, M. S., Cahyono, E., Hertono, G. F., Syam, N. M., WY, H. J., Putra, P. H., Wijayanti, C., & Jobih. (2020). Panduan Penyusunan Kurikulum Pendidikan Vokasi. In Direktorat Jenderal Pendidikan Tinggi Kementerian Pendidikan dan Kebudayaan (IV). http://www.academia.edu/download/61283233/PanduanPenyusunan-Kurikulum-Pendidikan-Vokasi-201620191120-43633-12k5uv5.pdf
Mahirah. (2017). Evaluasi Belajar Peserta Didik (Siswa). Jurnal Idaarah, 1(2), 257–267. DOI: https://doi.org/10.24252/idaarah.v1i2.4269
Ma'rifah, R. D. (2017). Diagnosis Kesulitan Belajar Mahasiswa Pada Mata Kuliah Perkembangan Peserta Didik. Jurnal Pendidikan Biologi Indonesia, 3(1), 88–94. DOI: https://doi.org/10.22219/jpbi.v3i1.4056
Mihaela, P. L. (2015). Psychological Factors of Academic Success. Procedia - Social and Behavioral Sciences, 180(November 2014), 1632–1637. DOI: https://doi.org/10.1016/j.sbspro.2015.02.318
Nabillah, T., & Abadi, P. A. (2019). Faktor Penyebab Rendahnya Hasil Belajar Siswa. Sesiomadika, 2(3), 659–663. Retrieved from https://journal.unsika.ac.id/index.php/sesiomadika/article/view/2685
Pratiwi, N. K. (2015). Pengaruh Tingkat Pendidikan, Perhatian Orang Tua, dan Minat Belajar Siswa Terhadap Prestasi Belajar Bahasa Indonesia Siswa SMK Kesehatan di Kota Tangerang Noor. Jurnal Pujangga, Vol. 1(No 2), 75–105. DOI: http://dx.doi.org/10.47313/pujangga.v1i2.320
Pristianto, A. & Ratnadilla, C. (2021). Efektivitas Study club Terhadap Peningkatan Prestasi Belajar Mahasiswa S1 Fisioterapi Universitas Muhammadiyah Surakarta. Menejemen Pendidikan, 16(2), 73-82. DOI: 10.23917/jmp.v16i2.11704
Saputri, R. R. (2018). Pengaruh Study club (Kelompok Belajar) dan Keaktifan Mahasiswa dalam Proses Belajar terhadap Prestasi Belajar Mahasiswa Pendidikan Akuntansi Fakultas Keguruan dan Ilmu Pendidikan. Universitas Muhammadiyah Surakarta (skripsi).
Utami, K. I., Pristianto, A., & Ratnadilla, C. (2021). Efektifitas Study club Fisiopedi Terhadap Peningkatan Nilai Mata Kuliah Fisioterapi Komprehensif Pediatri. Jurnal Pendidikan Dompet Dhuafa, 11(02), 23-26. Retrieved from http://jurnal.makmalpendidikan.net/index.php/JPD/article/view/259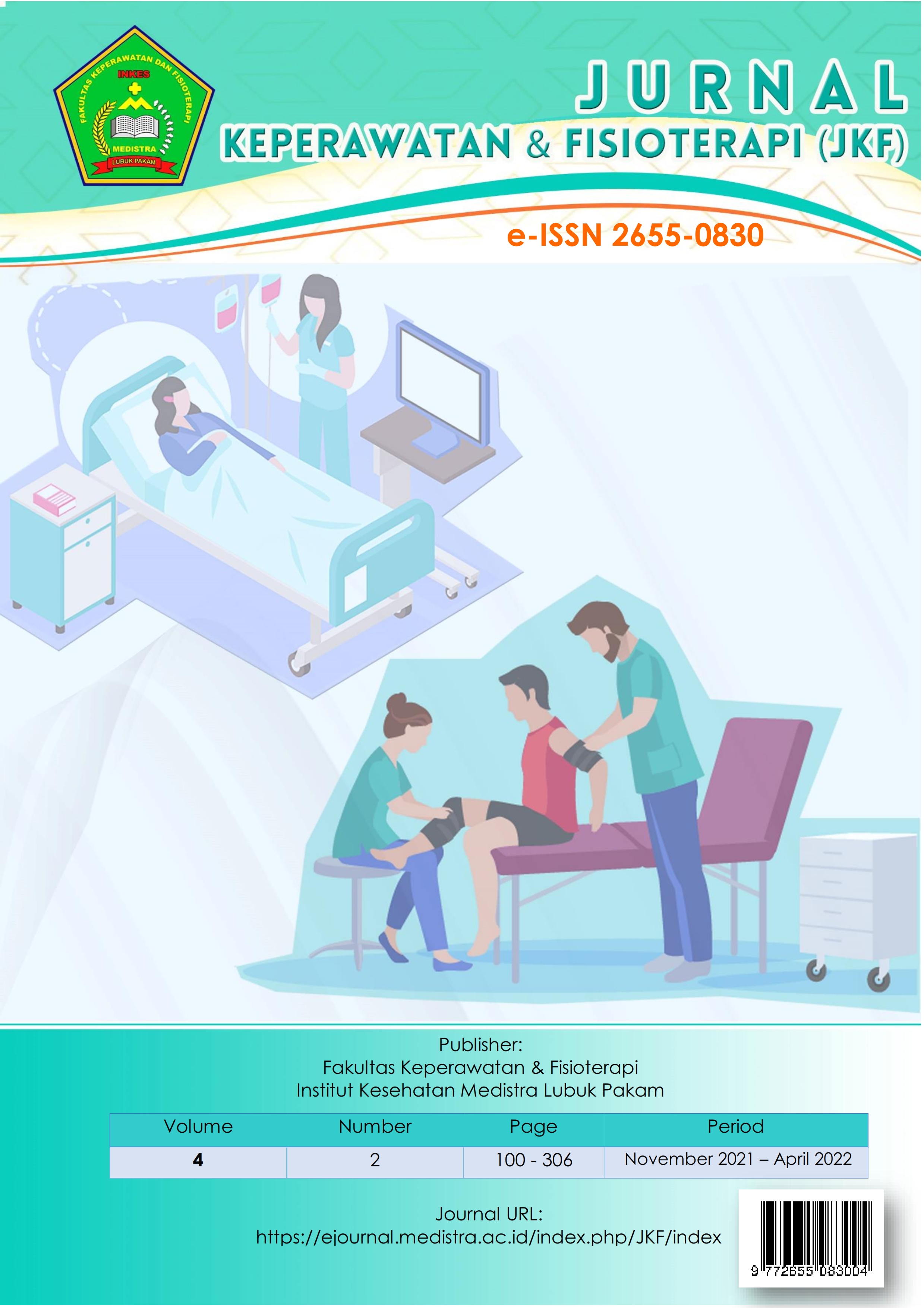 How to Cite
Pristianto, A., Pebriana, K., & Naufal, A. (2022). Relationship Between Participation In Sport Physio Study Club With Sports Physiotherapy Course Values In Physiotherapy Students Of Universitas Muhammadiyah Surakarta. JURNAL KEPERAWATAN DAN FISIOTERAPI (JKF), 4(2), 156-162. https://doi.org/10.35451/jkf.v4i2.962
Copyright (c) 2022 Arif Pristianto, Khairunnisa Pebriana, Adnan Faris Naufal
This work is licensed under a Creative Commons Attribution 4.0 International License.
Copyright in each article is the property of the Author.