Relationship Of Age And Work Experience With The Quality Of Nursing Work Life (QNWL) Nurses
Luthfatun Muthiah

universitas negeri gorontalo

Wirda Y Dulahu

Universitas Negeri Gorontalo

Rachmawaty D Hunawa

Universitas Negeri Gorontalo
Keywords:
Age, Work Experiance, Quality Of Nursing Work Life (QNWL)
Abstract
Quality of Nursing Work Life (QNWL) is a nurse's perception that can increase organizational commitment and effectiveness among nurses and increase nurse productivity and performance, which consists of 4 dimensions, namely Work Life-Home Life Dimensions, Work Design Dimensions, Work Context Dimensions, and Work Dimensions. The purpose of this study was to analyze the relationship between age and work experience with QNWL. This research is a type of quantitative research. The design used correlational analytics with a cross-sectional approach. The population of all nurses in the inpatient room at Prof. Dr. H. Aloei Saboe hospital is 134 nurses with a total sample is 57 respondents who were taken using the proportional stratified random sampling technique. The analysis was used in bivariate analysis using the Spearman rank test. The results of the study obtained a significant value for the age factor (ρ = 0.001) and the work experience factor (ρ = 0.007). In conclusion, there is a relationship between age and work experience with QNWL. Suggestions for the hospital to improve the nurse retention program so as to increase QNWL.
Downloads
Download data is not yet available.
References
Ardiana A, Purwandari R, Wahyuni MRN. 2020. Hubungan antara kualitas pekerjaan perawat dengan kualitas pelayanan perawatan pada pasien di RSUD Jember. Jurnal Keperawatan Vo. 11, No. 2
Bekti, R, R. Pengaruh Kualitas Kehidupan Kerja Terhadap Kepuasan Kerja Karyawan Rumah Sakit Ibu dan Anak X Surabaya. J Administrasi Kesehatan Indonesia. 2018; 6(2).
Cascio, Wayne. Managing Human Resources : Productivity, Quality of Work Life. New York: McGraw-Hill: 2013
Fardiana A. Hubungan Quality Of Nursing Work Life Dengan Kinerja Perawat di RSUD Syarifah Ambami Rato Ebu Kabupaten Bangkalan. Universitas Airlangga; 2018.
Fibriansari , R. D. Pengembangan Model Empowerment terhadap Burnout Syndrome dan quality of nursing work life di RSUD Dr. Haryoto Lumajang. Universitas Airlangga: 2017.
Gusty, A., Dachriyanus., & L, Merdawati. Hubungan kualias kehidupan kerja terhadap kinerja perawat pelaksana. J STIKES Kendal. 2019; 9(4).
Hidayah, D, N. Gambara Quality Of Work Life (QWL) Pada Perawat Di Salah Satu Rumah Sakit Di Surakarta. Universitas Diponegoro; 2018.
Kaluku, S., A, Saleh., & K, S, Kadar. Gambaran Quality of Work Life Perawat di Rumah Sakit Tipe B. J Keperawatan Muhammadiyah; 2019.
Kau, S.T.A., Dulahu W.Y., Hiola D.S. Gambaran Kualitas Kehidupan Kerja Perawat Di RSUD M M Dunda Limboto. Jambura Journal Of Health sciences and Research Vol.4, No.1 2022
Merdawaty,L., Dachriyanus., & A, Gusty. Hubungan Kualitas Kehidupan Kerja Terhadap Kinerja Perawat Pelaksana. Jurnal Ilmiah STIKES Kendal Vol. 9, No. 4: 2019.
Nuari, N, A. Quality Of Work Life dan Kepuasan Kerja Perawat Di Rumah Sakit Amelia Pare. Jurnal Ners dan Kebidanan. 2016; 3(1).
Nursalam. Metodologi Penelitian Ilmu Keperawatan Pendekatan Praktis Edisi 4. Jakarta : Salemba Medika; 2015.
. Metodedologi Penelitian Ilmu Keperawatan : Pendekatan Praktis Edisi 5. Jakarta: Salemba Medika; 2020.
Oyoh,. I, Somantri., & K, Yudianto. Kualitas Kehidupan Kerja Perawat di Puskesmas Pangandaran. J Padjajaran. 2017; 5(3).
Prihastuty, J., Damayanti, N., A., & Nursalam. Model Peningkatan Quality Of Nursing Work Life untuk Menurunkan Intention To Quit Perawat di Rumah Sakit Premier Surabaya. Jurnal Ners. 2013; 8(2).
Purnomo, H. Rekomendasi Pengembangan QWL (Quality of Work Life) berdasarkan Pengaruh QWL terhadap Kepuasan Kerja Perwata di Rumah Sakit Kusta Sumberglagah Pacet Mojokerto. Jurnal Administrasi Kebijakan Kesehatan. 2012. 10(3); 129-136.
Purwandari, A., S, Susilaningsih., & I, Somantri. Pengaruh Faktor Demografi Terhadap Quality Of Nursing Work Life (QNWL) Perawat Rumah Sakit Muhammadiyah Bandung. Jurnal Pendidikan Keperawatan Indonesia; 2017.
Susanti, E,. Z, Saam & N, Rany. Analisis Kinerja Perawat Dtinjau dari Kualitas Kehidupan Kerja (Quality Of Work Life) di RSIA X Pekanbaru Tahun 2019. Journal of Hospital Management and Healh Science. 2020; 1(1).
Tri, I., P. Model Kualitas Kehidupan Kerja Perawat (K3P), Ebook. Semarang : Universitas Diponegoro; 2018.
Widayati, D. Quality Of Nursing Work Life dan Burnout Syndrome pada Perawat. Jurnal Ners dan Kebidanan. 2020; 7(1).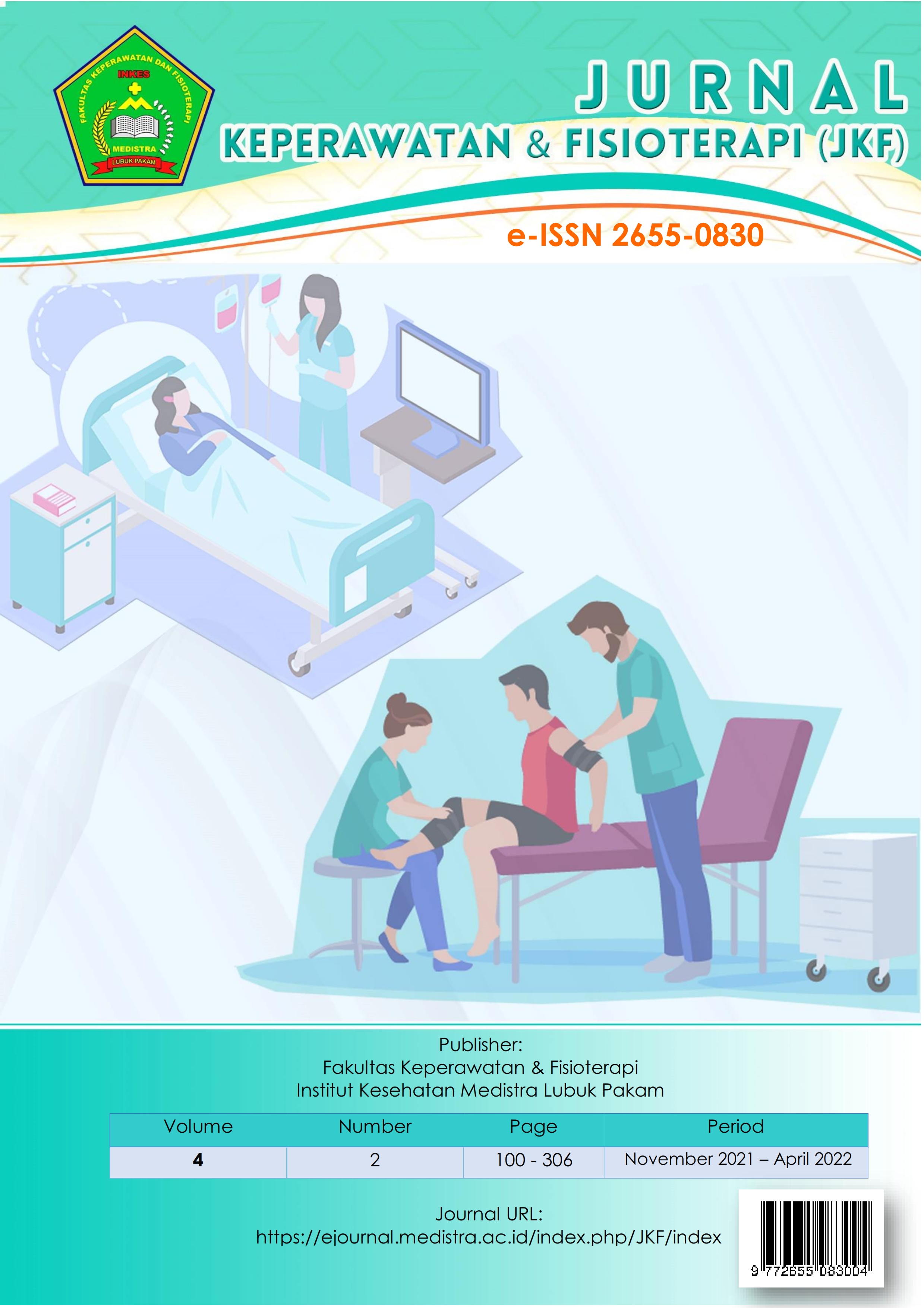 How to Cite
Muthiah, L., Dulahu, W., & Hunawa, R. (2022). Relationship Of Age And Work Experience With The Quality Of Nursing Work Life (QNWL) Nurses. JURNAL KEPERAWATAN DAN FISIOTERAPI (JKF), 4(2), 198-206. https://doi.org/10.35451/jkf.v4i2.966
Copyright (c) 2022 Luthfatun Muthiah, Wirda Y Dulahu, Rachmawaty D Hunawa
This work is licensed under a Creative Commons Attribution 4.0 International License.
Copyright in each article is the property of the Author.