Description of Patterns For Prevention and Treatment Of Covid-19 in Communities in the Work Area Of Puskesmas Sukaramai Medan in 2021
Ananda Annisa Batubara

Universitas Islam Sumatera Utara

Zaim Anshari

Universitas Islam Sumatera Utara
Keywords:
Pola pencegahan, pola pengobatan, Covid-19
Abstract
Background : In early 2020, the world was shocked by the outbreak of a new pneumonia that started in Wuhan which then spread rapidly to more than 190 countries. This outbreak was named Coronavirus Disease 2019 (Covid-19) which was caused by Severe Acute Respiratory Syndrome Coronavirus-2 (SARS-CoV-2). In Indonesia, the first Covid-19 case was reported on March 2, 2020. Since then, cases have continued to increase and spread rapidly throughout Indonesia.Objective : Description of prevention and treatmentpatterns Covid 19 in the work area of the community health center Sukaramai Medan.Methods : This research is a qualitative study with a cross sectional designResults : Based on the results of this study, it can be seen that 40 respondents (75,5%) prevent the spread of COVID-19 and 13 respondents (24,5%) don't prevent the spread of COVID-19. 21 respondents (39,6%) taking drugs outside of a doctor's prescription during the isolation period and 32 respondents (60,4%) do not takung drugs outside of a doctors's prescription during the isolation period. Besides medicine, 32 respondents (60,4%) taking vitamin c supplements,61 respondents (30,2%) taking vitamin d supplements, 1 respondents (1,9%) taking vitamin e supplements, and 2 respondents (3,8%) taking zink supplements.
Downloads
Download data is not yet available.
References
Anggraeni, A.D., Salahudin, Jamil, A.S., & Rofida, S. 2021. Analisis Kualitatif Obat Tradisional Sebagai Agen Peningkatan Imunitas Tubuh Dalam Melawan Covid-19 di Surat Kabar Online Indonesia. Jurnal Kesehatan Masyarakat STIKES Cendekia Utama Kudus, 8(2).
Ellysa. 2020. Situasi Covid-19 di Indonesia. Jendela Data dan Informasi Kesehatan, Edisi Semester I. Jakarta: Kementerian Kesehatan R.I.
Elviani, R., Anwar, C., & Sitorus, R.J. 2021. GAMBARAN USIA PADA KEJADIAN COVID-19. Jambi Medical Journal, 9(2).
Hasan, M., Levani, Y., Laitupa, A.A., & Triastuti, N. 2021. Pemberian Terapi Vitamin C pada COVID-19. Jurnal Pandu Husada, 2(2).
Kementerian Kesehatan Republik Indonesia. (2020a). Pedoman Pencegahan dan Pengendalian Coronavirus Disease (COVID-19). Germas, 0–115. https://infeksiemerging.kemkes.go.id/download/REV-04_Pedoman_P2_COVID-19__27_Maret2020_TTD1.pdf [Diakses 11 Juni 2021].
Kementerian Kesehatan Republik Indonesia. (2020b). Situasi Terkini Perkembangan (COVID-19). Kemenkes, September, 17–19. Retrieved from: https://covid19.kemkes.go.id/download/Situasi_Terkini_050520.pdf
Kusumo, A.R., Wiyoga, F.Y., Perdana, H.P., Khairunnisa, I., Suhandi, R.I., Prastika, S.S. 2020. Jamu Tradisional Indonesia: Tingkatkan Imunitas Tubuh Secara Alami Selama Pandemi. Jurnal Layanan Masyarakat, 4(2).
Notoatmodjo, S. (2012). Metodologi Penelitian Kesehatan. Rineka Cipta.
Pekuwali, D. 2021. Pertama Kalinya Positif Covid-19 di Sumut Tembus 1.127 Kasus, Dinkes Sebut Wajar. Retrieved from: https://regional.kompas.com/read/2021/07/16/092447878/pertama-kalinya-positif-covid-19-di-sumut-tembus-1127-kasus-dinkes-sebut?page=all. Diakses tanggal 16 Juli 2021.
Sari, A.R., et al. 2020. Perilaku Pencegahan Covid-19 Ditinjau dari Karakteristik Individu dan Sikap Masyarakat. Journal of Chemical Information and Modeling, 53(9), 1689–1699.
Sastroasmoro, S., & Ismael, S. (2014). Dasar-dasar Metodologi Penelitian Klinis (4th ed.). Sagung Seto.
Setyaningrum, Y.I., & Puriastuti, A.C. 2021. Promosi Kesehatan Upaya Pencegahan COVID-19 Bekerja Sama Dengan Relawan Mahasiswa dan Desa Dilem. Literasi: Jurnal Pengabdian Pada Masyarakat, 1(2).
Syamsu, R.F., Nuryanti, S., Arafah, & Jamal, M.F. 2021. Herbal yang Berpotensi sebagai Anti Virus Pada Covid-19. Molucca Medica, 14(1).
Valentine DU. 2021. Gambaran Pola Swamedikasi Pada Pasien COVID-19 yang Isolasi Mandiri di Wilayah Jakarta Pada Tahun 2021. Jakarta: Jurusan Farmasi Poltekkes, Kemenkes.
WHO. (2020). Transmisi SARS-CoV-2: implikasi terhadap kewaspadaan pencegahan infeksi. 1–10.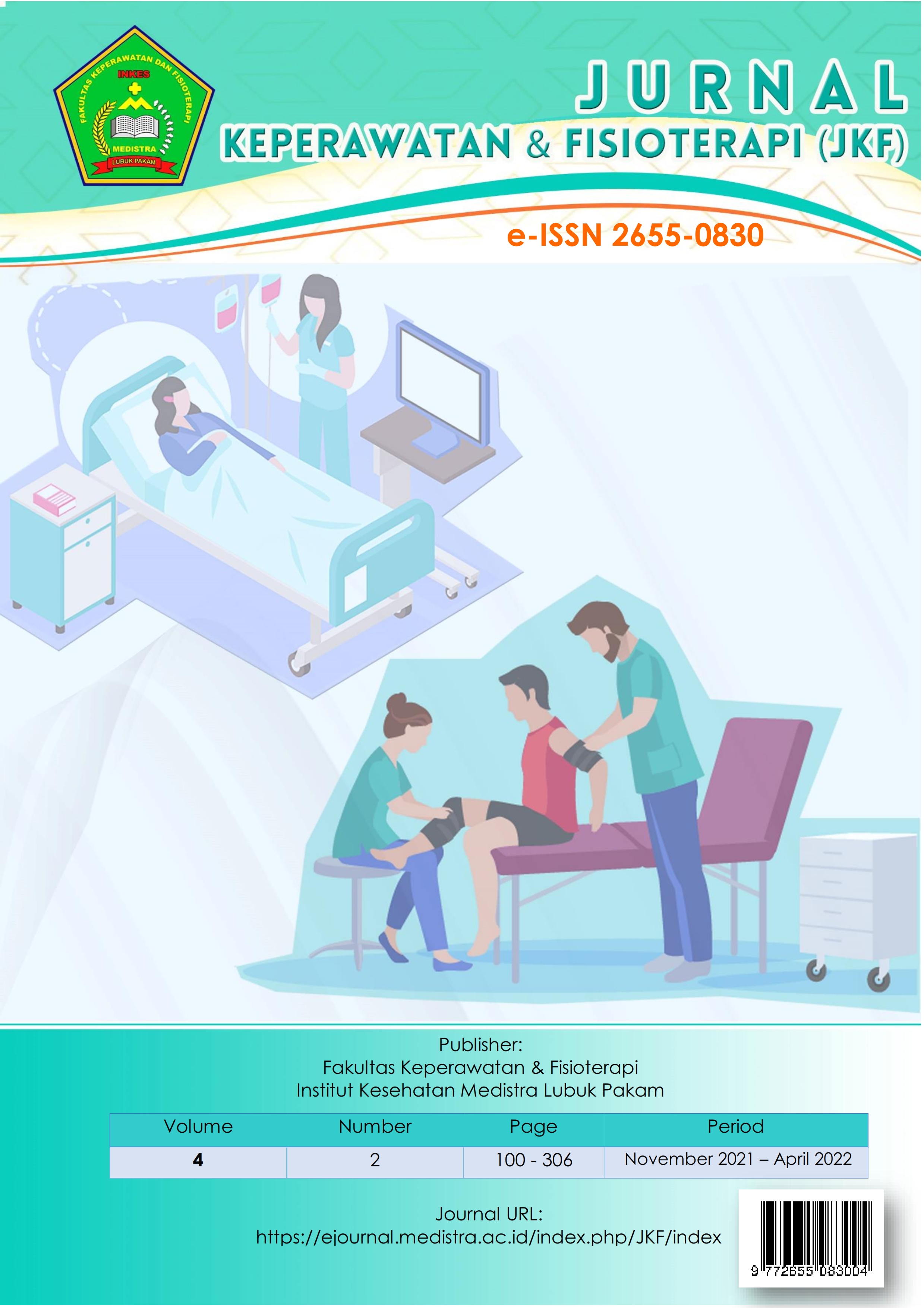 How to Cite
Batubara, A., & Anshari, Z. (2022). Description of Patterns For Prevention and Treatment Of Covid-19 in Communities in the Work Area Of Puskesmas Sukaramai Medan in 2021. JURNAL KEPERAWATAN DAN FISIOTERAPI (JKF), 4(2), 189-197. https://doi.org/10.35451/jkf.v4i2.978
Copyright (c) 2022 Ananda Annisa Batubara, Zaim Anshari
This work is licensed under a Creative Commons Attribution 4.0 International License.
Copyright in each article is the property of the Author.