The Effect of Giving Ginger Warm Compresses to The Headache Scale In Hypertensive Patients at Grandmed Hospital, Lubuk Pakam
Sari Desi Esta Ulina Sitepu

INKES MEDISTRA

Pratiwi Christa Simarmata

Institut Kesehatan Medistra Lubuk Pakam

Selamat Tuahta Sipayung

Akademi Keperawatan Colombia Asia
Keywords:
Pain Scale, Ginger Warm Compress, Hypertension
Abstract
One of the sign and symptoms of hypertension is headache. Headache occur due to atherosclerosis which causes spasm of the blood vessels (arteries) and decreased oxygen in the brain. The pain can be treated with non pharmacological management, one of which is a warm gingger compress (zingiber officinale). The purpose of this research activity was to measure the effect of giving warm ginger compresses on reducing the headache scale in hypertensive patients at Grandmed Lubuk Pakam Hospital. The type of research used in this study is a quasi experimental approach with a one group pretest-posttest design approach, with a purposive sampling technique. Giving warm ginger compresses to 37 patients suffering from hypertension at Grandmed Lubuk Pakam Hospital. Data collection was carried out using observation sheets and providing an intervention with warm ginger compresses in hypertensive patients. Observations of headaches in hypertensive patients carried out twice, namely before being given a warm ginger compress and after being given a ginger warm compress then the results were recorded on the observation sheet. Teh results of statistical tests using the paired test showed the value of p=0,000, p<α (0,000<0,05). The results obtained showed that there was a decrease in the level of headache in hypertensive patients before and after being given warm ginger compresses. It is expected that nurses can minimize the use of analgesic drugs to reduce headaches and use warm compresses for non pharmacological management.
Downloads
Download data is not yet available.
References
AHA. 2019. Cardiovascular Disease : A Costly Burden For America Projections Through 2035 : Washington DC
Chopra, H., Ram, C. 2019. recent Guidelines for Hypertension. Circulation Research
Endrawatingsih, S.E. 2017. Faktor-faktor yang Berhubungan dengan Kejadian Hipertensi di Puskesmas Grogol Limo Depok Jawa Barat
Hermina & Winarti. 2015. Kandungan Bahan Aktif Jahe dan Pemanfaatannya dalam Bidang Kesehatan.
Kementerian Kesehatan RI. 2019. Profil Kesehatan Indonesia 2018. Jakarta : Kemenkes RI
Palmer, A. 2018. Simple Guide : Tekanan Darah Tinggi. Erlngga : Jakarta
Potter & Perry. 2015. Fundamental of Nursing. Konsep, Proses dan Praktik. Jakarta : EGC
Rohimah, S. 2015. Pengaruh Kompres Hangat Pada Pasien Hipertensi Esesnsial di Wilayah Kerja Puskesmas Kahurpian Kota Tasikmalaya. Jurnal D-3 Keperawatan STIKes BTH Tasikmalaya
Setyawan. 2018. Analisis Faktor Risiko Kejadian Hipertensi di Puskesmas Srondol Semarang
Sugiyono. 2017. Metode Penelitian Kuantitatif, Kualitatif dan R&D. Bandung : Alfabeta, CV
Syiddatul, B. 2017. Pengaruh Pemberian Kompres Hangat Jahe Terhadap Skala Nyeri Kepala Hipertensi pada Lansia di Posyandu Lansia Karang Werdha Rambutan Desa Burneh Bangkalan. Jurnal Kesehatan. Vol.5 No.1 (2017)
Tambayong, J. 2017. Patofisiologi Untuk Keperawatan. Jakarta : EGC
Wardiyah, A. 2016. Perbandingan Efektifitas Pemberian Kompres Hangat dan Tepid Sponge Terhadap Penurunan Suhu Tubuh Anak yang Mengalami Demam RSUD Dr. H.Abdul Moeloek Provinsi lampung. Jurnal Ilmu Keperawatan. Vol.4, No(1)
WHO. 2019. A Global Brief on Hypertension: silent killer, global public health crises. Geneva
Wilson, L.m & Price, S.A. 2016. Patofisiologi : Konsep Klinis Proses-proses Penyakit. Edisi 9. Jakarta : EGC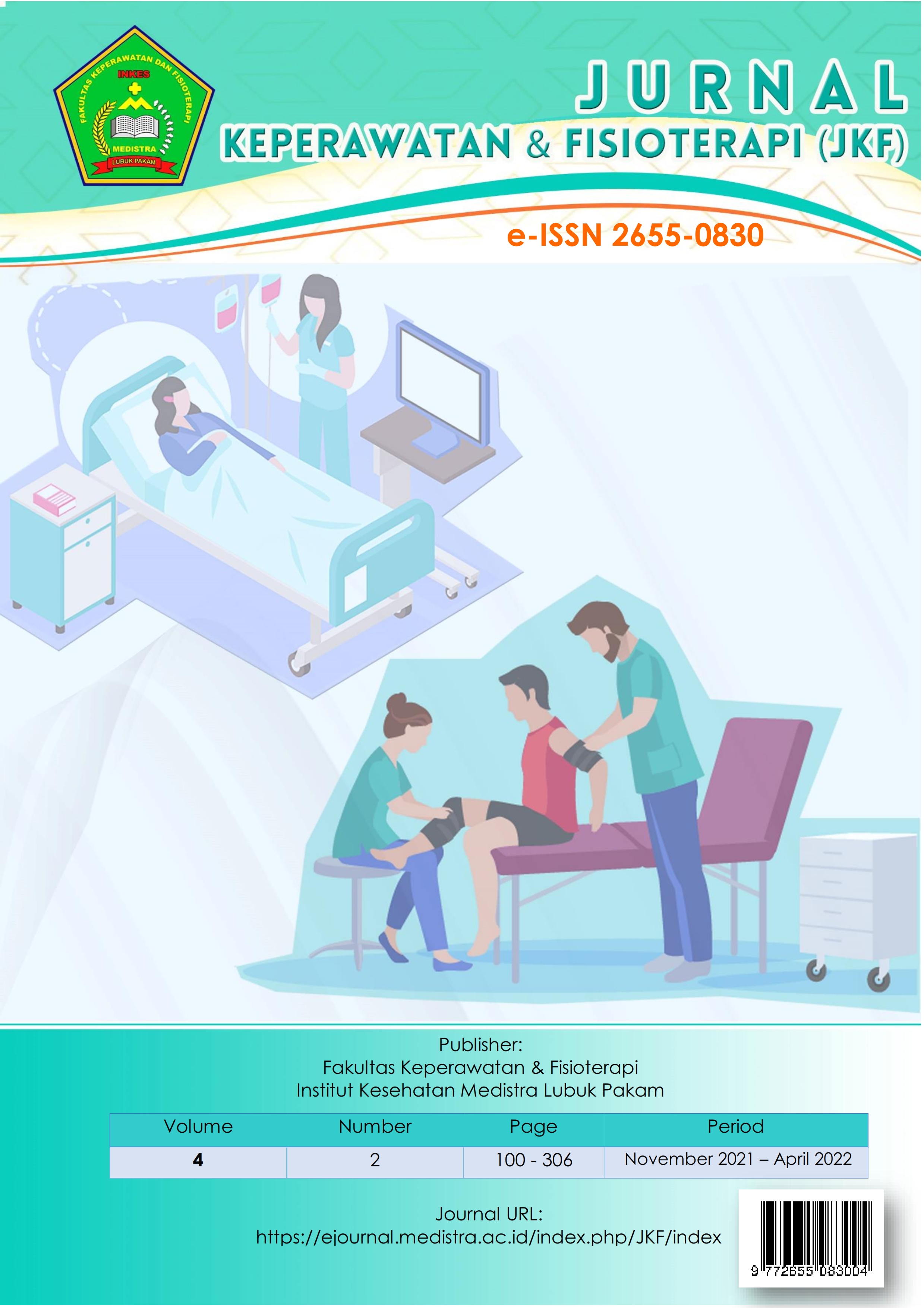 How to Cite
Sitepu, S. D., Simarmata, P. C., & Sipayung, S. T. (2022). The Effect of Giving Ginger Warm Compresses to The Headache Scale In Hypertensive Patients at Grandmed Hospital, Lubuk Pakam. JURNAL KEPERAWATAN DAN FISIOTERAPI (JKF), 4(2), 207-212. https://doi.org/10.35451/jkf.v4i2.979
Copyright (c) 2022 Sari desi Esta Ulina Sitepu, Pratiwi Christa Simarmata, Selamat Tuahta Sipayung
This work is licensed under a Creative Commons Attribution 4.0 International License.
Copyright in each article is the property of the Author.