The Relationship between Workload and Heat Work Climate with Work Fatigue Incidence in Areca Nut Farmers
Budi Aswin

Universitas Jambi

Rd. Halim

Universitas Jambi
Keywords:
Workload, Heat Work Climate, Work Fatigue
Abstract
The causes of work fatigue consist of several conditions, including working climate conditions, especially hot work climates and workloads. This study aims to analyze the workload and hot work climate on the incidence of work fatigue. The study used a cross-sectional design. The research population is all areca nut farmers in Sungai Tawar Village, Mendahara District, Tanjung Jabung Timur Regency. The research sample amounted to 90 people who were taken using proportional strafied random sampling technique. Collecting data by observation, and using a questionnaire. Data processing was carried out univariate and bivariate using chi-square test at 95% confidence interval. The results showed that the workload (p = 0.003) and heatt work climate (p = 0.001) related to the incidence of work fatigue in areca nut farmers. It is recommended that areca nut farmers do stretching movements before work and use personal protective equipment such as hats, long shirts, trousers and boots in order to minimize the incidence of work fatigue.
Downloads
Download data is not yet available.
References
Agustinawati1, K.R, Dinata, I.M.K. dan Primayanti, I.D.A.I.D. (2019). Hubungan antara beban kerja dengan kelelahan kerja Pada pengerajin industri bokor di desa menyali.
Anggraini, I. (2019). hubungan iklim kerja panas dan faktor individu terhadap kelelahan kerja sentra industri pandai besi desa tanjung laut tahun 2019.
Aprilina D.O. (2021). hubungan antara paparan iklim kerja panas dengan dehidrasi dan kelelahan kerja pada tenaga kerja konstruksi di pt. pp urban proyek rehabilitasi pasar legi kota surakarta.
Binwasnaker D. (2016). Kelelahan Akibat Pekerjaan. Available from: http://kemnaker.go.id.
BPJS Ketenagakerjaan. (2021). Laporan Kasus Kecelakaan Kerja Berdasarkan Klaim Perusahaan. Jambi.
BPS. (2019). Data Angkatan Kerja Di Indonesia. Available from: http://bps.co.id.
Depnakertrans. (2014). Data Kecelakaan Kerja. Available from: http://kemnaker.go.id.
ILO. (2016). Workplace Stres: A Collective Challenge. Available from: https://www.ilo.org.
Mahmud, N. dan Ardi, S.Z. (2019).hubungan beban kerja dan status hidrasi dengan perasaan kelelahan pada petani di desa tampingan magelang jawa tengah.
NSC. (2017). Fatigue In The Workplace: Causes & Consequences Of Employee Fatigue.Available from: https://safety.nsc.org/fatigue.
Suma'mur. (2020). Higiene Perusahaan Dan Kesehatan Kerja (Hiperkes). Jakarta: Edisi 2. CV Sagung Seto.
Tarwaka, & Bakri, S. H. A. (2016). Ergonomi untuk Keselamatan, Kesehatan Kerja dan Produktivitas.
Tarwaka. (2020). Ergonomi Industri. Edisi II Revisi. Surakarta.
Umamah, B.S. (2019). hubungan beban kerja dengan kelelahan pada petani padi di kecamatan wonosari kabupaten bondowoso.
WHO. (2020). Globals Goals For Oral Health. Available from: http://www.who.int/oralhealth/publications/goals2020/en/.
Wulanyani. (2016). Buku Ajar Ergonomi. Denpasar: Program Studi Psikologi Fakultas Kedokteran Universitas Udayana.
Wurarah, M.L, Kawatu, P.A.T, dan Akili, R.H. (2020). Hubungan antara Beban Kerja dengan Kelelahan Kerja pada Petani.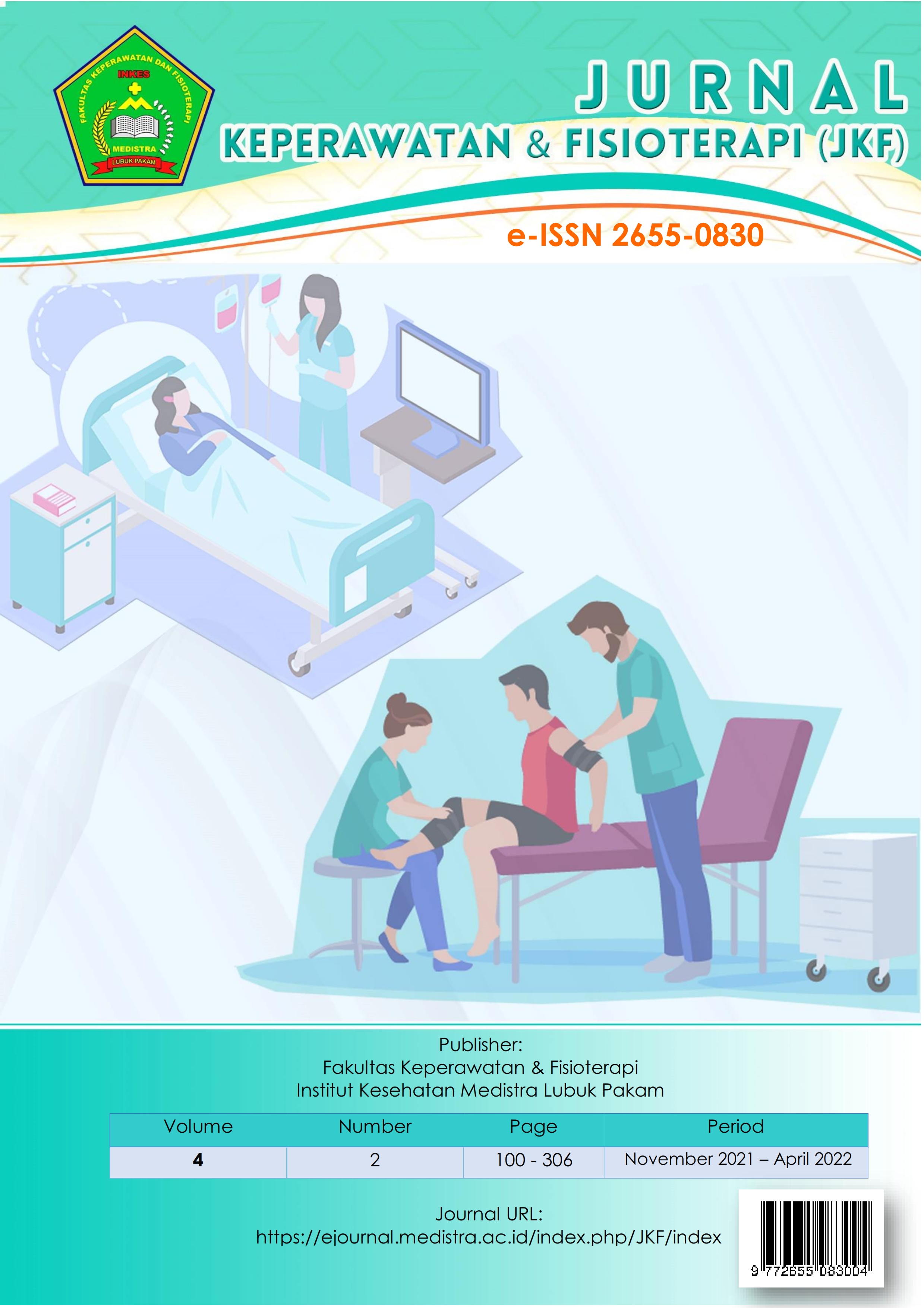 How to Cite
Aswin, B., & Halim, R. (2022). The Relationship between Workload and Heat Work Climate with Work Fatigue Incidence in Areca Nut Farmers. JURNAL KEPERAWATAN DAN FISIOTERAPI (JKF), 4(2), 222-227. https://doi.org/10.35451/jkf.v4i2.985
Copyright (c) 2022 Budi Aswin, Rd. Halim
This work is licensed under a Creative Commons Attribution 4.0 International License.
Copyright in each article is the property of the Author.