FAKTOR-FAKTOR YANG MEMPENGARUHI KEBERHASILAN PROGRAM ASI EKSKLUSIF DI WILAYAH KERJA PUSKESMAS SEI MENCIRIM KABUPATEN DELI SERDANG TAHUN 2020
Agustina Limbong

Universitas Prima Indonesia

Mafe Robbi Simanjuntak

Universitas Prima Indonesia

Herbert Wau

Universitas Prima Indonesia
Keywords:
Initiation of breastfeeding, promotion of formula milk, economic status, support of health workers, family support
Abstract
Exclusive breast- feeding goes to infants at first birth into six-month-old, with no companion foods other than medicine, vitamints and minerals.Global studies prove that infant death can be prevented by exclusive breast feeding for 6 months, as exclusive breast milk is a health intervention that has far-reaching effects on the baby's safety. the study is carried out june 2020 in the sei mencirim public health center in cesspool. The study aims to identify factors that affect the success of an exclusive breast-feeding program, the proamotion of formula milk, economic status, health workers' support and family support. In the execution of the study, researchers have used a design type through their sectional method of cross sectional with 73 sampels. Based on statistical tests using the chi-square test, namely the initiation of early breastfeeding p-value = 0.043 <0.05, promotion of formula milk p-value = 0.224> 0.05, economic status p-value = 0.015 <0.05, health officer support p-value = 0.002 <0.05, family support p-value = 0.766> 0.05. From this study there is a correlation to exclusive breast feeding, economic status with exclusive breast milk, health care support with exclusive breast milk and no relation to a promotion of health formula with exclusive breast milk, family health support with exclusive breast milk. What is the dominant dominant factor in relations is health care support with p-value = 0.002. Researchers are hoping for health care especially for midwife health to be able to actively participate in exclusive education and early lactating initiatives in any mother beginning in pregnancy, during childbirth and nifas, making increased nutrition in the baby more secure.
Downloads
Download data is not yet available.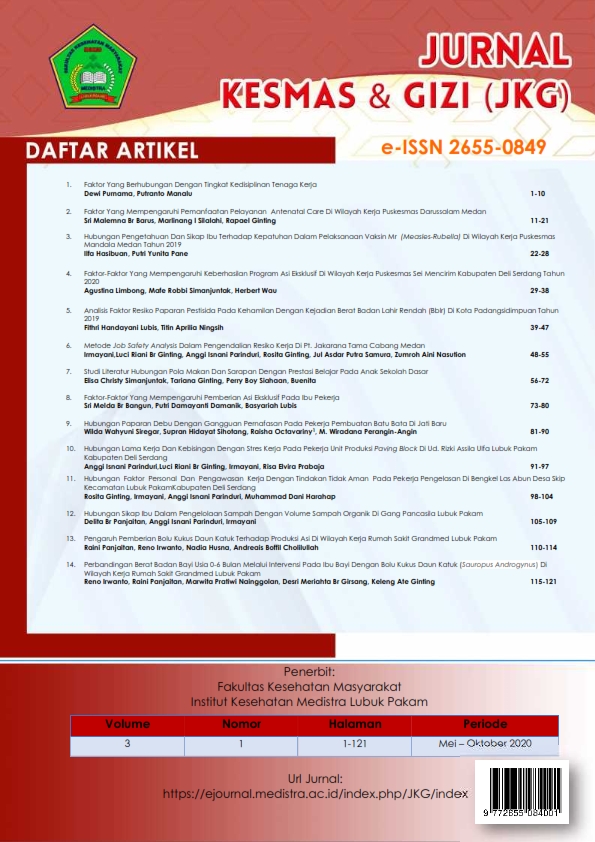 How to Cite
Limbong, A., Simanjuntak, M., & Wau, H. (2020). FAKTOR-FAKTOR YANG MEMPENGARUHI KEBERHASILAN PROGRAM ASI EKSKLUSIF DI WILAYAH KERJA PUSKESMAS SEI MENCIRIM KABUPATEN DELI SERDANG TAHUN 2020. JURNAL KESMAS DAN GIZI (JKG), 3(1), 29-38. https://doi.org/10.35451/jkg.v3i1.444
Copyright (c) 2020 Agustina Limbong, Mafe Robbi Simanjuntak, Herbert Wau
This work is licensed under a Creative Commons Attribution-NonCommercial-ShareAlike 4.0 International License.
Copyright in each article is the property of the Author.