ANALISIS FAKTOR RESIKO PAPARAN PESTISIDA PADA KEHAMILAN DENGAN KEJADIAN BERAT BADAN LAHIR RENDAH (BBLR) DI KOTA PADANGSIDIMPUAN TAHUN 2019
Fithri Handayani Lubis

Institut Kesehatan Deli Husada Deli Tua
Keywords:
LBW, Pesticide Exposure, infant mortality, pregnancy
Abstract
Low birth weight (LBW) is one of the main causes of infant mortality. The problem that arises is whether there is a relationship between risk factors for pesticide exposure during pregnancy and the incidence of LBW in agricultural areas. The purpose of this study was to determine the risk factors for pesticide exposure associated with LBW incidence. This research is a case control study. Subjects were divided into two groups: a case group of 25 farmers with a history of giving birth to LBW and a control group who were neighbors of case subjects without a history of giving birth to LBW, a total of 25 farmers. This research data collection using interviews and observations. Data analysis used univariate and bivariate analysis (chi square and fisher as alternatives). Research results: risk factors for exposure to pesticides that have been shown to be associated with the incidence of LBW in Padangsidimpuan, include: occupation of pregnant women related to pesticides (OR = 6,769) completeness of personal protective equipment (PPE) while doing activities in the fields (OR = 18,857) and storage pesticides (OR = 12,667). The recommended advice is to avoid work that is directly related to pesticides during pregnancy, if you have to participate in agricultural activities, pregnant women should use complete PPE.
Downloads
Download data is not yet available.
References
Achmadi, UF. 1988. Kecelakaan di Bidang Pertanian. Jakarta: Cermin Dunia Kedokteran no. 50

Betveld, Reini W. 2006. Pesticide Exposure: The Hormonal Function of The Female Reproductive System Distrubted. Nijmegen: Biomed Central Ltd.

BPS. 2015. Jumlah Petani Sektor/Subsektor dan Jenis Kelamin Kota Padangsidimpuan

BPS Kecamatan Padangsidimpuan. 2015. Padangsidimpuan dalam Angka.

BPS Kecamatan Padangsidimpuan. 2015. Kecamatan Padangsidimpuan.

Dabrowski, Slawomir dkk. 2016. Pesticide Exposure and Birthweight: An Epidemiological Study in Central Poland. Polandia

Dinas Pertanian. 2015. BPPK Kecamatan Padangsidimpuan.

Dinkes Kecamatan Padangsidimpuan. 2015.

Hasil Pengukuran Cholinesterase Dinkes Kecamatan Padangsidimpuan. 2016. Data Kejadian BBLR

Dinkes Provinsi Sumut. 2015. Profil Kesehatan Provinsi Sumut. Medan

Djojosumarto, Panut. 2016. Pestisida dan Aplikasinya. Agromedia Pustaka: Jakarta.

Istiklaili, Fifti. 2016. Hubungan antara Pajanan Pestisida dengan Kejadian Abortus Spontan di Kecamatan Ngablak Kabupaten Magelang Jawa Tengah. Thesis. Magister Kesehatan Lingkungan Undip

Kartika, Yuyun. 2012. Faktor Risiko yang Berkaitan dengan Kejadian Keracunan Pestisida pada Petani Penyemprot Tanaman Bawang Merah di Desa Sengon Kecamatan Tanjung Kabupaten Brebes. Skripsi. IKM Unnes Kecamatan Padangsimpuan.

Profil Kecamatan Padangsidimpuan Tahun 2017

Kementrian Kesehatan RI. 2017. Pedoman Penggunaan Insektisida (Pestisida) dalam Pengendalian Vektor. Padangsidimpuan

Kementrian Kesehatan RI . 2015. Profil Kesehatan Indonesia 2014.

Proverawati dan Ismawati. 2013. Kesehatan Bayi Akibat BBLR. Agromedia Pustaka: Semarang.

Simkin dkk. 2014. Mekanisme Kejadian BBLR. Nijmegen: Biomed Central Ltd. Pustaka: Jakarta.

Schettler dkk. 2014. Generation at Risk: How Environmental Toxicants May Affect Reproductive Health in California.The California Public Interest Research Group Charitable Trust.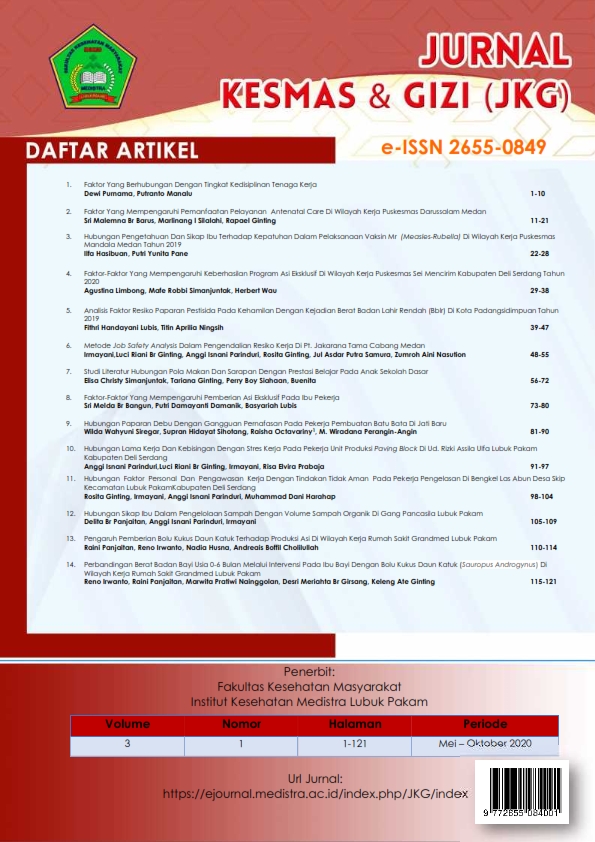 How to Cite
Lubis, F. (2020). ANALISIS FAKTOR RESIKO PAPARAN PESTISIDA PADA KEHAMILAN DENGAN KEJADIAN BERAT BADAN LAHIR RENDAH (BBLR) DI KOTA PADANGSIDIMPUAN TAHUN 2019. JURNAL KESMAS DAN GIZI (JKG), 3(1), 39-47. https://doi.org/10.35451/jkg.v3i1.477
Copyright (c) 2020 FITHRI HANDAYANI LUBIS
This work is licensed under a Creative Commons Attribution-NonCommercial-ShareAlike 4.0 International License.
Copyright in each article is the property of the Author.