HUBUNGAN PAPARAN KEBISINGAN DAN KARAKTERISTIK INDIVIDU DENGAN KELAINAN TEKANAN DARAH PENGEMUDI BECAK BERMOTOR DI KECAMATAN MEDAN JOHOR KOTA MEDAN TAHUN 2017
FITHRI HANDAYANI LUBIS

INSTITUT KESEHATAN DELI HUSADA DELITUA

Rizka Annisa

INSTITUT KESEHATAN DELI HUSADA DELITUA
Keywords:
exposure of noise, blood pressure, becak bermotor
Abstract
Noise is unwanted sound from an activity which could cause disruption of human health and comfort environment. The impact of noise are physiological disturbances, psychological, communication and effects of hearing loss. At this time the noise began to increase in the community as of physical development activities as a means of transport, should be controlled noise level so to exceed the limits. The objective of this study is to know The relationship of exposure to noise and the individual characteristics of Becak Bermotor driver with blood pressure on Kecamatanamatan Medan Johor, Kota Medan in 2017.  Type of research is a survey which has analytic with cross secsional design. The variables measured were the characteristics of the driver, the noise exposure and blood pressure. The population in this research is the driver Becak Bermotor, which conducted to 35 persons and a sample of 31 people. Research is analyzed with test chi-square. The result of research show that there is a significant relationship between noise intensity with blood pressure (p <0,05) with strength value 0,020. There was a significant relationship between the duration of noise exposure and the use of helmets with blood pressure (p <0.05) with chi-square test, with value value 0.001. There was a significant relationship between coffee drinking habits and smoking with blood pressure (p <0.05) with a strength value of 0.002.
Downloads
Download data is not yet available.
References
Arifin. 2009. Paparan Terhadap Sumber Pencemaran. www.ganeca.com diaksees tanggal 26 Juni 2010.
Bangun, Arapenta, 2003. Hubungan Tingkat Pemaparan Kebisingan Dengan Keluhan Kesehatan Pengemudi Becak Di Kota Binjai Tahun 2003. Skripsi Fakultas Kesehatan Masyarakat Universitas Sumatera Utara. Medan
Chandra, Budiman. 2007. Pengantar Kesehatan Lingkungan. EGC, Jakarta
Dwi P, Sasongko, dkk. 2000. Kebisingan Lingkungan. Badan Penerbit Universitas Diponegoro Semarang. Semarang
ILO. ILO Programme of Assistance to Employers. A Brief Description. Geneva: ILO, 1998.
Kep MENLH No : Kep-48/MENLH/11/1996. Baku Tingkat Kebisingan. Jakarta
Notoatmodjo, Soekidjo, 2003. Ilmu Kesehatan Masyarakat. Rineka cipta. Jakarta
Nurmianto, Eko. 2003. Ergonomi Konsep Dasar dan Aplikasinya. Guna. Surabaya
Mansyur, Muchtaruddin. Dampak Kebisingan Terhadap Kesehatan. Job Training Petugas Pengawas Kebisingan, Yogyakarta, 2003.
Tambunan, Sihar Tigor Benjamin, 2005. Kebisingan Di Tempat Kerja. ANDI, Yogyakarta.
Wardhana, Wisnu Arya, 2004. Dampak Pencemaran Lingkungan. ANDI, Yogyakarta.
Yunita, Andrina. 2003. Gangguan Pendengaran Akibat Bising. Digital USU Library. Medan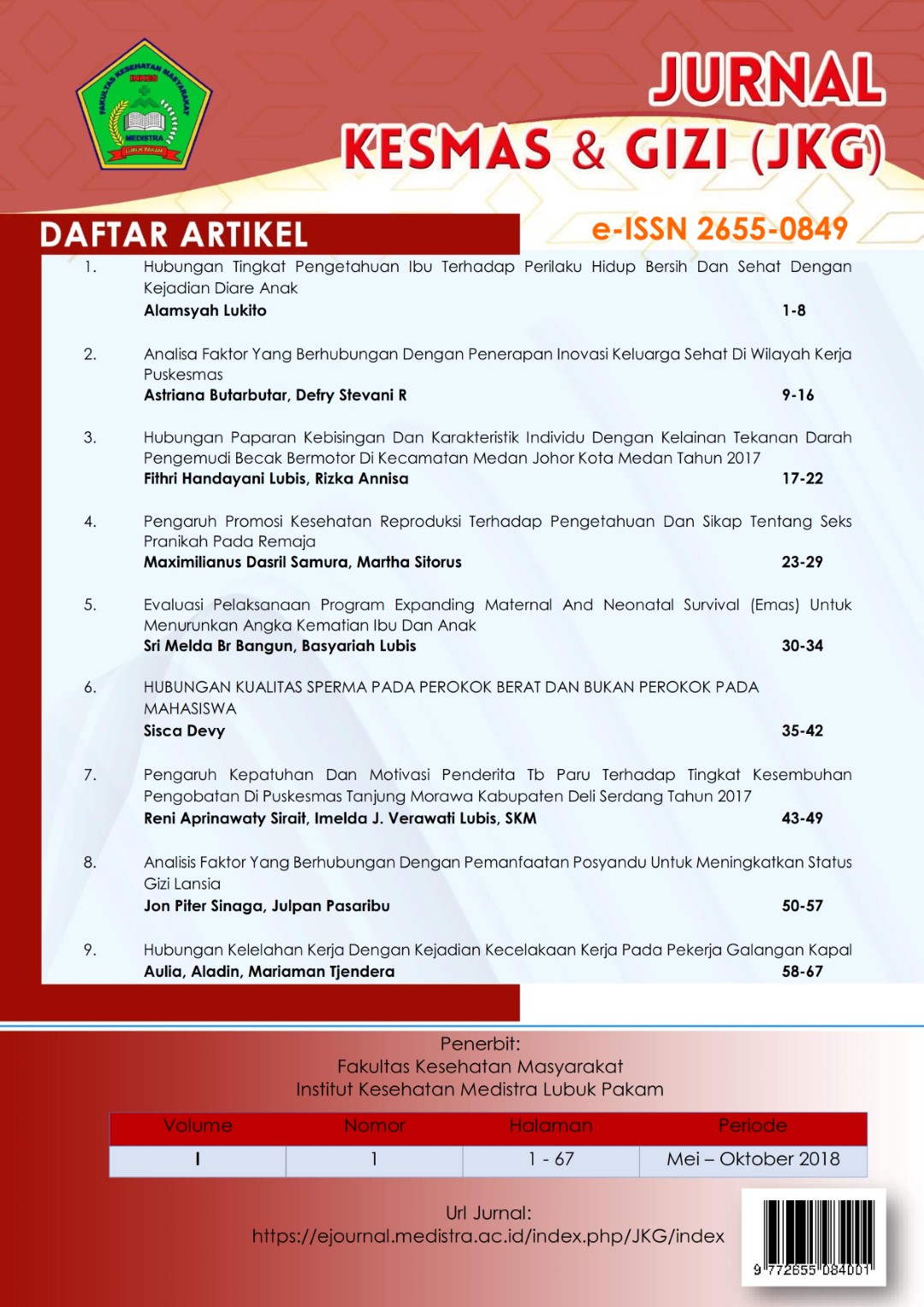 How to Cite
LUBIS, F., & Annisa, R. (2018). HUBUNGAN PAPARAN KEBISINGAN DAN KARAKTERISTIK INDIVIDU DENGAN KELAINAN TEKANAN DARAH PENGEMUDI BECAK BERMOTOR DI KECAMATAN MEDAN JOHOR KOTA MEDAN TAHUN 2017. JURNAL KESMAS DAN GIZI (JKG), 1(1), 17-22. https://doi.org/10.35451/jkg.v1i1.69
Copyright in each article is the property of the Author.