ANALISIS FAKTOR PERILAKU PENCEGAHAN COVID 19 PADA MAHASISWA SEKOLAH TINGGI ILMU KESEHATAN HANG TUAH PEKANBARU TAHUN 2020
christine vita purba

STIKes Hang Tuah Pekanbaru

Nurhapipa .

STIKes Hang Tuah Pekanbaru

Yuyun Priwahyuni

STIKes Hang Tuah Pekanbaru

Agus Alamsyah

STIKes Hang Tuah Pekanbaru

Ikhtiaruddin .

STIKes Hang Tuah Pekanbaru
Keywords:
Factors, Behavior Prevention, COVID 19
Abstract
COVID-19 is a respiratory disorder that causes illness ranging from mild to severe symptoms caused by the Corona Virus. Riau Province was one of the areas affected by COVID-19 in Indonesia with a total of 66 positive cases as of May 7, 2020. Students are one of the groups at risk of contracting COVID-19. For student group is very important to prevent groups of students in their 20s who look healthy but can be a source of transmission to families who do not prevent COVID-19. This study was aimed to analyzed the behavioral factors of prevention of COVID-19 in STIKes Hang Tuah Pekanbaru students in 2020. This type of research was quantitative observational with a cross sectional design. The population in this study were all students of STIKes Hang Tuah Pekanbaru with a sample size of 301 people. Data were collected used a questionnaire and analyzed by univariate and bivariate used the Chi-square test. The results showed that there was a relationship between knowledge, attitudes, responses to personal protective equipment, and family support with the prevention of COVID 19 while there was no relationship between role of health workers with the prevention of COVID 19 among STIKes Hang Tuah Pekanbaru students. It is hoped that students will increase their knowledge and prevention of COVID 19.
Downloads
Download data is not yet available.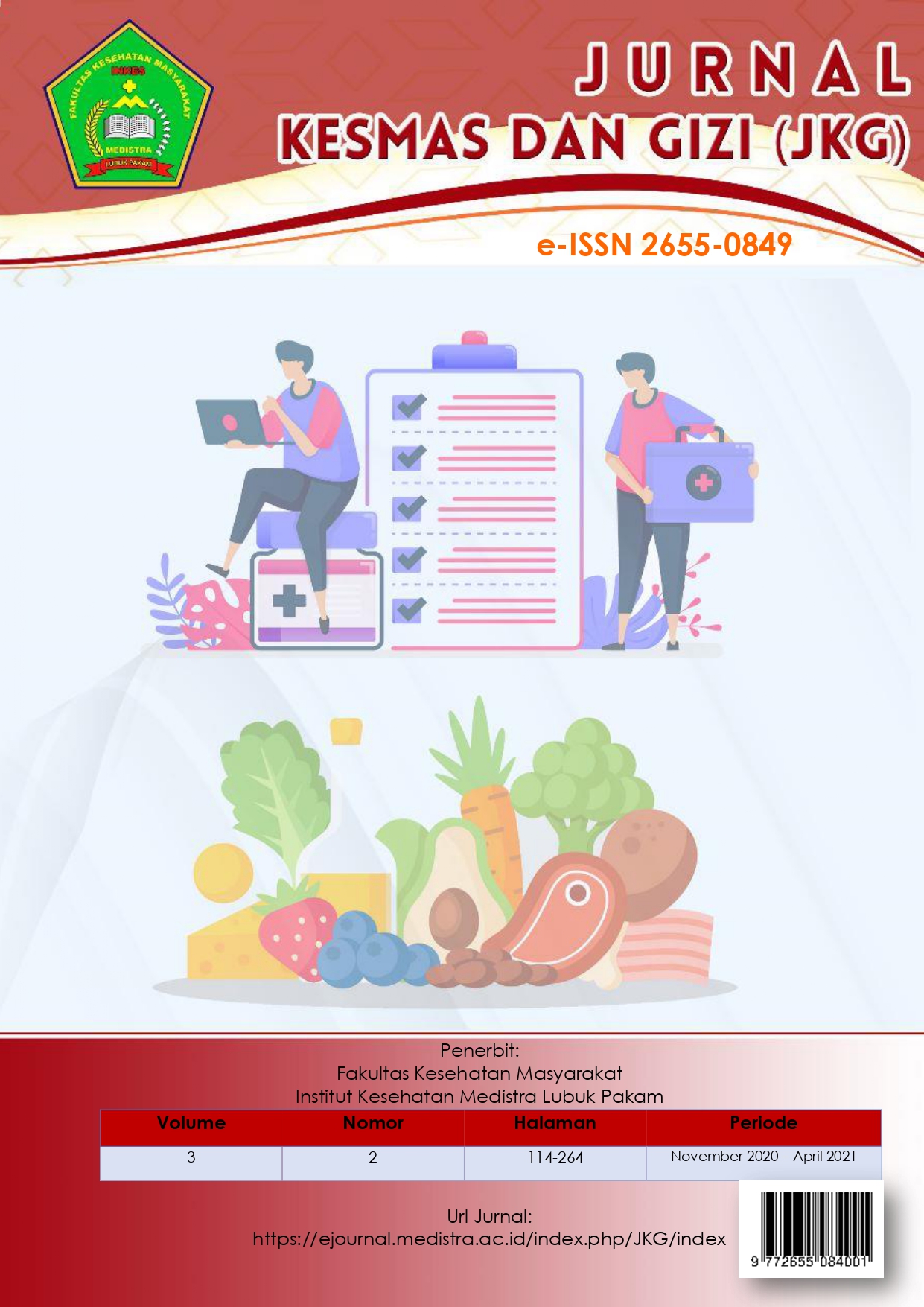 How to Cite
purba, christine, ., N., Priwahyuni, Y., Alamsyah, A., & ., I. (2021). ANALISIS FAKTOR PERILAKU PENCEGAHAN COVID 19 PADA MAHASISWA SEKOLAH TINGGI ILMU KESEHATAN HANG TUAH PEKANBARU TAHUN 2020. JURNAL KESMAS DAN GIZI (JKG), 3(2), 253-260. https://doi.org/10.35451/jkg.v3i2.562
Copyright (c) 2021 christine vita purba, Nurhapipa ., Yuyun Priwahyuni, Agus Alamsyah, Ikhtiaruddin .
This work is licensed under a Creative Commons Attribution-NonCommercial-ShareAlike 4.0 International License.
Copyright in each article is the property of the Author.