PENGARUH PEMBERIAN JUS KACANG HIJAU (PHASEOLUS RADIATUS) TERHADAP PENINGKATAN KADAR PROFIL DARAH PADA IBU HAMIL DENGAN ANEMIA YANG MENDAPATKAN SUPLEMENTASI TABLET FE (STUDI KASUS DI WILAYAH KERJA PUSKESMAS KEDUNGMUNDU SEMARANG)
Stefani Anastasia Sitepu

Institut Kesehatan Medistra Lubuk Pakam
Keywords:
Anemia, pregnant women, green bean juice, blood profile level
Abstract
Anemia is a reduction in the number of red blood cells or hemoglobin content in the blood. The biggest group who can experience anemia are pregnant women. The causes of anemia in pregnant women include the production of the hemoglobin chain due to a certain disease or a disruption of hemoglobin production due to lack of iron, folic acid or vitamin B12. Research purposes : Knowing the effect of giving green bean juice (Phaseolus Radiatus) to changes in blood profile levels in pregnant women with anemia who received Fe tablet supplementation. This research design was quasi-experimental with nonrandomized pretest and posttest with control group design. This study was conducted for 7 weeks. The number of samples in this study were 40 respondents (20 mothers of the intervention group who received green bean juice and Fe tablet supplementation and 20 respondents who only received Fe tablet supplementation). Samples were obtained using purposive sampling. Evaluation of blood profile levels was carried out after giving green bean juice on day 15. The results showed an increase in hemoglobin levels, hematocrit, and erythrocytes (p = 0,000), meaning that the administration of mung bean juice to pregnant women with anemia affects the increase in hemoglobin levels, hematocrit, and erythrocytes. For health services, it is expected that mung bean juice can be used as an alternative to overcome anemia in pregnant women.
Downloads
Download data is not yet available.
References
Argana, G, dkk. Vitamin C sebagai factor dominan untuk kadar hemoglobin pada wanita usia 20-35 tahun. Jurnal Kedokteran Trisakti. Januari-Maret 2006, Vol 23 No.1.2002.

Almatsier, S. Prinsip Dasar Ilmu Gizi. Jakarta : Gramedia Pustaka Utama. 2004. 75p.

Astria, Y. Nurbaeti, odan Rosidati,C. Hubungan karakteristik ibu hamil dengan kecemasan dalam menghadapi persalinan. Majalah keperawatan Unpad (nursing

Bakta. I.M. 2007. Hematologi klinik ringkas. Jakarta : EGC. 2007. 32p.Journal of Padjajaran University). 2009.

Soebroto, I. Cara mudah mengatasi Cucu. H. Faktor-faktor yang berhubungan dengan anemia gizi pada ibu hamil di Puskesmas Jalaksana Kuningan Tahun 2010. Jurnal Kesehatan Kartika.
problem anemia. Yogyakarta:Bangkit. 2009. 54p.

Proverawati, Atikah. Anemia dan Anemia Kehamilan. Yogyakarta: Nuha Medika. 2011. 21p.

Healtty. Pengaruh jus kacang hijau terhadap kadar hemoglobin dan jumlah sel darah dalam konteks asuhan keperawatan pasien kanker dengan kemoterapi di RSUP Fatmawati Jakarta. Program Pasca Sarjana Fakultas Ilmu Keperawatan Universitas Indonesia. 2008.

Nora, M. Pengaruh Pemberian Kacang Hijau (Phaseolus Radiatus) Terhadap Peningkatan Kadar Hemoglobin Tikus Putih (Rattus Norvegicus) Jantan Galur wistar. Program Pasca sarjana Fakultas Ilmu Keperawatan Universitas Sumatera Utara. 2009.

Salmariantity. Faktor-Faktor Yang Berhubungan Dengan Anemia Pada Ibu Hamil Di Wilayah Kerja Puskesmas Gajah Mada Tembilahan Kabupaten Indragiri Hilir
Tahun 2012. Program Sarjana Kesehatan Masyarakat Peminatan Kebidanan Komunitas Fakultas Kesehatan Masyarakat Universitas Indonesia. 2013.

Varney, H. Buku ajar Asuhan Kebidanan Edisi 4. Jakarta : Penerbit buku kedokteran EGC. 39 p.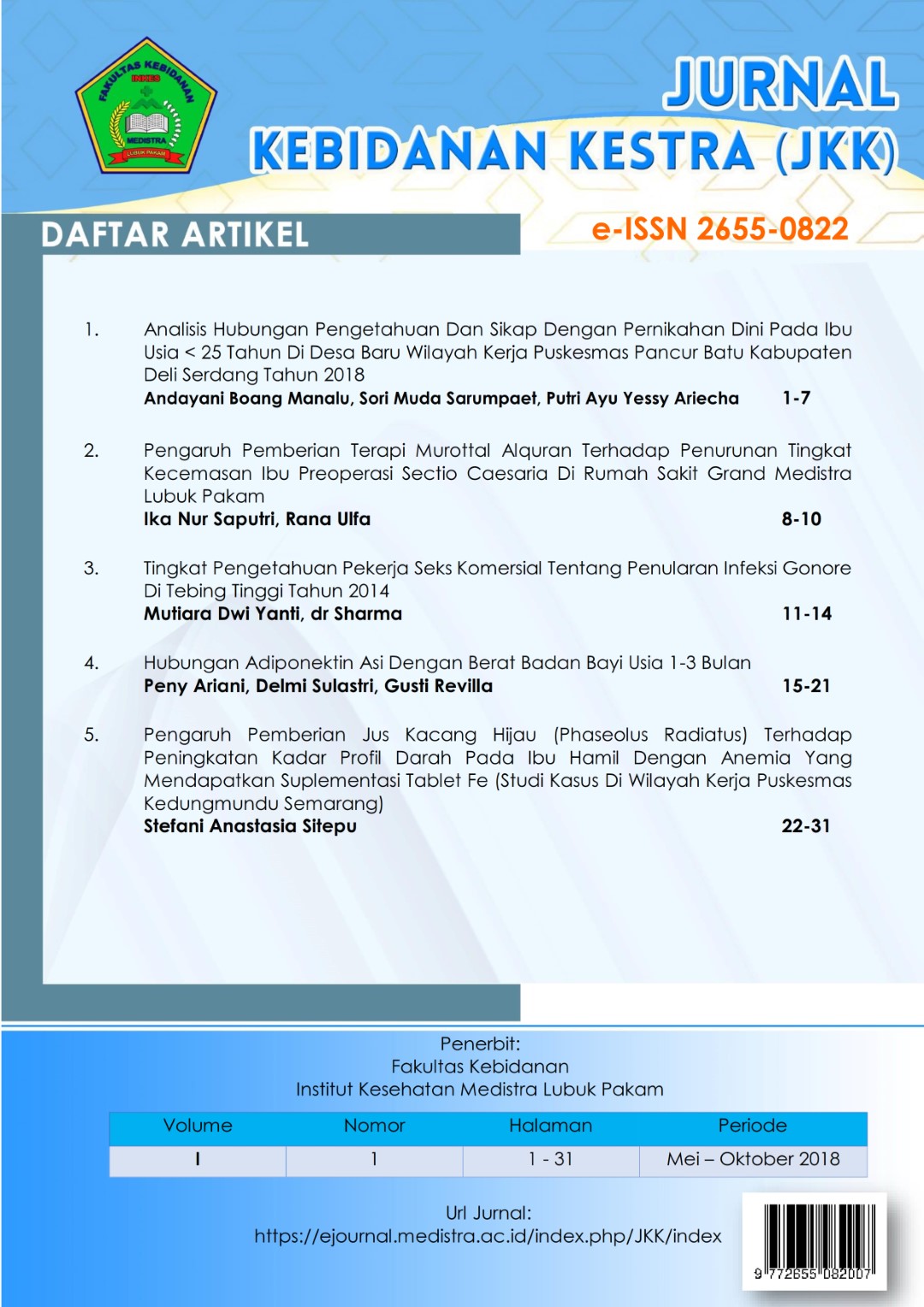 How to Cite
Sitepu, S. (2018). PENGARUH PEMBERIAN JUS KACANG HIJAU (PHASEOLUS RADIATUS) TERHADAP PENINGKATAN KADAR PROFIL DARAH PADA IBU HAMIL DENGAN ANEMIA YANG MENDAPATKAN SUPLEMENTASI TABLET FE (STUDI KASUS DI WILAYAH KERJA PUSKESMAS KEDUNGMUNDU SEMARANG). JURNAL KEBIDANAN KESTRA (JKK), 1(1), 22-31. https://doi.org/10.35451/jkk.v1i1.102
Copyright in each article is the property of the Author.