Kelor Leaves Infusion as a Alternative in Increasing the Volume of Breastmilk and Birth Weight in Newborn
Diah Evawanna Anuhgera

Institut Kesehatan Medistra Lubuk Pakam

Nikmah Jalilah Ritonga

Institut Kesehatan Medistra Lubuk Pakam

Riris Sitorus

Institut Kesehatan Medistra Lubuk Pakam
Keywords:
moringa leaves, volume of breastmilk, birth weight, lactation
Abstract
Background: An increase in the volume of breast milk and baby weight is the hope of every mother during breastfeeding. The consistency and quality of breastfeeding is determined by a mother. Moringa leaves, which is a typical plant in Indonesia, have many benefits, especially to increase milk production and nutrition for infants and children in the growth process. The purpose of this study was to determine the effect of morinaga leaves in increasing the volume of  breast milk and birth weigh of babies.
Method:The design of this study was quasy eksperimental studies with purposive sampling with inclusion criteria. The sample in this study were all breastfeeding mothers on the first postpartum day as many as 30 people. In this study there were two groups, namely the control group and the intervention group. The instruments in this study were Moringa leaves, measuring cups, electric breast pumps, and baby scales and observation sheets. Data analysis used is paired and unpaired t-test.
Result:The results showed that there was a difference between before and after the administration of Moringa leaves in the intervention group of 38.95 ml, while in the control group it was 16.1 ml. The baby's weight gain in the intervention group was 585 grams. Statistical results showed that giving Moringa leaves was effective on breast milk volume and infant weight with a significance value of p = 0.00 while in the control group there was a difference in the increase in breast milk volume with p = 0.000 but there was no significant difference in the baby weight variable with a value of p = 0.651.
Conclusion: Moringa leaves infusion can be used as an alternative therapy to increase the volume of breast milk and baby weight in the breastfeeding process. Specialized health workers for midwives can assist mothers in educating postpartum mothers in consuming steeped Moringa leaves to increase breast milk and baby weight and support the success of exclusive breastfeeding
Downloads
Download data is not yet available.
References
Anuhgera,D.E.,Sembiring, E(2021). Pengaruh Hypnopressure terhadap Produksi Air Susu Ibu dan Kepercayaan Diri Menyusui.Jurnal Riset HEsti Medan AKper Kesdam I/BB Medan,6(2), 142-148.
Chukwueba, E(2015).Moringa Oleifera "The Mothers Best Frend.International Journal of Nutrition and Food Sciences,4(6),624-630.
Henshaw,E.K,Fried,R.,Siskind.,Newhous.(2015).Breastfeeding Self Efficacy, Mood, And Breastfeeding Outcomes Amon Primiparous Women.Journal of Humen Lactation,31(3),511-518.
King,J.,Raguindin,P.F.,&Dans,L.F.(2013).Moringa Oleiferas (Maluggay) as a Galactogogie for Breastfeeding Mothers:A Systematic Review and Metanalysis of Randomized Controlled Trials. Phillip J Pediatr,61(2), 34-42.
Mortel,Mylove & Mehta, S.D.(2015).Systematic Review of the Efficaccy of Herbal Galactogguem. J Hum Lac.
Olaofe, O., Adeyeye, E. I., & Ojugbo, S. (2013). Comparative study of proximate, amino acids and fatty acids of Moringa oleifera tree. Elixir Appl Chem, 54, 12543-12554.29,2,154-162.
Pathiratnaa et al.(2017).Impact of Seconds Trimester Maternal Dietary and Intake on Gestational Weigh Gain and Neonatal Birth Weigh. Nutrients,9,627-639.
Saini R.K, Saad.K.R.,Ravishankar G.A.,Giridhar,P.,Shetty,N,P.(2013).Genetic Diversity of Commercially Grown Moringaa Oleifera La. Cultivars from India by RAPD, ISSR and Cytochrome P-450 based markers.Plannt Systematics and Evolution.299,1205-1213.
Sumarni et al.(2020).Effect of Moringa Oleifera Coookies to Improve Quality of Breast Milk.Enfermeria Clinical.Volume 30,4,99-103.
Sundari, S., & Masnilawati, A. (2018). Increases Knowladge Exclusive Breastfeeding at Mother in Makassar. Window of Health: Jurnal Kesehatan, 16-20.
Ulmy,M.N., Tahir, A., Arsunan, A.A.,Nurhanudddin,B & Veni, H.(2020).Effect of Moringaa Leaves During Pregnancy on Grrowth And Morbidity in 0-5 Months.Enfermeriia Clinica,30,61-65.
Victora, C.G et al.(2016).Breastfeeding in the 21 st century: Epidemiology, Mechanisme, and Lifelong Effect. The Lancet, 387(10017), 475-490.
Visentainer,J.V et al.(2018).Lipids and Fatty Acids in Human Milk: Benefits and Analysis .Biochemistry and Health Benefits of Fatty Acids.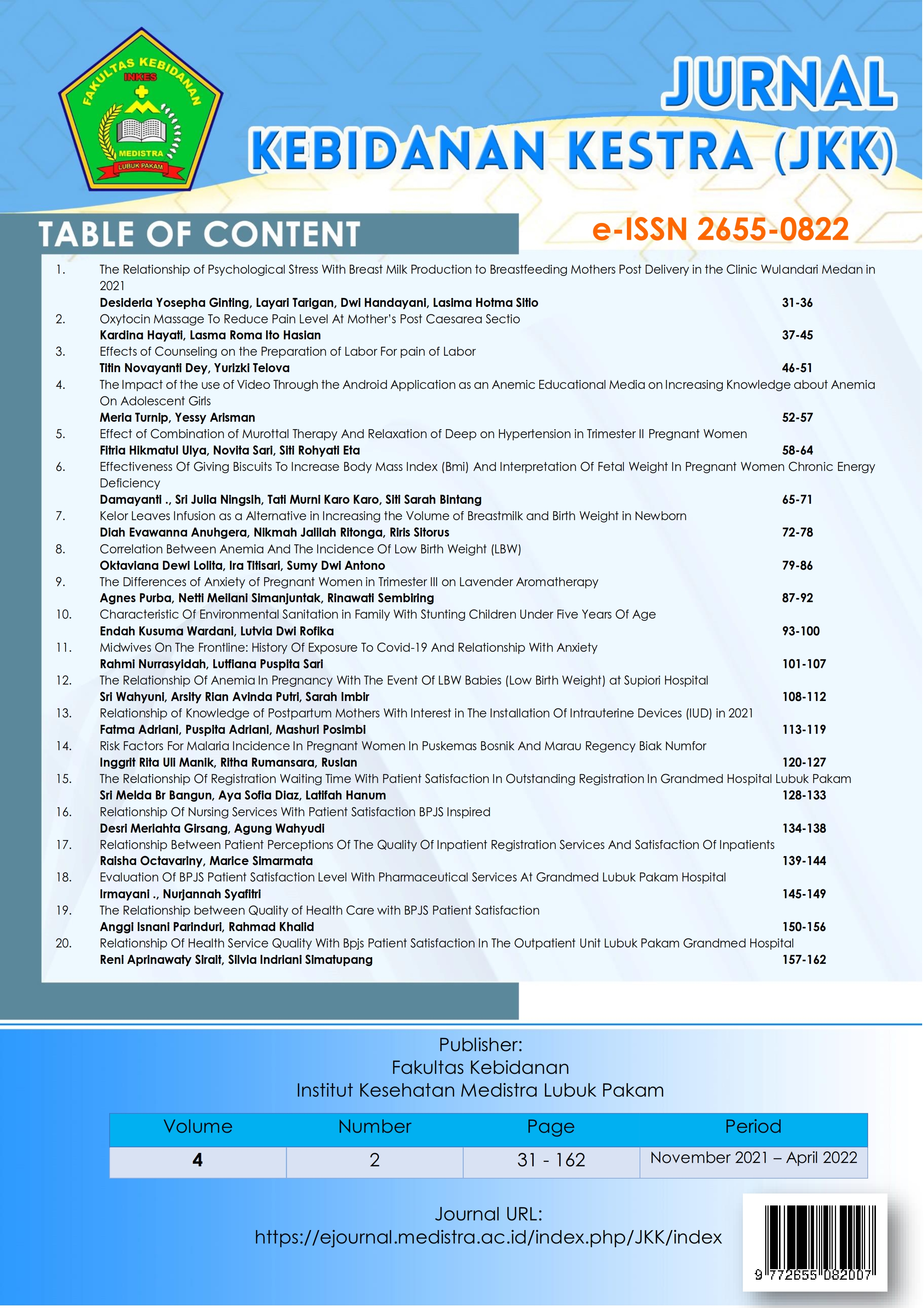 How to Cite
Anuhgera, D., Ritonga, N., & Sitorus, R. (2022). Kelor Leaves Infusion as a Alternative in Increasing the Volume of Breastmilk and Birth Weight in Newborn. JURNAL KEBIDANAN KESTRA (JKK), 4(2), 72-78. https://doi.org/10.35451/jkk.v4i2.1027
Copyright (c) 2022 Diah Evawanna Anuhgera, Nikmah Jalilah Ritonga, Riris Sitorus
This work is licensed under a Creative Commons Attribution 4.0 International License.
Copyright in each article is the property of the Author.