PENGARUH KONSUMSI TABLET KALSIUM TERHADAP PERUBAHAN TEKANAN DARAH PADA IBU HAMIL RESIKO TINGGI HIPERTENSI DALAM KEHAMILAN DI WILAYAH KERJA PUSKESMAS PAYALOMBANG TEBING TINGGI
Damayanti .

Institut Kesehatan Medistra Lubuk Pakam

Fitriani .

Institut Kesehatan Medistra Lubuk Pakam

Dwi Handayani

Institut Kesehatan Medistra Lubuk Pakam

Diah Evawanna Anuhgera

Institut Kesehatan Medistra Lubuk Pakam

Novita Br Ginting Munthe

Institut Kesehatan Medistra Lubuk Pakam
Keywords:
Calcium, blood pressure, high risk of hypertension
Abstract
Calcium is an important supplement that is useful to supply calcium needs of pregnant women. Calcium is given by midwife special health workers to all pregnant women to support the health of mothers and babies. This free calcium tablet is often forgotten and avoided by health workers whether or not consumed properly by pregnant women.
This study aims to see if the influence of calcium tablets on the decrease in blood pressure of pregnant women who have one of the criteria of high risk of hypertension, including primigravida, obesity, pregnancy history with hypertension or family with a history of hypertension, extreme age of pregnant women and twin pregnancies.
Research place in Payalombang Public Health Center in Payalombang Subdistrict, Tebing Tinggi City with quasy experiment method and prospective cohort. The study subjects consisted of 19 mothers who were given calcium with help and 20 pregnant women who were not given calcium, according to the inclusion and exclusion criteria. Data characteristics used using a questionnaire. To assess the outcome using an observation sheet and a calibrated blood pressure gauge) get it twice before and after the intervention. Data analysis using, Paired T Test, Independent T-Mann-Whitney U Test.
The results of the study address, a sample study of changes in systole (p = 0.032) and diastole (p = 0.015) significant (p> 0.05) value even though it means the difference between before and the difference rates.
Conclusion : Calcium tablets have a significant effect on hypertension of pregnant women
Downloads
Download data is not yet available.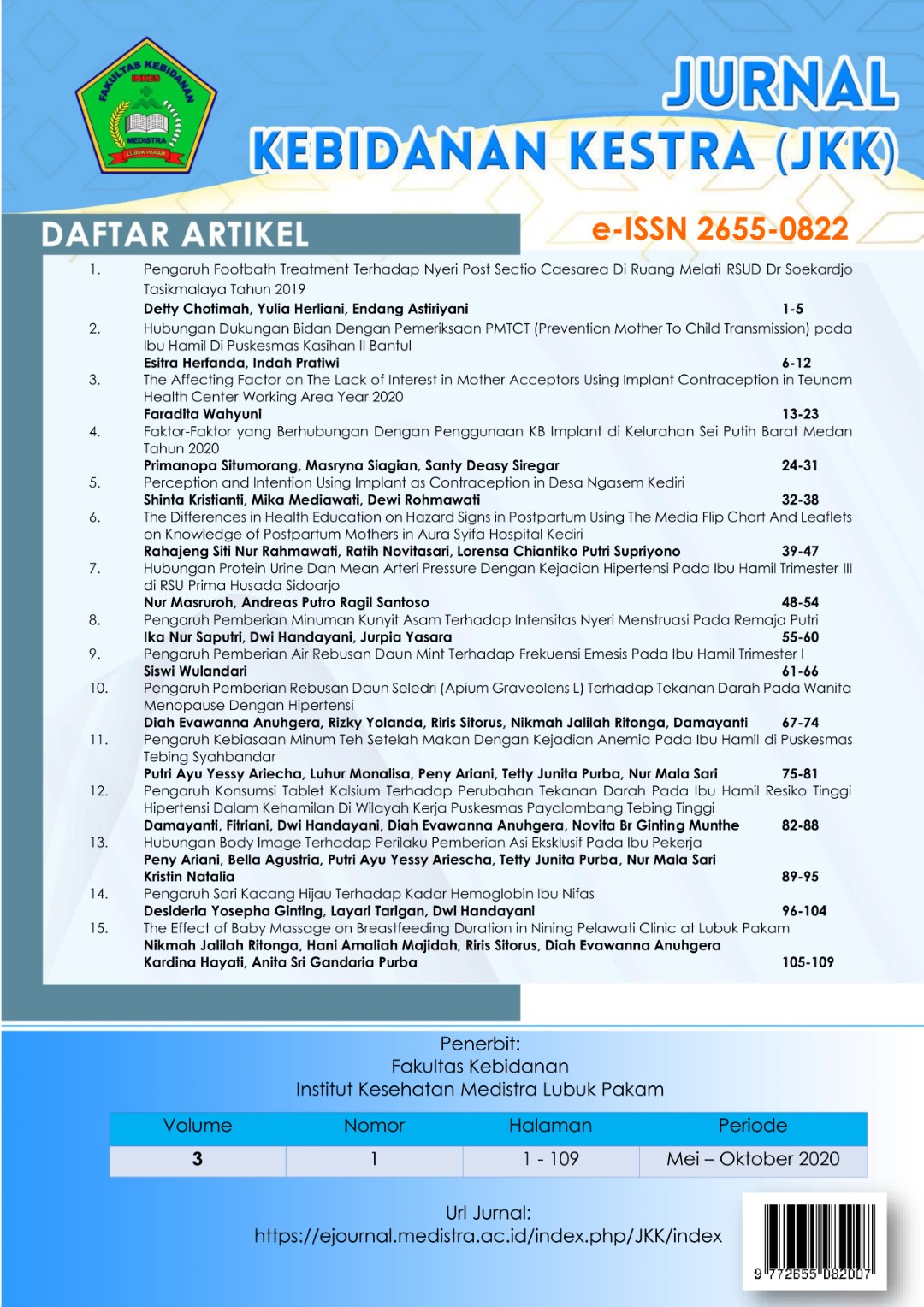 How to Cite
., D., ., F., Handayani, D., Anuhgera, D., & Ginting Munthe, N. (2020). PENGARUH KONSUMSI TABLET KALSIUM TERHADAP PERUBAHAN TEKANAN DARAH PADA IBU HAMIL RESIKO TINGGI HIPERTENSI DALAM KEHAMILAN DI WILAYAH KERJA PUSKESMAS PAYALOMBANG TEBING TINGGI. JURNAL KEBIDANAN KESTRA (JKK), 3(1), 82-88. https://doi.org/10.35451/jkk.v3i1.510
Copyright (c) 2020 Damayanti ., Fitriani ., Dwi Handayani, Diah Evawanna Anuhgera, Novita Br Ginting Munthe
This work is licensed under a Creative Commons Attribution-NonCommercial-ShareAlike 4.0 International License.
Copyright in each article is the property of the Author.