IDENTIFIKASI PERSONAL HYGIENE DENGAN KEJADIAN KEPUTIHAN PADA PEMULUNG WANITA
Peny Ariani

Institut Kesehatan Deli Husada Delitua

Juli Fransiska Tumanggor

Institut Kesehatan Deli Husada Delitua
Keywords:
Leucorrhoea, Personal Hygiene, Female Scavenger
Abstract
Leucorrhoea is a condition of the vagina when removing fluid or mucus that resembles pus. Leucorrhoea is not always a disease because there is also normal vaginal discharge. Poor personal hygiene cause vaginal discharge. The purpose of this study was to determine the relationship between personal hygiene and vaginal discharge problems in female scavenger in the Landfills Tadukan Raga STM Hilir 2018. The type of research used was descriptive research with a cross sectional approach, namely an analytical survey. The sample of this study amounted to 23 respondents using total sampling. The data analysis was carried out by univariate and bivariate with Chi Square statistic test with a significance limit (α) of 0,05. The reseach showed that the majority of scavenger mothers had good skin hygiene, and good hand and nail hygiene as many as 13 people with a percentage (56,5 %), and having poor Genetalia Hygiene as many as 13 people with a percentage (56,5%). The conclusion there is no relationship between skin hygiene and vaginal discharge (ρ = 0,341), there is no relationship between hand and nail hygiene with vaginal discharge (ρ = 0,660), and there is a correlation between genetalia hygiene and vaginal discharge in scavenger mothers (ρ = 0,019). Skin hygiene, hand and nail hygiene are not entirely a factor causing vaginal discharge problems, there are still many other causal factors which are the limitations of this study, while genetalia hygiene greatly affects the occurrence of vaginal discharge problems.
Downloads
Download data is not yet available.
References
Arismaya, Anggun Mita; Andayani, Ari; Diah, M. (2016). Hubungan perawatan genetalia dengan kejadian keputihan pada santriwati pondok pesantren al iman sumowono kabupaten semarang. Jurnal Keperawatan Anak, 3, 39–44.

Artika, M., & Alioes, Y. (2014). Artikel Penelitian Hubungan Kebiasaan Mencuci Tangan dan Memotong Kuku dengan Kejadian Giardiasis Asimtomatik, 6(1), 70–75.

Baar, J., Romppel, M., Igel, U., & Brähler, E. (2016). The association between physical environment and health : indicating the direction of effects using German panel data. International Journal of Occupational and Environmental Health, 22(1), 1–6. https://doi.org/10.1080/10773525.2015.1106074

Coad, Jane ; Dunstall, M. (2011). Anatomy and Physiology for Midwives (3rd ed.). Churchill Livingstone: Elsevier.

Dagasou, Pondaag, L. (2014). GAMBARAN TINGKAT PENGETAHUAN IBU TENTANG KEPUTIHAN DI POLIKLINIK OBSTETRI/GINEKOLOGI RSU. PANCARAN KASIH GMIM MANADO TAHUN 2014. Ejournal Universitas Sam Ratulangi, 36. Retrieved from https://ejournal.unsrat.ac.id/index.php/jkp/article/view/5610/5144

Ferusgel, A., Nasution, R. M., & Butar-butar, M. (2018). Jurnal Aisyah : Jurnal Ilmu Kesehatan Keluhan Gangguan Kulit pada Pemulung Wanita Di Tempat Pembuangan Akhir ( TPA ) Terjun, 3(2), 145–152.

Fitria, M. (2017). Hubungan Higiene Perorangan dan Karakteristik Pemulung dengan Keluhan Gangguan Kulit di TPA Tandukan Raga Kecamatan STM Hilir Kabupaten Deli Serdang Tahun 2017.

Guntoory, I., Tamaraba, N. R., Nambaru, L. R., & Kalavakuri, A. S. (2017). Prevalence and sociodemographic correlates of vaginal discharge among married women of reproductive age group at a teaching hospital, 6(11), 4840–4846.

Morsi, R. Z., Safa, R., Baroud, S. F., Fawaz, C. N., Farha, J. I., El-jardali, F., & Chaaya, M. (2017). The protracted waste crisis and physical health of workers in Beirut : a comparative cross-sectional study, 1–6. https://doi.org/10.1186/s12940-017-0240-6

Qomariyah, S. N. (2001). Infeksi saluran reproduksi (ISR) pada perempuan Indonesia. Jakarta Overseas Office.

Rahayu, Rika Puji; Damayanti, Fitriani Nur; Purwanti, I. A. (2015). KELURAHAN ROWOSARI SEMARANG. Jurnal UNIMUS, 2–7.

Srikanti, L. (2018). Kehidupan Sosial Ekonomi dan Perilaku Pemulung di Starban Lingkungan XI Kecamatan Medan Polonia.

Wardani, N. E. K. (2012). GAMBARAN PENGETAHUAN DAN PERILAKU PERSONAL HYGIENE ALAT KELURAHAN BENOWO SURABAYA, 01(Xi), 21–26. Retrieved from http://repository.uksw.edu/bitstream/123456789/9041/8/T1_462009021 Judul.pdf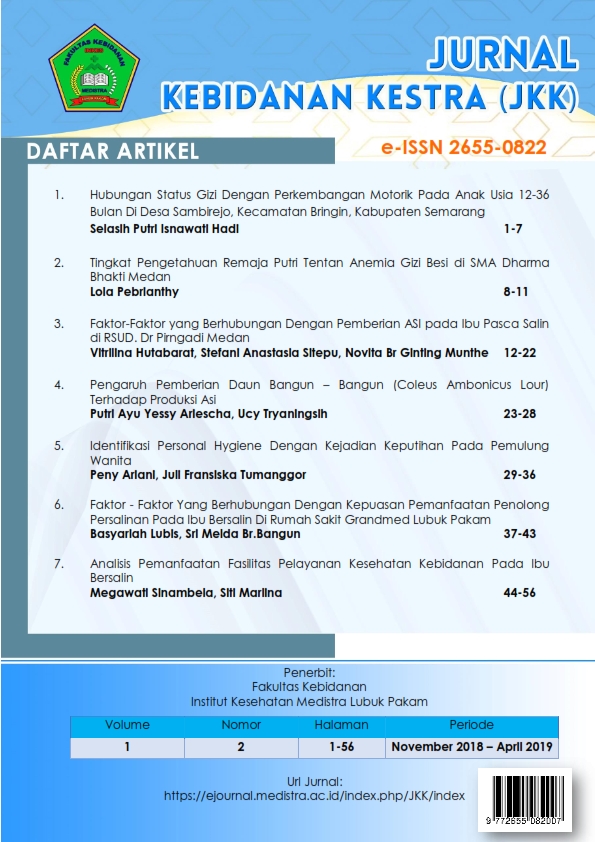 How to Cite
Ariani, P., & Tumanggor, J. (2019). IDENTIFIKASI PERSONAL HYGIENE DENGAN KEJADIAN KEPUTIHAN PADA PEMULUNG WANITA. JURNAL KEBIDANAN KESTRA (JKK), 1(2), 29-36. https://doi.org/10.35451/jkk.v1i2.122
Copyright in each article is the property of the Author.