EFEKTIVITAS RELAKSASI PROGRESIF TERHADAP PENURUNAN INTENSITAS NYERI PADA PASIEN POST SECTIO CAESAREA DI RSU SEMBIRING TAHUN 2020
Peny Ariani

Institut Kesehatan DELI HUSADA Deli Tua

Mastary .
Keywords:
Pain, Caesarean Sectio, Progressive Relaxation
Abstract
World Health Organization (WHO) for almost 30 years the rate of births with  caesarea section became 10% to 15% of the delivery process exist in developing countries. In Indonesia, the results of basic health research in 2013 showed births with a caesarean section of 15.3% of the sample of 20,591 surveyed from 33 provinces. Based on statistical data that researchers obtained from the Medical Record Room of the Sembiring General Hospital, the number of patients with sectio caesarea from January to September in 2019 totaled 1,600 patients. Nursing problems that often arise in post sectio caesarea cases are painful sensory and emotional experiences that arise due to actual tissue damage. The nurse's independent action to control the pain felt by the patient is to do pain management with non-pharmacological techniques, namely progressive relaxation. The purpose of this study was to determine the effectiveness of progressive relaxation on decreasing pain intensity in post sectio caesarea patients. This study used a quasi-experimental design method with a non equivalent control group design. The sampling technique was 32 respondents, 16 intervention groups and 16 control groups. This study used a T-Test. The results of this study indicate the P-value (0.839) > α (0.05). The conclusion of this study is that there is no effectiveness of progressive relaxation on the decrease in pain intensity in post sectio caesarea patients in the hybrid room of Sembiring General Hospital. For further researchers to be able to have the same research the same but with different variables in order to get more varied and better results.
Downloads
Download data is not yet available.
References
Anwar, dkk. 2018. Pengaruh Aromaterapi Lavender Terhadap Penurunan Intensitas Nyeri Pasienpaska Operasi Sectio Caesarea.
Cahyono Aris Dwi. 2014. Pengaruh relaksasi progresif terhadap penurunan intensitas nyeri pada pasien post sectio caesarea.
Fitria & Riska. 2015. Efektifitas Tehnik Relaksasi Progresif Terhadap Intensitas Nyeri Pasca Operas Laparatomi.
Herdman, T. Heather & Shigemi Kamitsuru. 2015. Nanda internasional Inc. Diagnosis Keperawatan: definisi & Klasifikasi. Edisi 10. (Alih Bahasa oleh Budi Anna Keliat, dkk). Jakarta: EGC
Hidayat, A. Azizi Alimul. 2011. Konsep dasar keperawatan. Edisi 2. Jakarta: Salemba Medika
Heri Desmeta & Berlian kando, 2018. Faktor-faktor Yang Mempengaruhi Penurunan Nyeri Post Operasi Sectio Caesarea Di RS. Raflessia Bengkulu
Lestari Puji Kurniati & Asih Yuswiyanti, 2018. Pengaruh Relaksasi Otot Progresif Terhadap Penurunan Tingkat Kecemasan Pada Pasien Pre Operasi Di Ruang Wijaya Kusuma RSUD DR. R Soeprato Cepu.
Merdekawati, dkk. 2015. Perbandingan Validitas Skala Ukur Nyeri VAS Dan NRS terhadap penilaian nyeri DI IGD RSUD Raden Mattaher Jambi. Notoatmodjo, Soekidjo. 2017. Metodelogi Penelitian Kesehatan. Jakarta: Rineka Cipta
Muntaha, dkk. 2018. Perbandingan Penurunan Kadar Formalin Pada Tahu Yang Direbus Dan Direndam Air Panas.
Nurarif, Amin Huda & Hardi Kusuma. 2015. Aplikasi Asuhan Keperawatan Berdasarkan Dignosa Medis Dan Nanda Nic Noc. Edisi Revisi. Jogjakarta: Mediaction
Rekam Medik RSU Sembiring. 2019. Data Sectio caesarea
Riskesdas Sumatera Utara. 2013. Data Sectio Caesarea
Rihantoro, dkk. 2018. Efektivitas Terapi Relaksasi Otot Progresif Dalam Menurunkan Hipertensi Pada Lansia.

Putinah, dkk. 2017. Pengaruh Relaksasi Otot Progresif Terhadap Intensitas Nyeri Pada Pasien Post Sectio Caesarea Di Rumah Sakit Palembang Bari.
Sofian, Amru. 2011. Rustam Mochtar Sinopsis Obsestri. Edisi 3. Jakarta: EGC
Solehati, Teti & Cecep Eli Kosasih. 2018. Konsep dan aplikasi relaksasi dalam keperawatan maternitas. Bandung: Refika Aditama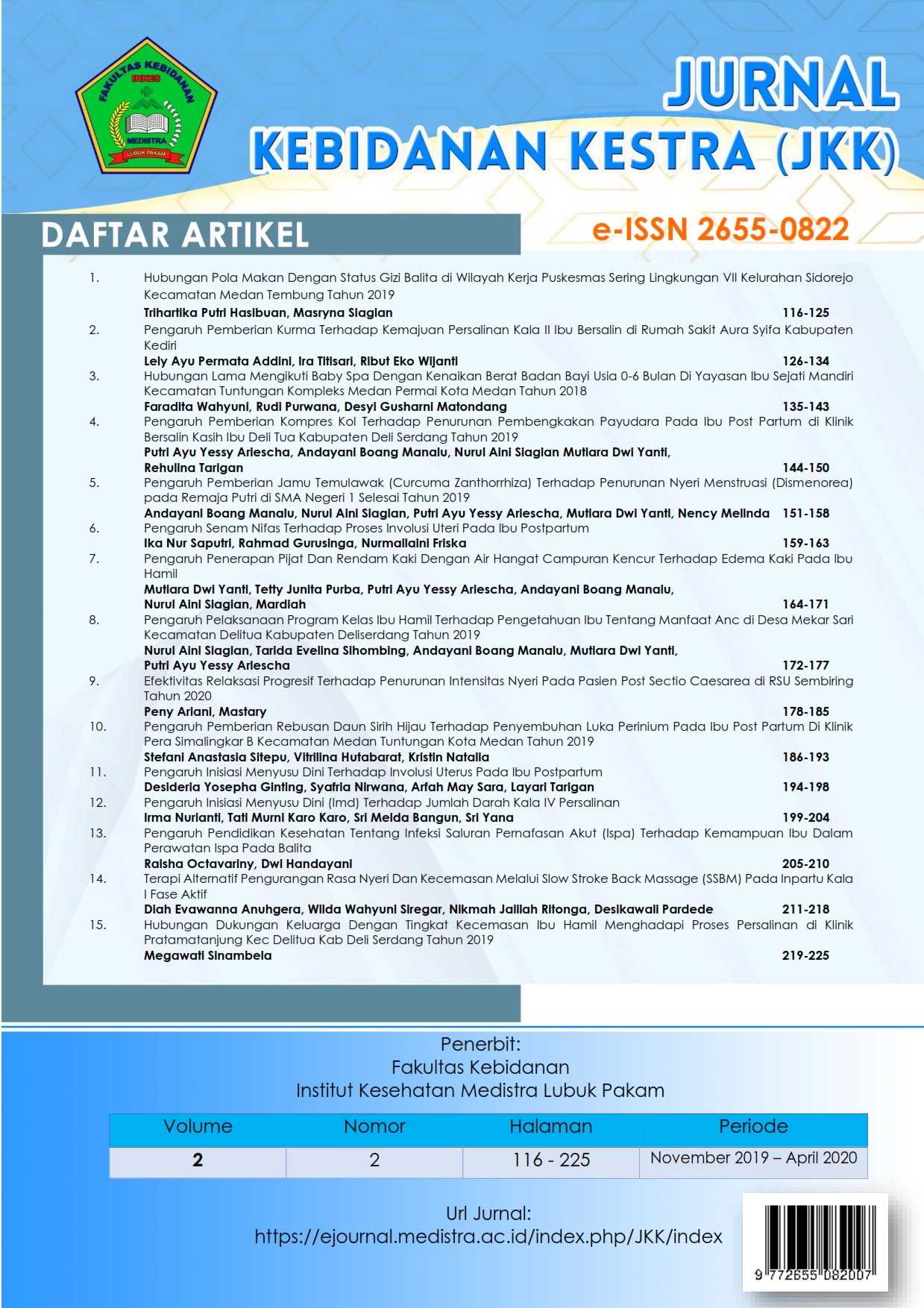 How to Cite
Ariani, P., & ., M. (2020). EFEKTIVITAS RELAKSASI PROGRESIF TERHADAP PENURUNAN INTENSITAS NYERI PADA PASIEN POST SECTIO CAESAREA DI RSU SEMBIRING TAHUN 2020. JURNAL KEBIDANAN KESTRA (JKK), 2(2), 178-185. https://doi.org/10.35451/jkk.v2i2.383
Copyright in each article is the property of the Author.