HUBUNGAN KENAIKAN BERAT BADAN SELAMA HAMIL DENGAN KEJADIAN PREEKLAMSIA DI RSUDGAMBIRAN KOTA KEDIRI
Susanti Pratamaningtyas

Poltekkes Kemenkes Malang

Shinta Kristianti

Poltekkes Kemenkes Malang

Siti Nurhidayatul Ilma Nafiah

Poltekkes Kemenkes Malang
Keywords:
BMI, Pregnancy, Increase in Weight During Pregnancy, Preeclampsia
Abstract
Preeclampsia is a special condition during pregnancy where hypertension and proteinuria occur after 20 weeks of gestation in mothers who have had normal blood pressure. Symptoms that arise in preeclampsia are edema, hypertension, and proteinuria. One of the factors that make incidence of  preeclampsia is obesity. Women with abnormal weight have a greater risk of preeclampsia. The purpose of this study was to determine the relationship of weight gain during pregnancy to the incidence of preeclampsia in Gambiran Hospital, Kediri. Simple random sampling was used with a population of 117 mothers. 91 mothers were taken to be respondents, this study was conducted on 6-9 May 2019. The research instrument used recapitulation sheet. The results of statistical tests showed that there was a relationship between weight gain during pregnancy and the incidence of preeclampsia in Gambiran Hospital, Kediri City. The Chi Square test results show that the value of Ï value is 0.022, then 0.022 <0.05, so it can be concluded that there is a Relationship between Increasing Weight During Pregnancy with the incidence of Preeclampsia in Gambiran Hospital, Kediri City.
Downloads
Download data is not yet available.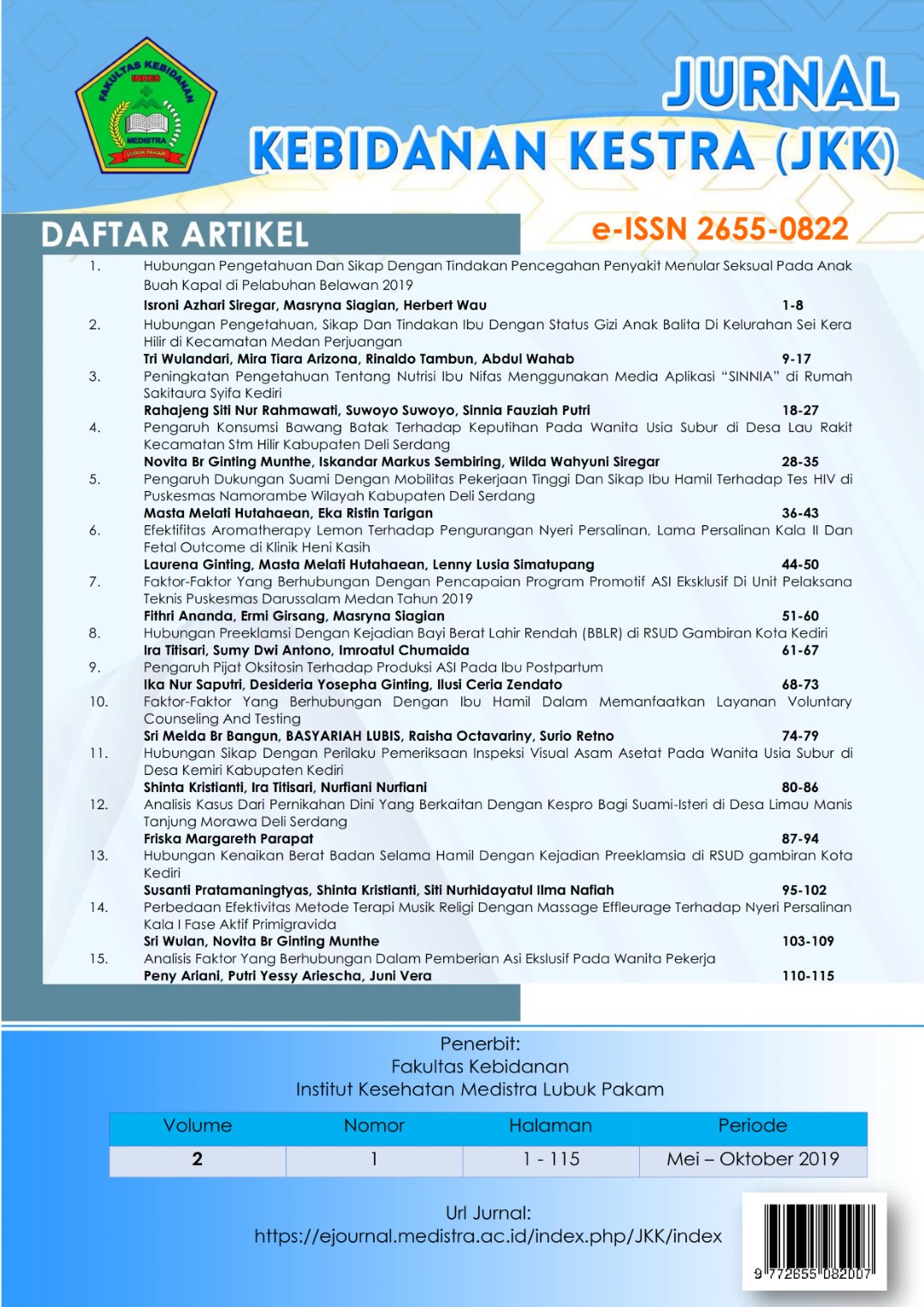 How to Cite
Pratamaningtyas, S., Kristianti, S., & Nafiah, S. (2019). HUBUNGAN KENAIKAN BERAT BADAN SELAMA HAMIL DENGAN KEJADIAN PREEKLAMSIA DI RSUDGAMBIRAN KOTA KEDIRI. JURNAL KEBIDANAN KESTRA (JKK), 2(1), 95-102. https://doi.org/10.35451/jkk.v2i1.268
Copyright in each article is the property of the Author.