HUBUNGAN SIKAP DENGAN PERILAKU PEMERIKSAAN INSPEKSI VISUAL ASAM ASETAT PADA WANITA USIA SUBUR DI DESA KEMIRI KABUPATEN KEDIRI
Shinta Kristianti

Poltekkes Kemenkes Malang

Ira Titisari

Poltekkes Kemenkes Malang

Nurfiani Nurfiani

Poltekkes Kemenkes Malang
Keywords:
attitude of woman childbearing age, IVA examination behavior, cervical cancer
Abstract
Attitude is a person's closed response to a particular stimulus or object, which has involved the factors of opinion and emotions. While behavior is an activity or activity carried out by humans that can be observed directly or indirectly. Inspection of visual with acetic acid (IVA) is an examination carried out by a doctor / midwife / paramedic by observing the cervix which has been given 3-5% acetic acid, and seen with the naked eye vision. Cervical cancer is an 8th contributor to mortality in developing countries, and IVA examination is a very effective early detection to prevent cervical cancer. This study was used an analytical survey with a cross sectional design. The data was analyzed by Spearman Rank test. The population in this study was all WUS in Kemiri Village totaling 296 respondents. The sampling technique used was simple random sampling. 60 respondents were taken who already fulfilled the inclusion and exclusion criteria. The results obtained from the spearman rank correlation test with a p value of 0.034 <0.05, a correlation coefficient of 0.275 and a positive correlation (+) direction. The conclusion of this study was that there was a significant relationship between attitudes of woman of childbearing age and the behavior of IVA examination in Kemiri Village, the closeness of the relationship between the two variables is weak, and the direction of the two positive variables.
Downloads
Download data is not yet available.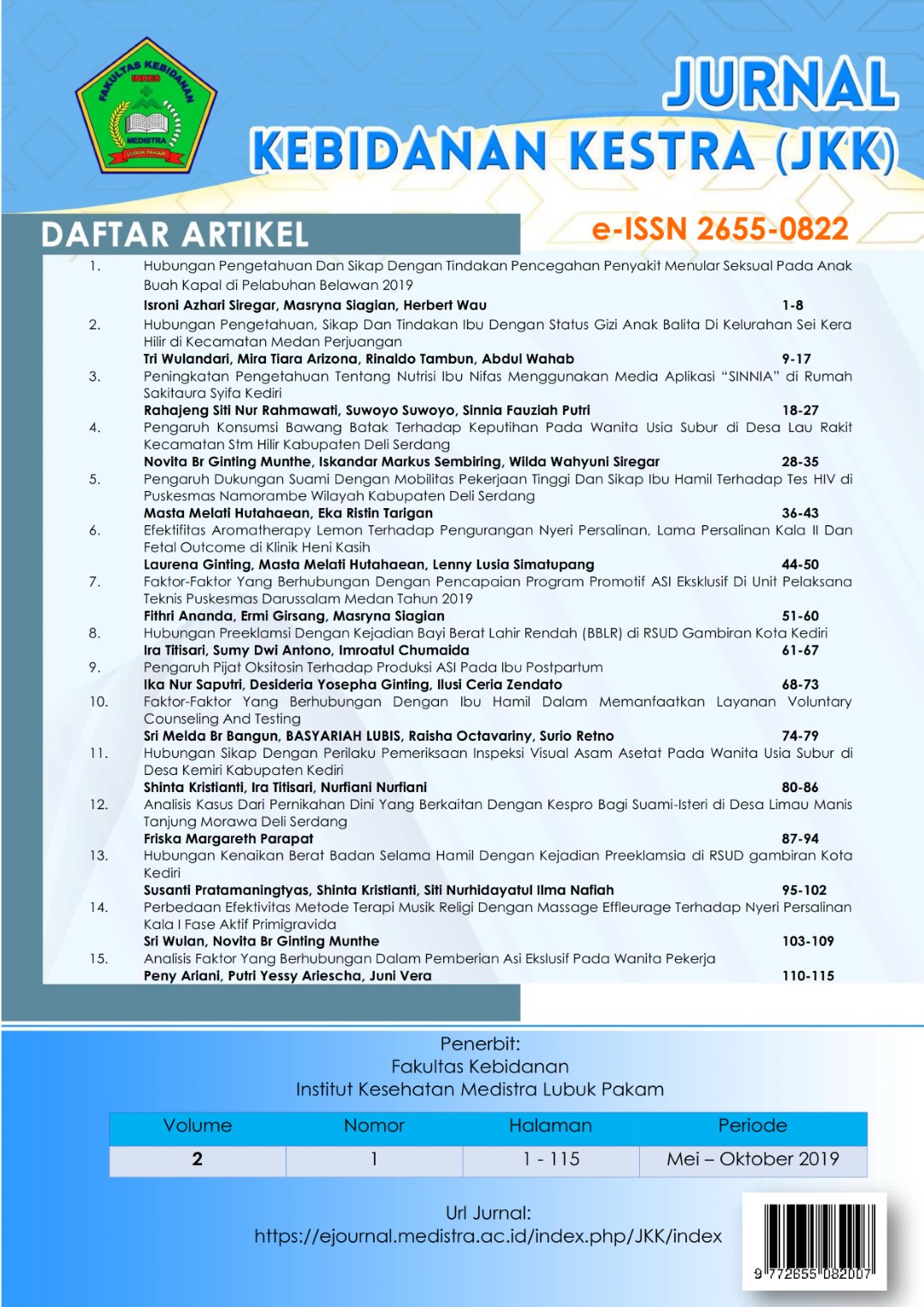 How to Cite
Kristianti, S., Titisari, I., & Nurfiani, N. (2019). HUBUNGAN SIKAP DENGAN PERILAKU PEMERIKSAAN INSPEKSI VISUAL ASAM ASETAT PADA WANITA USIA SUBUR DI DESA KEMIRI KABUPATEN KEDIRI. JURNAL KEBIDANAN KESTRA (JKK), 2(1), 80-86. https://doi.org/10.35451/jkk.v2i1.263
Copyright in each article is the property of the Author.