EFEKTIVITAS TABLET ZAT BESI TERHADAP PERUBAHAN TEKANAN DARAH IBU HAMIL
Damayanti .

Institut Kesehatan Medistra Lubuk Pakam

Nia Surtika Gulo

Institut Kesehatan Medistra Lubuk Pakam

Diah Evawanna Anuhgerah

Institut Kesehatan Medistra Lubuk Pakam

Dwi Handayani

Institut Kesehatan Medistra Lubuk Pakam
Keywords:
Keywords: iron tablet, blood pressure, pregnant women
Abstract
Changes in blood pressure are normal during pregnancy. Because, the hormone progesterone which is produced during pregnancy, can relax the walls of blood vessels. Sagging walls of blood vessels, can reduce blood pressure in the first trimester and second trimester of pregnancy. This condition can cause dizziness when sitting or standing suddenly. Normal blood pressure values ​​in pregnant women do not differ from general conditions, which is 120/80 mmHg. If the blood pressure is recorded below 90/60 mmHg, this can indicate a blood pressure less.
This research aims to To find out how the effectiveness of iron tablets on changes in blood pressure of pregnant women at Rosni Alizar Pratama Clinic, Medan Timur District, Deli Serdang Regency in 2020. This type of research is a quasi-experimental study with a Pretest-Posttest with control group approach. The study population was all pregnant women who did ANC examination at Rosni Alizar Pratama Clinic as many as 38 people. The sample selection using purposive sampling was calculated using the Slovin formula of 28 people.
The results of the study used Wilcoxon test results obtained 0.157 and 1,000 > 0.05. It is expected that health workers on duty at the research site always measure vital signs for pregnant women during ANC visits.
Conclusion : There is no effectiveness in giving iron tablets to changes in blood pressure in pregnant women
Keywords: iron tablet, blood pressure, pregnant women
Downloads
Download data is not yet available.
References
Abbaspour, N., Hurrell, R. and Kelishadi, R. (2014) 'Review on iron and its importance for human health', Journal of Research in Medical Sciences, 19(2), pp. 164–174.
Achadi Endang (2019). http://doktersehat.com. Diunduh 18 Mei 2020
Aguirre Cesar Homero Gutirres, dkk. Comparative analysis of iron status and other hematological parameters in preeclampsia. Jurnal Hypertensi. http://www.tandfonline.com. Diunduh 20 April 2020
Atsma Femke, Veldhulzen Ingrid, Wim dekort, Marian Van Kraij. Hemoglobin Level is Positively Associated With Blood Pressure In a Large Cohort of Helath Individuals. Jurnal Hypertensi. http://hyper.ahajournals.org. Diunduh 14 Maret 2020
Alizadeh, L. and Salehi, L. (2016) 'Is Routine Iron Supplementation Necessary in Pregnant Women With High Hemoglobin?', Iranian Red Crescent Medical Journal, 18(1), pp. 1–5. doi: 10.5812/ircmj.22761.
Bo, S. et al. (2009) 'Iron supplementation and gestational diabetes in midpregnancy', American Journal of Obstetrics and Gynecology. Mosby, Inc., 201(2), pp. 158.e1-158.e6. doi: 10.1016/j.ajog.2009.04.049.
Brannon, P. M. and Taylor, C. L. (2017) 'Iron supplementation during pregnancy and infancy: Uncertainties and implications for research and policy', Nutrients, 9(12), pp. 1–17. doi: 10.3390/nu9121327.
Chaparro, C. M. and Suchdev, P. S. (2019) 'Anemia epidemiology, pathophysiology, and etiology in low- and middle-income countries', Annals of the New York Academy of Sciences, 1450(1), pp. 15–31. doi: 10.1111/nyas.14092.
Cunningham, F. G. et al. (2012) Obstetri Williams. Jakarta: ECG.
De-Regil, L. M. et al. (2016) 'Vitamin D supplementation for women during pregnancy', Sao Paulo Medical Journal, 134(3), pp. 274–275. doi: 10.1590/1516-3180.20161343T2.
Friedrisch, J. R. and Friedrisch, B. K. (2017) 'Prophylactic Iron Supplementation in Pregnancy: A Controversial Issue', Biochemistry Insights, 10, p. 117862641773773. doi: 10.1177/1178626417737738.
Fu, S. et al. (2016) 'The relationship between body iron status, iron intake and gestational diabetes: A systematic review and meta-analysis', Medicine (United States), 95(2). doi: 10.1097/MD.0000000000002383.
Jirakittidul, P. et al. (2018) 'Effect of iron supplementation during early pregnancy on the development of gestational hypertension and pre-eclampsia', Archives of Gynecology and Obstetrics. Springer Berlin Heidelberg, 298(3), pp. 545–550. doi: 10.1007/s00404-018-4821-6.
Kementrian Kesehatan Indonesia. 2013. Profil Kesehatan Indonesia. Jakarta. Kementrian Kesehatan RI
Kim, M. K. et al. (2012) 'Increased serum ferritin predicts the development of hypertension among middle-aged men', American Journal of Hypertension. Nature Publishing Group, 25(4), pp. 492–497. doi: 10.1038/ajh.2011.241.
Lewandowska, M., Sajdak, S. and Lubiński, J. (2019) 'Can serum iron concentrations in early healthy pregnancy be risk marker of pregnancy-induced hypertension?', Nutrients, 11(5). doi: 10.3390/nu11051086.
Lisfi, I., Serudji, J. and Kadri, H. (2017) 'Hubungan Asupan Fe dan Vitamin A dengan Kejadian Anemia pada Ibu Hamil Trimester III di Puskesmas Air Dingin Kota Padang', Jurnal Kesehatan Andalas, 6(1), p. 191. doi: 10.25077/jka.v6i1.669.
Pasricha, S. R. et al. (2014) 'Iron supplementation benefits physical performance in women of reproductive age: A systematic review and meta-analysis', Journal of Nutrition, 144(6), pp. 906–914. doi: 10.3945/jn.113.189589.
Peck, T. J. and Hibbert, K. A. (2019) 'Recent advances in the understanding and management of ards [version 1; peer review: 2 approved]', F1000Research, 8, pp. 1–9. doi: 10.12688/f1000research.20411.1.
Peña-Rosas, J. P. et al. (2015) 'Daily oral iron supplementation during pregnancy', Cochrane Database of Systematic Reviews, 2015(7), pp. 1–527. doi: 10.1002/14651858.CD004736.pub5.
Petry, N. et al. (2016) 'The proportion of anemia associated with iron deficiency in low, medium, and high human development index countries: A systematic analysis of national surveys', Nutrients, 8(11), pp. 1–17. doi: 10.3390/nu8110693.
Rizki, F., Lipoeto, N. I. and Ali, H. (2018) 'Hubungan Suplementasi Tablet Fe dengan Kadar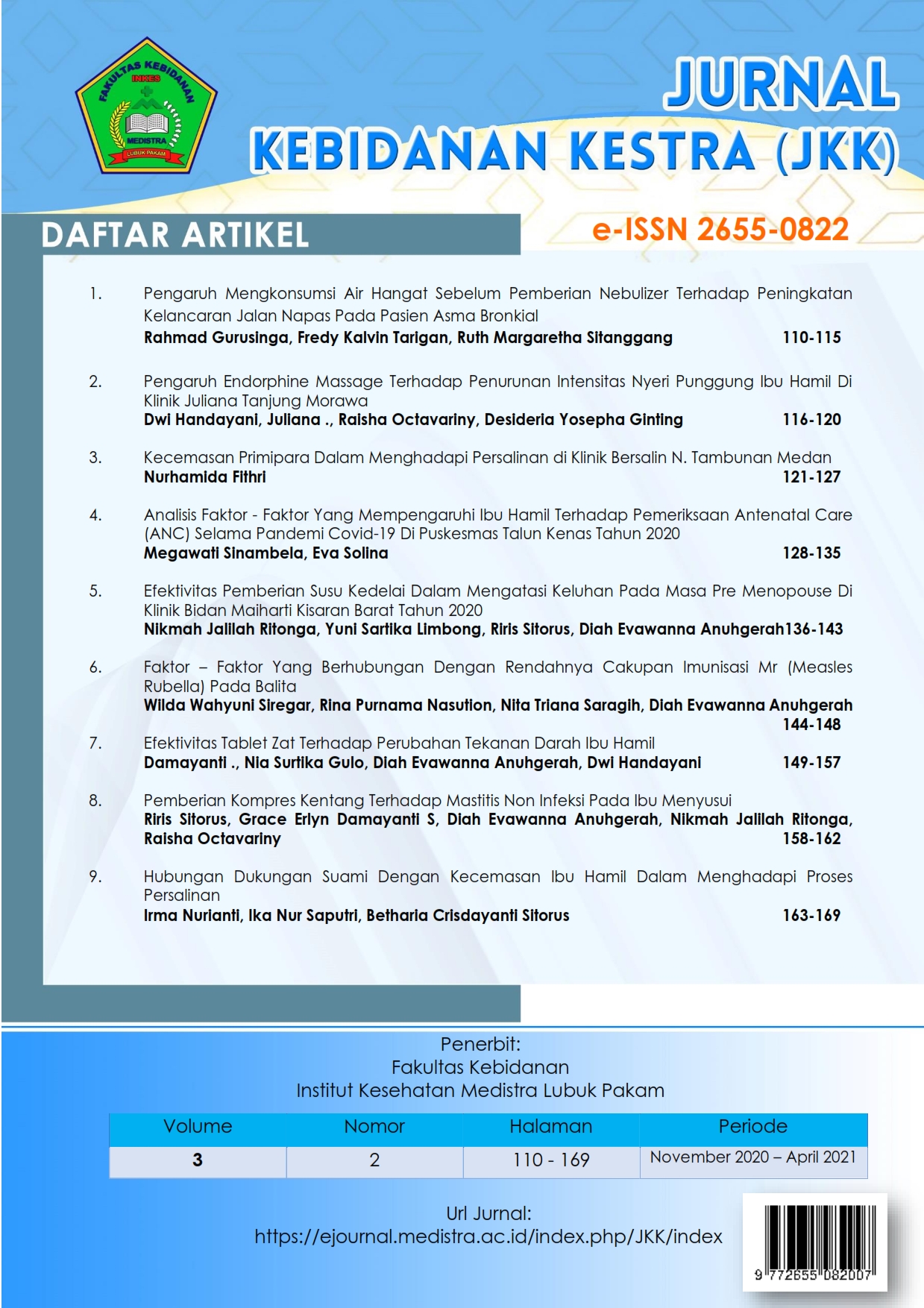 How to Cite
., D., Gulo, N. S., Anuhgerah, D., & Handayani, D. (2021). EFEKTIVITAS TABLET ZAT BESI TERHADAP PERUBAHAN TEKANAN DARAH IBU HAMIL. JURNAL KEBIDANAN KESTRA (JKK), 3(2), 149-157. https://doi.org/10.35451/jkk.v3i2.675
Copyright (c) 2021 Damayanti ., Nia Surtika Gulo, Diah Evawanna Anuhgerah, Dwi Handayani
This work is licensed under a Creative Commons Attribution-NonCommercial-ShareAlike 4.0 International License.
Copyright in each article is the property of the Author.