Kecemasan Primipara Dalam Menghadapi Persalinan di Klinik Bersalin N. Tambunan Medan
Nurhamida Fithri

STIKes Senior Medan
Keywords:
Anxiety, Mother Primipara, Childbirth
Abstract
Feelings of anxiety often accompany pregnancy, especially in mothers who are unstable, from an initial survey conducted by researchers in February at the N. Tambunan Clinic, it was found that five mothers who had given birth at the N. Tambunan Clinic felt anxious, the purpose of this study was to determine how the primiparous mother's anxiety in dealing with childbirth. Primiparous mother's anxiety in facing childbirth is the occurrence of disequilibirium or imbalance in personality characterized by physical and psychological changes. The research design used is descriptive. The population of this study were all Primipara women totaling 30 people at the Clinic N. Tambunan Medan. With a sample of 30 respondents. The sampling technique was purposive sampling technique. The variable in this study was the primiparous mother's anxiety in dealing with childbirth. Collecting data using a questionnaire then processed by editing, coding, data entry, the research is presented and analyzed by univariate, then the data is presented in the form of a frequency distribution table. Of the 30 respondents, there were 27 patients who experienced mild anxiety, 3 patients experienced moderate anxiety, and none had severe anxiety. The conclusion from the results of the study was that most mothers experienced mild anxiety. Therefore, it is hoped that midwives will provide more intensive counseling to pregnant women who experience anxiety by providing information about the danger signs of pregnancy and suggesting always thinking positively, sharing stories with others, thinking about something that makes you happy to avoid anxiety.
Downloads
Download data is not yet available.
References
Detiana, Priala, (2010). Hamil Aman Dan Nyaman di Atas 30 Tahun, Yogyakarta.
Menurut Risky Anggraini (2010). Proposal penelitian Karakteristik Ibu Hamil Yang Mengalami Kecemasan Dalam Menghadapi Persalinandi Bps Uswatun Poncowati Lampung Tengah, Di peroleh tanggal 8 Maret 2012 dari http://dc378.4shared.com/doc/djrAqZbV/preview.html.
Menurut Universitas Sumatera Utara. (2013). Kecemasan Ibu bersalin Primigravida Kala 1, di akses tanggal 2 Maret 2012 darihttp://repository.usu.ac.id/bitstream/123456789/20180/5/Chapter%20I.pdf
Notoatmodjo, S. (2005). Metodologi Penelitian Kesehatan, Cetakan III, Edisi Revisi, Jakarta.
Maryuni, Anik. (2013), Nyeri Dalam Persalinan Teknik dan Cara Penanganannya, Jakarta
Roojie, R., & Tandipajung, T., Bukasiang, M., (2015). Faktor-Faktor yang berhubungan dengan respon cemas pada ibu hamil di poliklinik kebidanan rsal bitung. E- jurnal Sariputra, Vol2. (3). Retrieved from http://jurnal.unsrittomohon.ac.id/index.php?journal=ejurnal&page=article&op=download&path%5B%5D=112&path%5B%5D=102
Hidayat,S.,Sumarni, S. (2015). Kecemasan IBU HAMIL DALAM MENGHADAPI PROSES PERSALINAN. JURNAL KESEHATAN WIARAJA MEDIKA, Vol 2 (1). Retrieved from http://download.garuda.ristekdikti.go.id/article.php?article=1078221&val=6831&title=KECEMASAN%20IBU%20HAMIL%20DALAM%20MENGHADAPI%20PROSES%20PERSALINAN
Nursalam. (2008). Konsep dan Penerapan Metodologi Penelitian Ilmu Keperawatan: Pedoman Skripsi, Tesis dan Instrumen Penelitian Keperawatan (edisi kedua), Jakarta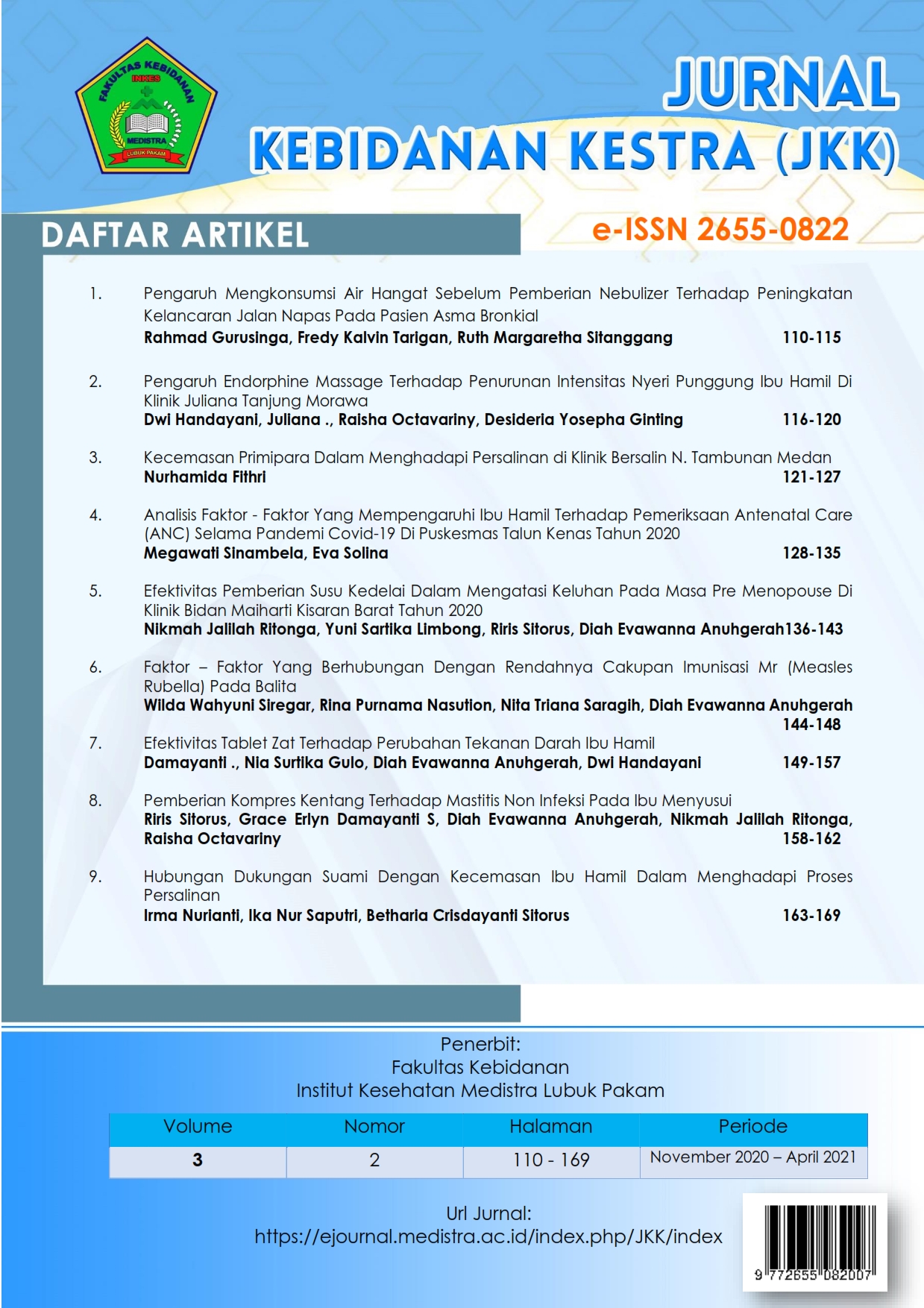 How to Cite
Fithri, N. (2021). Kecemasan Primipara Dalam Menghadapi Persalinan di Klinik Bersalin N. Tambunan Medan. JURNAL KEBIDANAN KESTRA (JKK), 3(2), 121-127. https://doi.org/10.35451/jkk.v3i2.602
Copyright (c) 2021 Nurhamida Fithri
This work is licensed under a Creative Commons Attribution-NonCommercial-ShareAlike 4.0 International License.
Copyright in each article is the property of the Author.